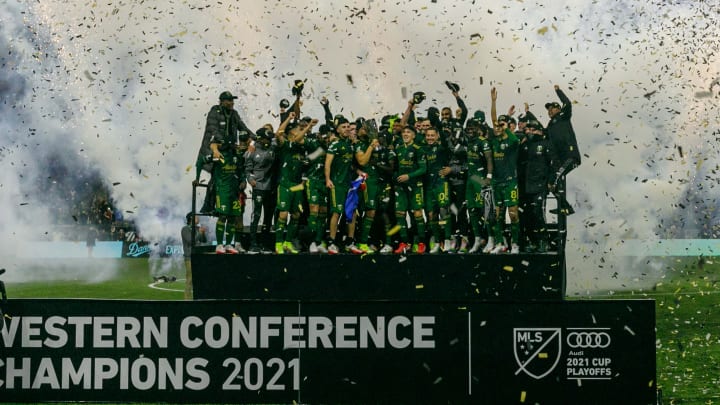 The Portland Timbers defeated Real Salt Lake City 2-0 on Saturday in the Western Conference final and will now host the MLS Cup final.
Felipe Mora opened up the scoring within the first five minutes, sending his shot into the bottom corner to give the Timbers the lead. Midfielder Santiago Moreno then scored his first ever goal for the team to double the tally and seal the victory.
MLS Cup is hosted by the playoffs team with the highest regular-season points total, and the Timbers accrued 55 points across the league's 34 games.
Given their record, the Portland side will host Sunday's Eastern Conference final winner at Providence Park in what head coach Giovanni Savarese described as "dream come to reality."
"To be able to host MLS Cup, it is a dream come to reality. It is not only an event for Providence Park, it is for the city of Portland. We'll enjoy this tonight, but now we need to prepare very well to be ready for whoever we have to play in MLS Cup. But the guys are very happy with the performance they were able to produce tonight," Timbers head coach Giovanni Savarese said postgame.
"This team works so hard, the players, the staff, everyone, on a difficult season. The guys were able to turn things around and we host this game here. It was something that we wanted to have and it became a reality.
"But I think the most important thing is that the players understood the moment and we knew we were playing against a difficult team and I felt we put a very strong performance tonight."
The Timbers have reached their third MLS Cup in seven years since joining the league as an expansion team in 2011. They defeated the Columbus Crew in 2015 to lift the trophy, but lost to Atlanta United in 2018.
Both of those finals were on the road for Portland. This is the first time ever the team is set to host.
"Tonight was very special," Savarese said of the Rose City faithful.
"The passion, the energy, it was at a level that gives me goosebumps. I'm very proud of the fans as well, for the support that they gave us. That's why we wanted to play this game here."
Goalscorer Felipe Mora echoed his coach's sentiments after the game.
"I think they're the best fans in MLS because we feel them when they're here," said Mora. "They're incredible and we thank them for being with us throughout the whole season, and especially tonight."