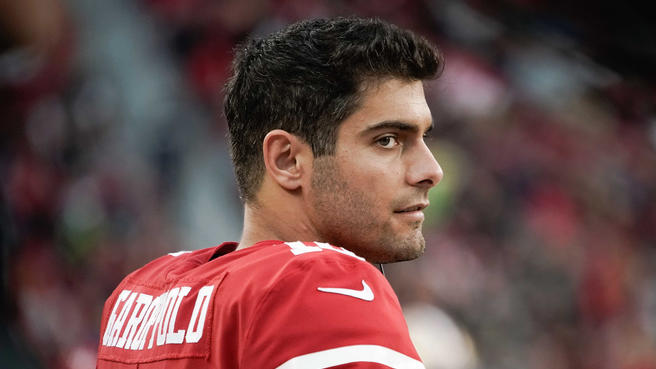 NFL Wild Card Weekend is here, and we have five predictions for the trio of NFC games this weekend.
5. Jalen Hurts throws for less than 200 yards
Hurts is trying to help the Philadelphia Eagles to take down the Tampa Bay Buccaneers on Sunday afternoon at Raymond James Stadium. If he's going to engineer a big upset, Hurts needs to likely have a huge game both on the ground and through the air. In 15 starts this year, Hurts has only thrown for more than 200 yards on six occasions, and only twice over the past eight contests.
4. 49ers get 200+ yards from Deebo Samuel, George Kittle
The San Francisco 49ers have a pair of tremendous weapons in receiver/weapon Deebo Samuel and tight end George Kittle. Against the Dallas Cowboys, head coach Kyle Shanahan will almost certainly be given huge roles in trying to pull the victory in a game dripping with nostalgia. Look for Samuel to get the ball in a variety of ways, including on the ground and deep down the field. With Kittle, the game plan should revolve around getting him in space against a back seven susceptible down the middle.
3. Buccaneers win by 10+ points over Eagles
The Buccaneers are trying to repeat, and the upstart Eagles are the first obstacle in the postseason. Philadelphia has had a surprisingly good campaign at 9-8, but the Eagles are without a win against any other playoff team, going 0-7. Tampa Bay is going to be dealing with some lousy weather on Sunday, with wind and rain expected I the forecast. However, nobody has more experience than Tom Brady in the postseason, and he should be targeting tight end Rob Gronkowski early and often.
2. Cowboys are lone home team knocked off this weekend
Big prediction? The Cowboys are going to be the only team which loses at home during the Wild Card round. No knock on Dallas, but the 49ers are the best non-division winner in the tournament, and San Francisco is a tough matchup for Mike McCarthy and Co. Conversely, the other games around the league are all with the inferior team clearly on the road.
1. Matthew Stafford wins his first playoff game
After three playoff appearances — and losses — with the Detroit Lions, Stafford is attempting to break through with the Los Angeles Rams on Monday night against the Arizona Cardinals. While it's always scary taking Stafford considering his penchant for throwing interceptions, the Cardinals have lost four of their last five and Stafford has a superior supporting cast around him.