Israeli police beat mourners as they carried the casket of slain Al Jazeera veteran journalist Shireen Abu Akleh during her funeral in east Jerusalem.
Shireen Abu Akleh was allegedly murdered by an israeli sniper while covering an Israeli military raid in the occupied West Bank.
Israeli riot police at journalist's funeral procession.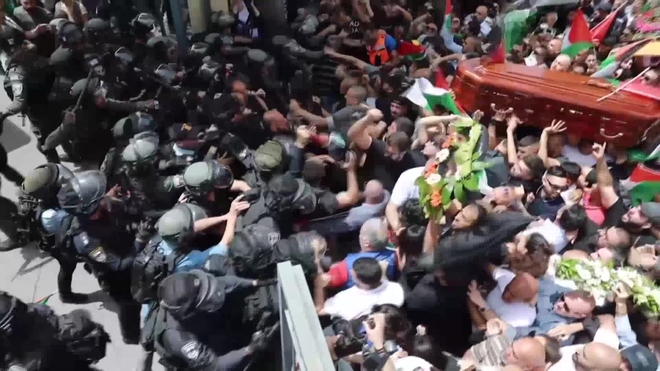 Abu Akleh was a Palestinian-American reporter who covered the Mideast conflict for more than 25 years.
How did everything happen?
The scenes of violence were likely to add to the sense of grief and outrage across the Arab world that has followed the death of Abu Akleh.
Thousands of people, many waving Palestinian flags and chanting "Palestine! Palestine!" attended the funeral.
Ahead of the burial, a large crowd gathered to escort her casket from an east Jerusalem hospital to a Catholic church in the nearby Old City.
Many of the mourners held Palestinian flags, and the crowd began shouting, "We sacrifice our soul and blood for you, Shireen."
Shortly after, Israel police moved in, pushing and clubbing mourners. As the helmeted riot police approached, they hit pallbearers, causing one man to lose control of the casket as it dropped toward the ground.
Police ripped Palestinian flags out of people's hands and fired stun grenades to disperse the crowd.
Abu Akleh's brother, Tony, said the scenes "prove that Shireen's reports and honest words … had a powerful impact."
According to the Associated Press, Abu Akleh's funeral was the largest Palestinian funeral in Jerusalem since Faisal Husseini, a Palestinian leader and scion of a prominent family, died in 2001.