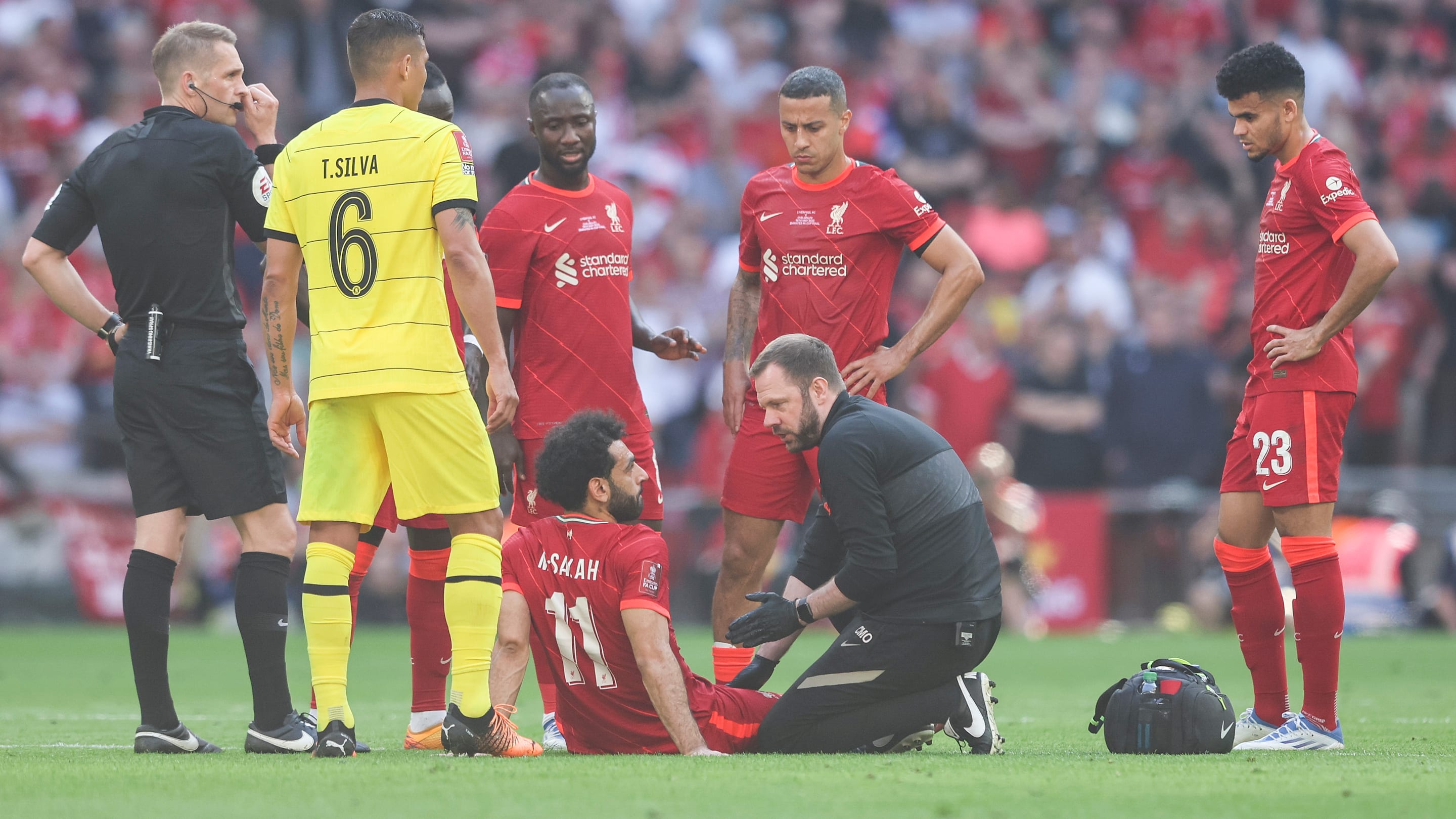 The sight of Mohamed Salah going down away from the ball just half an hour into Liverpool's FA Cup final triumph over Chelsea was a scary one for Reds fans.
The Egyptian had struggled up to that point and clearly felt he could not continue. Fortunately, Liverpool got away with it on the day, but this injury scare could hardly have come at a worse time for Jurgen Klopp's men.
Liverpool have two trophies to their name this season and have just two weeks to decide whether they pick up another two, with the fate of both the Premier League and Champions League trophies still in the balance.
Here's a look at the games Salah is in danger of missing.
It's hard to see Salah featuring just three days after picking up this injury.
The Reds travel to Southampton knowing anything less than a victory will almost certainly bring the curtain down on their Premier League title pursuit, with Manchester City three points clear with two games to go as it stands.
City are in action on Sunday, with a trip to West Ham on the cards, so Liverpool will know where they stand before they kick off.
Depending on the severity of Salah's injury, the winger's domestic season could well be over.
Just eight days after picking up the injury, Salah's Liverpool will host Wolves in the finale of their Premier League season, with the title probably still a mathematical possibility – barring any spectacular surprises.
Liverpool need goals to match up with City in the goal difference column, and they may have to look for them without their top scorer.
Though not an immediate priority for the team, Salah could lose his grip on the Golden Boot if he doesn't return for these next two games, with Tottenham's Son Heung-min just one goal behind him in the standings.
Here we are, the biggie.
Liverpool fans would likely be alright seeing Salah kept on the bench for the two aforementioned league clashes if it means he rocks up to Paris in perfect shape to compete for Champions League glory.
Salah missed the chance to compete with Real back in 2018 when a shoulder injury forced him off early on, and he'll be absolutely desperate to make up for that here.