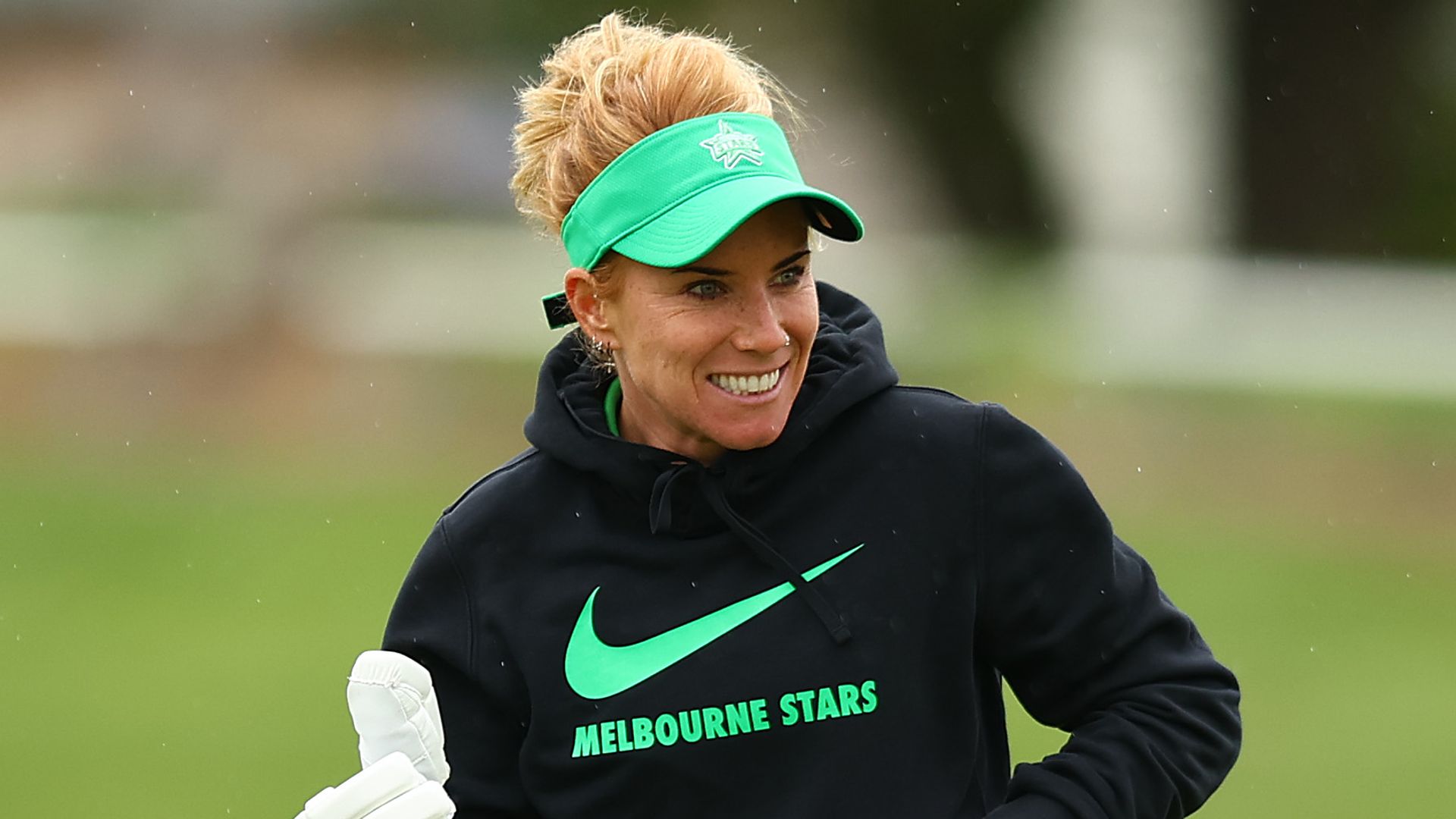 Just like in late 2022, a Winfield-Hill is gearing up for a World Cup.
In November that was Courtney, who was part of the England side that reached the semi-finals of the rugby league showpiece, with her highlight a hat-trick in the tournament opener against Brazil. In February, it will be wife Lauren at the T20 Cricket World Cup.
Despite losing her England central contract a few months ago, Lauren was rewarded for her fine form in domestic cricket with a spot in the squad for February's tournament in South Africa, one which will be shown in full on Sky Sports Cricket.
"I reckon it is more stressful watching Courtney than playing in a World Cup!" Lauren, who has returned to the England fold under new head coach Jon Lewis, told Sky Sports.
"Playing cricket you have a bit of control but when a large Kiwi lady is running at your wife you don't have a lot of control!"
Lauren Winfield met Courtney Hill when they were both playing Big Bash cricket for Brisbane Heat in 2016 and they subsequently married in March 2020, shortly before the Covid-19 pandemic.
Courtney made a tremendous success of rugby league after joining Leeds Rhinos, having gone for a trial at the club off the back of reading an advert on social media.
The now 36-year-old was named Super League Woman of Steel in 2019 and won two Challenge Cups and two Super Leagues during her four years in the sport before announcing her retirement after the World Cup.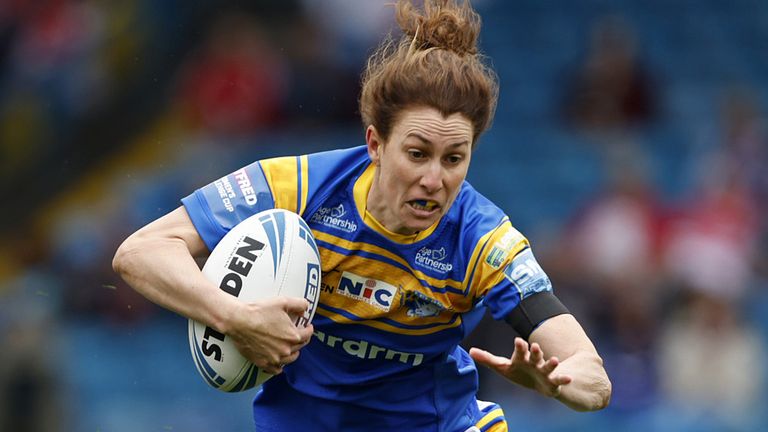 I went to her debut and she was knocked flat on her back and I thought, 'oh no, what's happened here?' But she got up and carried on and now I really love watching her play.
Lauren, 32, said: "Courtney hadn't played rugby league since she was 12 but she had played a bit of AFL before coming over to England.
"She took to rugby league like a duck to water and one thing led to another. I am not surprised how well it went for her as she is such a good all-round athlete. It would be shocking if I had made the switch!
"Courtney is so fearless and not afraid of contact but because she is so rapid she doesn't get caught very often anyway.
"I am not rapid and have no interest in someone running hell for leather at me, trying to whack me!
"In terms of her future, she may play again, she may not. She may just play touch rugby down the park on a Monday night. She is not someone who sets a two or five-year plan. She is just happy to go with the flow and see what's next."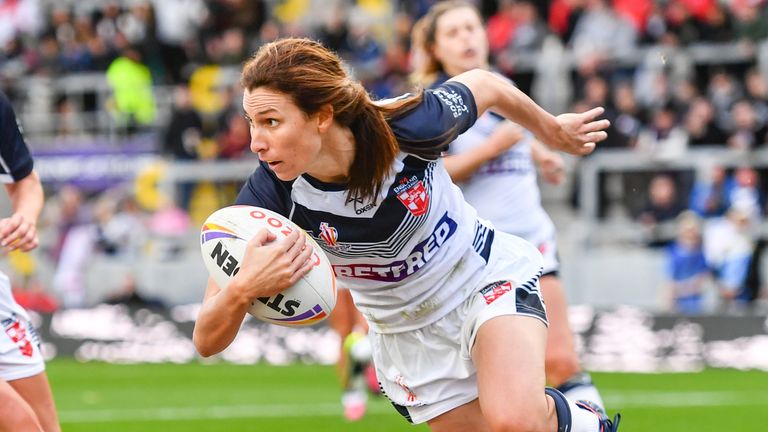 Lauren believes going with the flow herself has been a key reason for her racking up the runs over the last year.
Winfield-Hill averaged 54 for champions Oval Invincibles in The Hundred; close to 80 in the Rachael Heyhoe Flint Trophy for Northern Diamonds where she struck six fifty-plus scores across seven innings; and then topped 254 runs for Melbourne Stars in the Women's Big Bash League this winter.
"I probably put a bit less pressure on myself and found a better work-life balance. I have let go, in a way, not been worried about everything in my warm-ups having to be a certain way. I have worked a lot on going with it, adapting and not thinking too much until I get to the game. Then switching on and playing the ball as I see it.
"It has also been about playing cricket. When you are on trips with England and not in the first XI, you can miss a lot of cricket but last year I had the whole of the domestic summer, The Hundred and then the Big Bash and managed to perform pretty well in all three.
"I didn't need to put everything on the next game because I knew there was another one coming. When you feel you only have one or two games, the pressure you put on yourself is immense."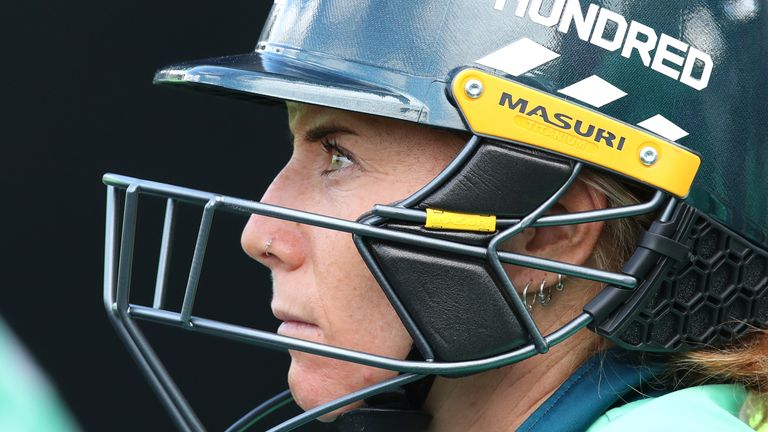 I wasn't that caught up in it because I signed a three-year contract with Northern Diamonds and they have looked after me really well. It used to be that you couldn't make a living in cricket without your England contract but that has changed now. Your world no longer capsizes without one.
Four T20 internationals in the Caribbean in December were Winfield-Hill's first England appearances since being dropped during the 50-over World Cup in New Zealand the previous spring.
On losing her central contract, she said: "It wasn't a surprise as I hadn't been playing for England for a few months before that.
"But as I had the best summer of my life and had been playing well for quite some time in different competitions, it also wasn't a surprise to be picked for the T20 World Cup, although until you get the call you are never quite sure what direction they want to go in and that has changed a lot over the last few months [since Jon Lewis succeeded Lisa Keightley as head coach].
"I had never set my sights on the World Cup at the start of the season, I just kept chipping away, but it is exciting to be back.
"Jon [Lewis] told me he was excited about what I can bring and how I had played over the last few months. I guess he likes my dynamism and experience and what I can bring to a team from a character point of view."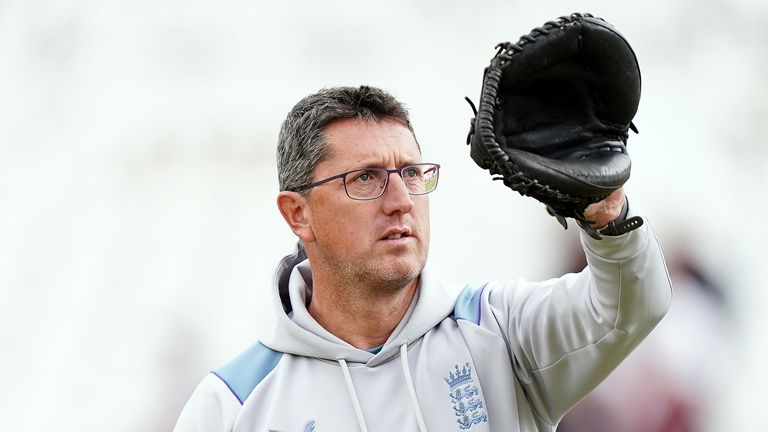 Jon is a really good communicator and makes players excited about where they can go and what they can achieve. It feels a bit like when Mark Robinson first came in, with a real buzz about the style of play, but he is also encouraging us to spend time together as mates off the field.
Opening the batting is Winfield-Hill's goal in South Africa but she hopes her impact goes behind what happens out on the field, for whatever team she plays for.
"I pride myself on being a good team-mate. Professional sport can be dog-eat-dog but maybe the older I have got the more I am trying to help a lot of these younger players.
"It helps the environment if you care about people and want them to do well. It certainly makes it a more enjoyable experience. It's exciting for me being around these young players at the start of their career.
"Someone like Alice [Capsey] is so fearless, she takes the game on and is so composed, so it's a two-way learning thing. For them it is more holistically, with me talking them through travelling and checking they are okay mentally, but I can learn from how they go about playing."
An ultimate team woman, then, but Winfield-Hill says she had to put herself first during The Hundred, which is what led to her leaving Northern Superchargers and heading down south to join Invincibles ahead of the 2022 season.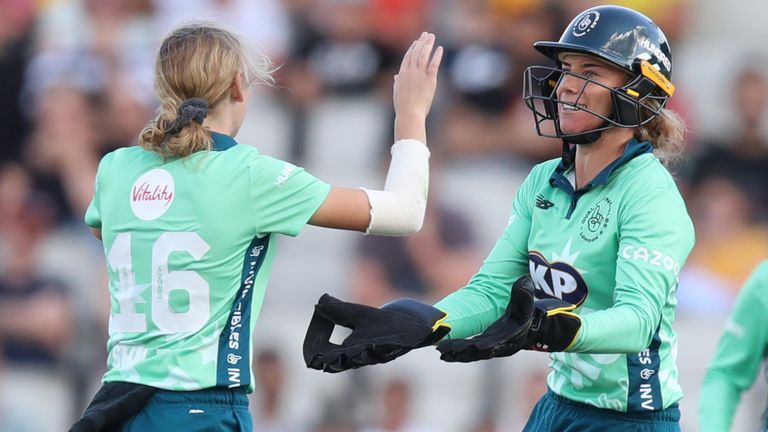 The York-born player added: "I am fiercely loyal and have always wanted to be a one-club player who could impact the local girls and help them along – but I then thought of my own career and I wanted to take the wicketkeeping gloves.
"There was initial communication that was going to happen at Superchargers but that then changed with Alyssa Healy coming in so I made the move to be an all-rounder basically.
"I felt my keeping was going to waste. I knew I was a decent keeper but wasn't getting the chance to do it. You want to contribute to teams more and if you offer two skills you feel more involved.
"It was tough because I was captain at the Superchargers so I stewed over it for four months but in the end I had to put myself first and not think about being a one-club player and leaving my mates."
She is back with her England mates now and could have World Cup bragging rights in the Winfield-Hill household if things go to plan next month.
Watch England's T20 World Cup campaign live on Sky Sports Cricket in February. The team's opening game, against West Indies, is live from 1pm on Saturday, February 11.