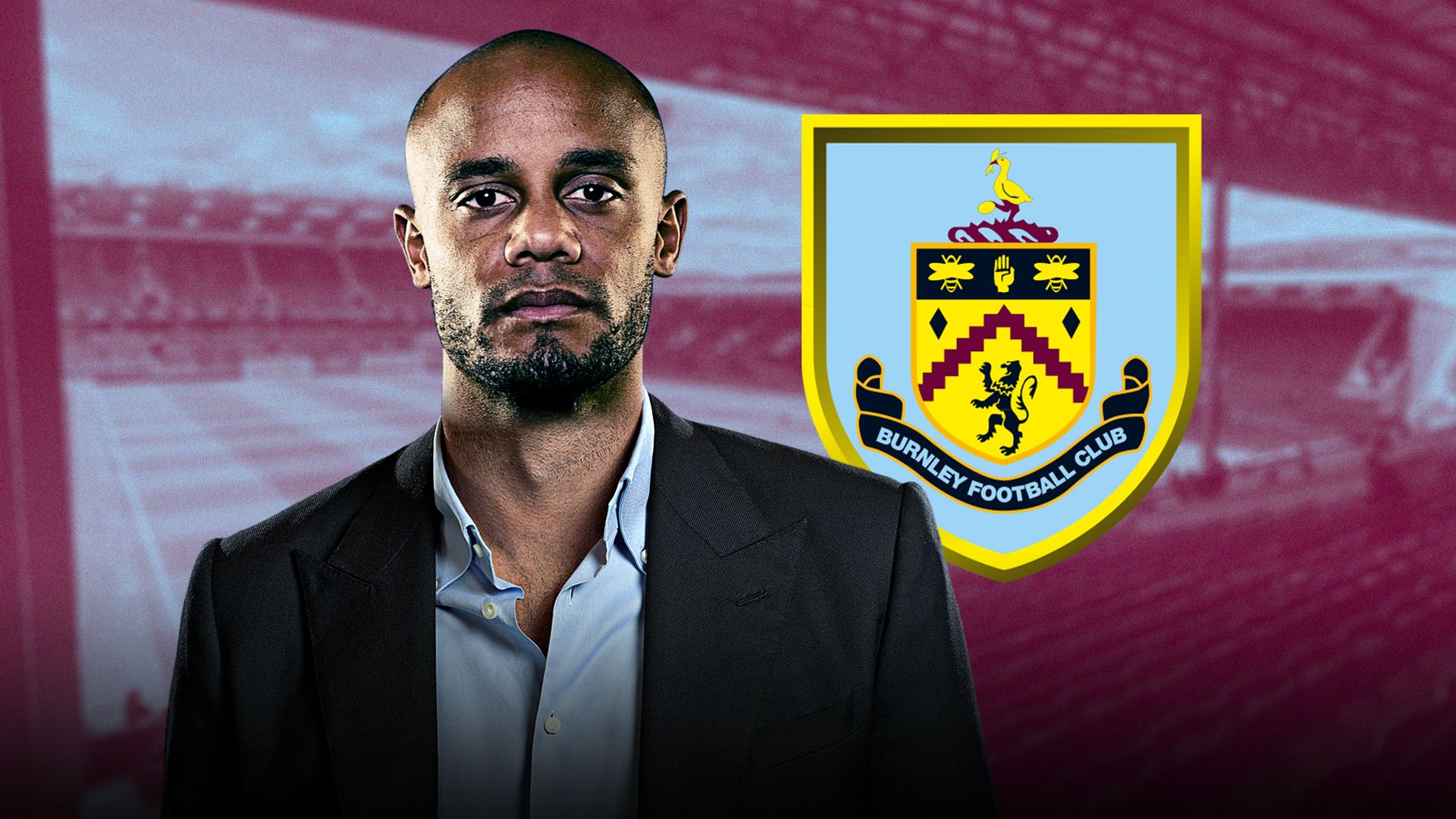 Sitting an almighty 16 points clear of third place with 19 games of the season to go, it would be easy for Burnley to get complacent with their position, and perhaps turn one eye to planning for the Premier League.
The reason they are where they are, though, is because Vincent Kompany would never allow such a thing to happen.
"My blood is boiling just hearing the word complacent," he tells Sky Sports, after picking up the Sky Bet Championship Manager of the Month award for December. "It's something I find very difficult as a human being to even accept.
"I think complacency is the biggest threat there is to our game and the way we play at the moment. When it becomes complacent it becomes a little bit soft.
"Sean Dyche was here before me and this club has always been hard and had a natural aggressiveness about the players anyway. That grit is something that's so important, and I wanted to carry that on just to see the ways we could make that even more a part of what we do.
"It has helped us a lot in our transition."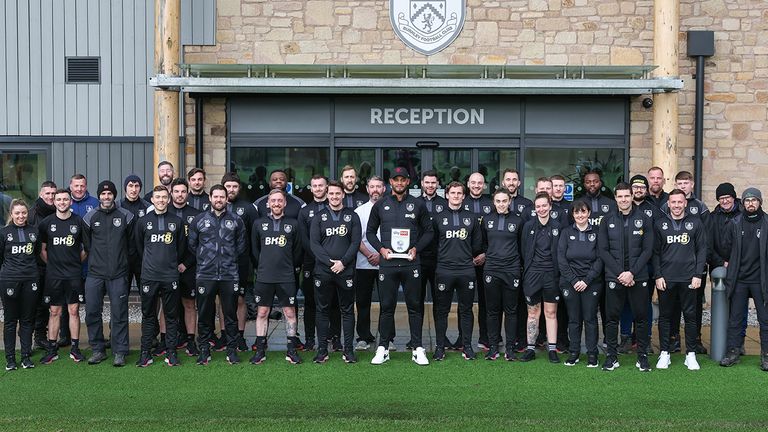 And some transition it has been. In terms of playing style you can throw everything you think you knew about Burnley out of the window.
Kompany's side is attacking, possession-based, filled with flair, excitement and goals. They have won seven in a row and are well on course to bounce back immediately following relegation.
A slow-ish start filled with too many draws – seven in their first 12 – has been replaced with a near-relentless winning run. They have dropped points just twice in their last 15 Championship fixtures.
Kompany has a smile on his face as he talks, but there is an aura of steeliness behind it as well. The drive that led him to the very top as a player has not evaded him as a manager. There is a desire to be the best that has rubbed off on his players.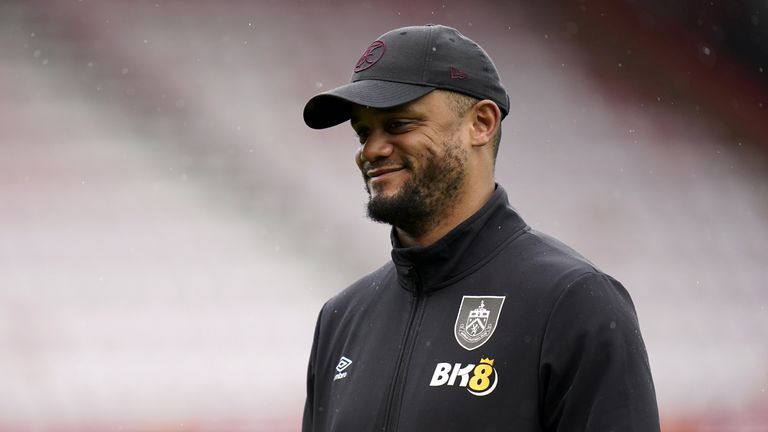 Success breeds success. And he won't let their squad rest on their laurels in pursuit of their aims.
"I'm happy most of the time," he says. "I'm never satisfied, though.
"I felt quite comfortable that the team was going to get better and progress, it just made sense that it would because we have a lot of new players come in.
"But I still feel they can get better, and that's what we look for every day. If they weren't so coachable and willing to improve, then I might not be as happy, but they've done incredibly well in that aspect.
"I can't score a goal for anyone. I can't save a goal either. I'm just sat here with the award because of what the players have done. All the credit goes to them. I just want this to continue."
Friday 20th January 7:30pm
Kick off 8:00pm
We could sit here all day and talk about the players Kompany has brought in this season who have impressed.
The likes of Anass Zaroury, Manuel Benson and Vitinho who were recruited by him from his knowledge of the Belgian market following his time in his previous role at Anderlecht are some standout examples, while a trio of loanees from the Premier League in Nathan Tella, Ian Maatsen and Taylor Harwood-Bellis have also proven pivotal.
Maatsen is a 20-year-old Dutch left-back from Chelsea who could well be starting for the Blues right now given all their problems in that position, but instead he is excelling in the Championship – and Kompany feels he is in exactly the right spot for his development.
"Ian is doing exactly what he needs to be doing," says Kompany. "With his stature he's not making the game about what the other players want, it's about what he has in terms of his skill and tools.
"He's part of such a very strong list of players who have done really well for us this season. The ingredients are always the same. He's got to be coachable in a sense that when he's not doing well we've got to be able to tell him and eventually learn from his mistakes. He's got to be willing to work hard, he does that terrifically, and get better.
"He's just turning into something that we expected him to be able to become. He's a very, very versatile full-back with lots of energy and great potential."
Alongside Maatsen is another 20-year-old defender in Harwood-Bellis, on-loan from Manchester City and an England U21 international who cannot be too far off of Gareth Southgate's radar.
"To be at his age as a centre-back in a league as physical as this, and to have the consistency of performances that he's had, it is something that tells you a lot about the talent and potential," says Kompany. "It is not easy to do and it is something you shouldn't under-appreciate.
"I've known him since he was younger, and as long as he keeps progressing he's going to have a bright future ahead in the game. I'm just happy I can help a little bit towards that."
It must be inspirational for Harwood-Bellis to be playing under a manager he watched while growing up. Both joined Manchester City in 2008, although Harwood-Bellis was just six at the time and Kompany was 22.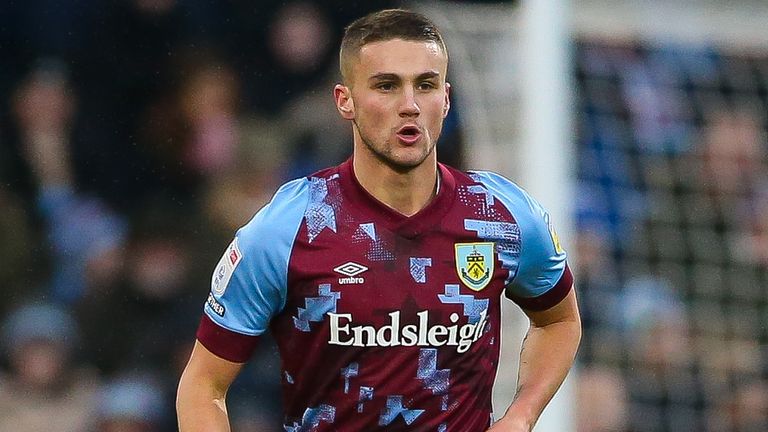 The Clarets boss spent his formative years in Belgium and then the Bundesliga, but would have fancied himself a crack at the second tier if the opportunity had arisen.
"I said before I think I'm a Championship player at heart! I just had a bit more ability, which helped me get higher," says Kompany.
"There's nothing in this league I wouldn't have liked as a centre-back. The Championship is entertaining. It's like nothing else out there. Honestly, it's so unpredictable.
"It looks like it must have been easy because we've got a lot of points, but it's been quite the opposite. Every game has been challenging, and there's no real difference between the teams at the top, and those at the bottom. It's so tough, and I'm expecting it to be the same until the end of the season."
One other aspect of the second tier that Kompany has enjoyed so much is the camaraderie among fellow managers – even accounting for this season's incredibly high turnover.
Someone who can call upon Pep Guardiola for managerial advice has taken just as much on board from his Championship contemporaries.
"I started to get more inspiration from other places than I thought I would," he says. "Pep has been a reference point for me of course, and a starting point, but I find myself talking to a lot of managers.
"There is a real environment here where there's a lot more support among managers than people would think from the outside.
"So I talk to managers before I got into the Championship, and talked to managers in the Championship who have given me tips on how to do my job in this league. I'm very open in that sense."
Kompany may be loving life in the Championship, but the nature of the league is that the more success you have in it the less time you tend to spend there.
It is unlikely he will be sticking around for very long but, despite how much you try to press him with questions about the future, he will not get ahead of himself in any way.
Doing such things is what leads to complacency setting in. And he does not want his blood to boil again.
"I don't want to set too high a target or a ceiling," he says. "You just have to keep getting better and then we'll see.
"If we'd put a target on it at the beginning of the season we'd have said mid-table, just because of the problems we had to endure over the summer. But things have gone a little bit better since, and we want to keep improving from that.
"But I won't let anyone pin us down to random benchmarks. We've still got 19 games to play. Ask me that question again in three or four months, if we're even in the running.
"What I will tell you is how much it would mean to win our next game. That would mean the world to me."
Even against an in-form West Brom on Friday night – live on Sky Sports Football – it would be very hard to back against Kompany's winning machine from continuing their surge towards promotion.