Paulo Costa's social media game has been unbeatable. The middleweight decided to drop any sort of reservedness when it comes to his posts. The 31-year-old has one of the funniest online presences which has been even noted by other fighters and definitely by fans. From sharing his 'secret juice' to trolling UFC president Dana White, there is no aspect of MMA that Costa has not trolled so far. Now, in one of his recent posts, the Brazilian took a jibe at UFC welterweight Belal Muhammad by comparing the 34-year-old to one of actor Sacha Baron Cohen's famous characters. Fans reacted to the funny comparison and made some even funnier comments on the post.
Paulo Costa continues his trolling with a new post aimed at Belal Muhammad
The Brazilian is quite active on his social media and has continued to provide fans with memes and hilarious takes on different topics. Recently he even took a jibe at Sean Strickland, saying the middleweight's been shot several times. Costa clearly doesn't shy away from even messing around with Dana White. The middleweight had very recently posted a morphed image of him and Dana White signing a deal. The caption on that tweet mentioned how he rejected $500 million for his secret juice rights. This was one of many such tweets by Costa, and now he has decided to take a jibe at Belal Muhammad.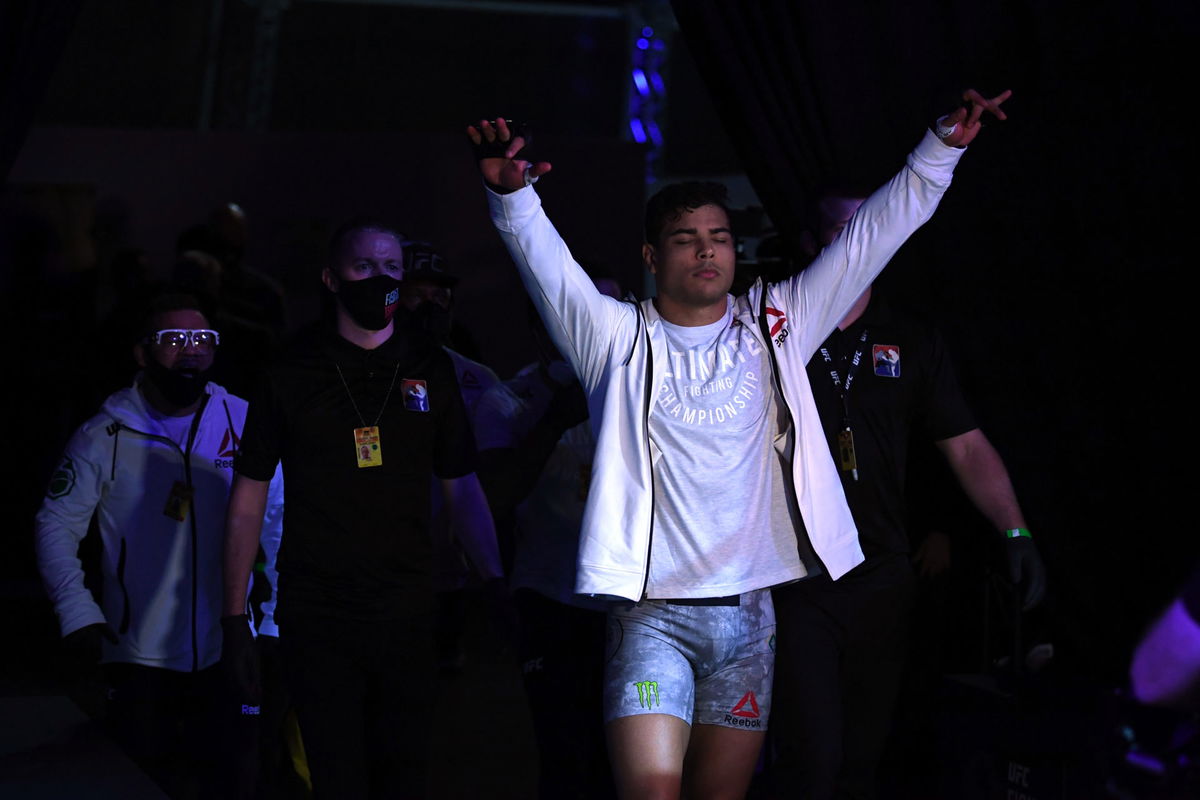 'Borrachinha' took aim at Muhammad with a side-by-side comparison of the welterweight with an image of 'Aladeen' from 'The Dictator' movie. The motivation for the tweet most likely must have come from the similarity between the two images. Belal Muhammad is strikingly familiar to the actor who wore sunglasses and seemed to be shouting out something. Even the long beard that both sported in the image looked eerily similar to each other.
Costa captioned the tweet: "This sir @bullyb170 is my favorite fighter and actor at welterweight." as he tagged Muhammad on his tweet.
This sir @bullyb170 is my favorite fighter and actor at welterweight pic.twitter.com/od0SbpPyUm

— Paulo Costa ( Borrachinha ) (@BorrachinhaMMA) February 3, 2023
Interestingly, Belal Muhammad also took it in good spirits. The 34-year-old even responded with a bunch of laughing smileys at the tweet.
Fans react to Costa's tweet
Fans were quick to respond to this comparison. While some found it extremely funny, a few seem to find it a bit over the top and even offensive. Let's take a look at a few of the standout reactions.
Read More: "This Is a Slap Competition I Want to See" – Paulo Costa & Fans Find NSFW Alternative to Dana White's PowerSlap League
One individual, for some reason, compared it to Borat; another one of the actor's successful movies.
No its Borat from Kazakistan

— Tuwada Daddy (@DTuwada) February 3, 2023
Another fan claimed the post was so boring it would put him to sleep. An obvious reference to Belal Muhammad's infamously boring fights.
I've been having trouble sleeping paulo u til you posted belals boring ass thank you Mexican man

— gilbert (@hernvndez99) February 3, 2023
One fan claimed that both of them ducked Khamzat Chimaev.
2 people khamzat ducked

— KSI fandom (@JJtheGoatKSI) February 3, 2023
The funniest reaction was the one which made a reference to a scene in the movie.
He will win his next fight by a Aladeen-48 decision.

— Hasan (@HAPhazard85) February 3, 2023
Someone even had a creative idea about Belal Muhammad's name.
Sasha Mohammad

— Tommy_network (@BullstreetLLC) February 3, 2023
The Dictator jokes just kept coming in…
Al-Wadeeya

— Rizal (@IzalMaulana18) February 3, 2023
One individual felt Belal Muhammad was more an actor than a fighter.
Take the "fighter" out and leave the actor in..

— A.B (@ayybee400) February 3, 2023
To the delight of fans, it looks like Paulo Costa will continue providing wholesome MMA content. While there has been no news on any fight confirmation, apart from the rumored Robert Whittaker fight which fell off; Costa surely knows how to keep himself in the limelight. Ultimately, MMA fans are definitely waiting patiently on a fight announcement for the Brazilian.
Watch This Story: Conor McGregor Net Worth: Biggest Cash Grabs of The Notorious One in and Out of the UFC
The post "He Will Win His Next Fight by a Aladeen" – Paulo Costa Trolls Belal Muhammad With 'The Dictator' Comparison appeared first on EssentiallySports.