The NBA All-Star weekend is just around the corner and the starters and the reserve team roster are already out. One huge fan favorite is missing from the All-Star roster and it is none other than James Harden. The Philadelphia 76ers superstar has had a decent season so far and is averaging a double-double in points and assists. However, he is nowhere to be seen near the All-Star lineup which will surely frustrate Harden as his efforts are going unnoticed.
NBA fans have made their voices heard. Fans on Twitter have rallied behind the former MVP and are calling out the All-Star panel for leaving him out.
NBA fans erupt and rally behind James Harden after All-Star snub
This year's All-Star voting has had quite a number of controversial selections. Los Angeles Lakers star Anthony Davis has been left out alongside various other names like James Harden.
Harden is currently 7th in the MVP race and is having a very good season yet. Despite his efforts, the 10x All-Star will not be present in during the All-Star weekend set to be hosted on Feb 19 in Salt Lake City.
READ MORE: "Harden Out There Taking a Whole Lot of W": Despite Loss to Magic, James Harden Wins Fans' Hearts With a Touching Gesture
With Harden's snubbing, fans on Twitter have come in numbers to support the 76ers star. Here's what NBA fans had to say.
NBA doesn't care about the all star voting you know it's bad when you got jrue holiday and jaren jackson jr making it.

— unhappy Durant Muse (Parody Account) (@Durantmuse) February 3, 2023
NBA don't even care about the all star voting anymore

— ²³𝙻𝚎𝙱𝚛𝚘𝚗𝚌𝚑𝚒𝚝𝚒𝚜 (@BronGotGame) February 3, 2023
the media hates him and pushed a narrative that he don't play defense

— 𝕮𝖍𝖊𝖊𝖉𝖔𝖊 亗 (@Cheeedoee) February 3, 2023
basically they are saying tyrese haliburton is better than him

— Alexander (@alex93899882) February 3, 2023
He's putting up jokic type numbers yet no all star smh

— BOOGIE (@1LANCYY) February 3, 2023
Tyrese Haliburton and Jrue Holiday are two of the most controversial All-Star names this year. Interestingly, Harden's teammate Joel Embiid is also making it to the game as a reserve for the Eastern Conference team.
Joel Embiid has his teammate's back after All-Star snub
James Harden's 10-year streak of making it to the All-Star game is all but broken. After this devastating news, he took to Instagram and posted, "The disrespect" on his story.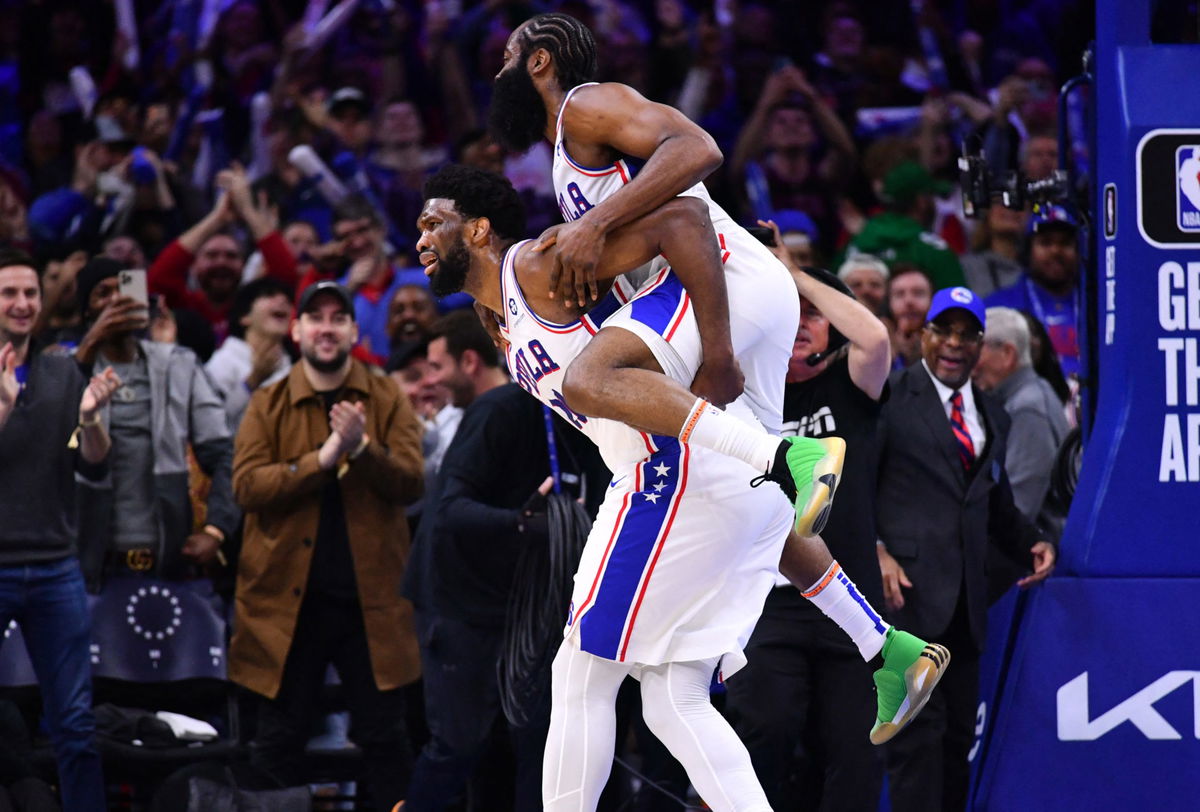 Joel Embiid was quick to take a stance for his teammate. He wrote on Twitter, "Ya'll got some explaining to do" which drew mixed responses from the fans. It seems Embiid and Harden share great chemistry both on and off the court. This season, Embiid averages 33.5 points while Harden averages 21.4 points. The two certainly have what it takes to lead the 76ers to the title this season.
WATCH THIS STORY: "LeBron James, James Harden, Trae Young, and other NBA stars give Lionel Messi his flowers after Argentina's Final World Cup win."
What are your thoughts on the All-Star team? Let us know in the comments below.
The post "NBA Doesn't Care About All-Star Voting": James Harden Makes Fans Believe 'Accolades Don't Matter' After Huge Snub appeared first on EssentiallySports.