The health benefits of boxing are now pretty well established. Moreover, physical merits aside, the intervention of the sport at a community level, especially for those vulnerable to crime and other social maladies, is noteworthy. Per se, boxing has quite a few success stories where young boys turned their backs on destructive behavior and negative influence and picked a life that offered success and fame. Furthermore, tapping the umpteen perks the sport provides, a few not-for-profit organizations have taken it to people not only outside the standard age bracket, but also with varied abilities.
Thirty-six-year-old Ebanie Bridges from Australia is the reigning IBF Bantamweight title holder. Starting her professional journey in 2019, the "Blonde Bomber" has nine wins against a single loss. Boxing, on the one side, the subject of Bridges' expertise is mathematics. In addition, she is a certified educator in the field. She boasts nearly 300k followers on Twitter and makes it a point to share exciting news and updates worldwide.
Two days ago, Ebanie Bridges shared a short, half-a-minute video clip initially posted by "The Inclusive Hub."
Ebanie Bridges joins thousands in acclaiming an inspiring video
The Liverpool-based NGO describes itself as "a Multi-Award winning CIC who help people of all abilities/ages via Boxing, Fitness, and Community Initiatives. Autism, LD, Wheelchair users, Down Syndrome."
Read More: In Recovery From Gruesome Surgery, Female World Champion Boxer Shares Lady Gaga's Motivational Message
The NGO shared a video clip on February 1 through its Twitter handle. It showed people of varied abilities and different age groups participating in mitt workouts. Their message read, "Everyone deserves the same platform in which to thrive."
Everyone deserves the same platform in which to thrive pic.twitter.com/QL086VLLoa

— The Inclusive Hub (@liamstarkey84) February 1, 2023
Ebanie Bridges stood amongst the many touched by the participants' sheer enthusiasm and focus.
— Blonde Bomber (@EbanieBridges) February 1, 2023
One of her fans @Ellerbes_Nose, impressed by their boxing prowess, mentioned that all of them can throw a terrific right!
They all got that right hook looking nice

— EllerbesNose (@Ellerbes_Nose) February 1, 2023
No wonder more than a hundred retweets landed on "The Inclusive Hub's" page.
Fans and followers can't help but be impressed by the participants' dedication and spirit
@TheGasGeezer01 mentioned that there's no mistaking the sincerity and enthusiasm with which they approach their work. Congratulating the NGO team, he lauded their exemplary efforts.
Their smiles, commitment and spirit speaks volumes – The Inclusive Club sows the seed of growth and we now have blossom all year round More Great Work At The Inclusive Hub

— Big P (@TheGasGeezer01) February 1, 2023
The clip astounded @Bearcat1232, who admired the team for sharing the video. Seeing such kind, energetic people in the world brightened up his day.
That is fantastic! Thank you for sharing, it has put a big smile on my face seeing such lovely enthusiastic people.

— Bearcat123 (@Bearcat1232) February 1, 2023
The grateful and ecstatic kids impressed @hallsyballsy50. Then, he joined the rest and congratulated the team for their efforts, calling it incredible.
Amazing this is. How happy and appreciative are these youngsters. Love it well done all involved

— @philohall (@hallsyballsy50) February 1, 2023
Enthralled, @TravellingBear9 mentioned that the group's boxing skills were top-notch. He hailed to team for continuing with their excellent work.
Outstanding to see and some great boxing skills shown by the team. Keep it up

— Travelling Bear (@TravellingBear9) February 1, 2023
Finally, @Manly2000 noted the boxing skills of the participants and just wished not to be at the receiving end of their hooks and jabs.
I wouldn't want to be on the end of those right hooks!

— Paul Manning (@Manly2000) February 1, 2023
The year 2022 turned the tide for Ebanie Bridges. First, she won the IBF belt against Maria Cecilia Roman on March 26. Then nine months later, she fended off fellow Australian and former WBF Featherweight title holder Shannon O'Connell's challenge successfully.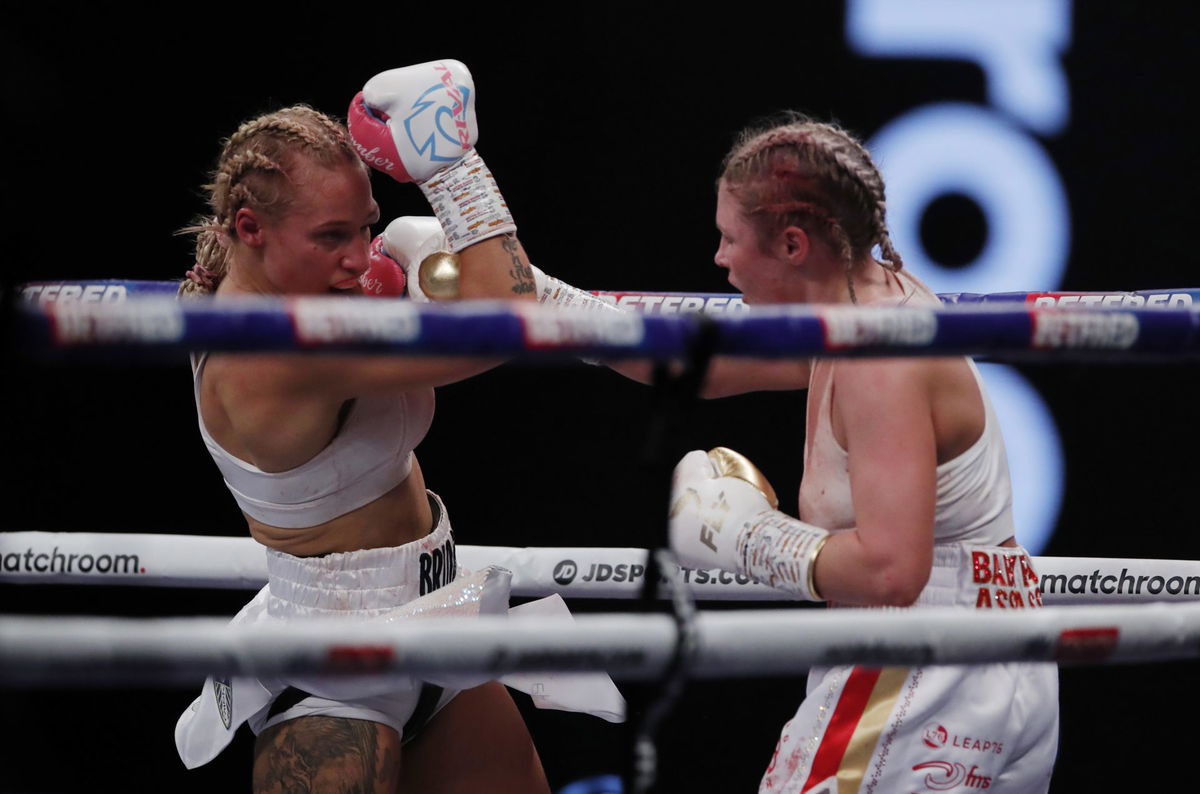 Watch Out for More: Boxing News Round-Up (Feb 2, 2023): Mike Tyson's Son Reacts to Tom Brady's Retirement, Jake Paul Labels Fury's Newborn' A Distraction', BJ Flores Mocks John Fury's 'Fake Fight' Remarks and More
What is your take on the video clip and fans' reactions? Do share your views and comments with us in the comments below.
The post Wholesome Video of People With Disabilities Doing Boxing Training Puts a Smile on Female World Champ & Thousands Around the Globe appeared first on EssentiallySports.