Nick Blackwell, a former English professional boxer, has been inspiring the boxing world with his positive message and unwavering spirit. Blackwell, who suffered a severe brain injury during a fight in 2016, has been in recovery ever since. Despite the long road to recovery, he has been spreading a message of hope and perseverance to people around the globe.
Blackwell's tweet has received an outpouring of support from boxing fans worldwide. The fans have referred to him as a "warrior" and a "true legend", showing their appreciation for his unwavering spirit and determination to recover from the injury. Blackwell's positive attitude and courage in the face of adversity have touched the hearts of many and continue to inspire people in and out of the boxing world.
A Hero in the Ring and in Life: The Story of Nick Blackwell
Nick Blackwell was forced to retire from boxing in 2016 after suffering a serious brain injury during a middleweight bout against Chris Eubank Jr.
Read More- Dana White Should Be 'Ashamed' As PowerSlap Fighter 'May Never Be the Same' After Suffering From Memory Loss: Neurologist
The injury resulted in Blackwell being placed in an induced coma for several weeks and marked the end of his boxing career. Despite the setback, Blackwell has remained positive and determined to make a full recovery, which has earned him the admiration and respect of the boxing community.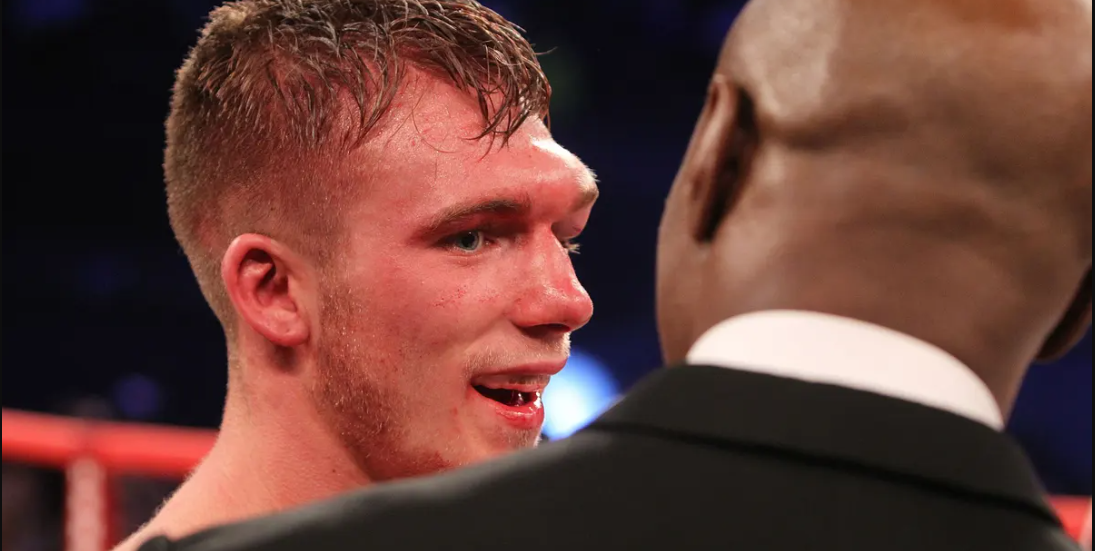 Brain injury is a very big concern in a combat sport such as boxing, where fighters get punched in the face so much. Even Mike Tyson has opened up about his brain health.
Watch This Story- Worst Eye Injuries in the history of boxing
Even arguably one of the greatest boxers in the world, Muhammad Ali, suffered from Parkinson's in the latter part of his life due to the punches he took throughout his career.
From Trauma to Triumph: The Inspiring Recovery of Nick Blackwell
In the tweet, Nick wrote, "Brain Injuries can be so frustrating". He further added, "Keep positive people, to see my recovery and videos follow me on Instagram". People have shown overwhelming support for Nick on the post.
Nick Blackwell is a true inspiration to fans everywhere. Despite suffering a traumatic brain injury during a boxing match, he has shown incredible strength and resilience in his recovery. Fans are in awe of his mental toughness and the love and support he has received from friends, family, and medical professionals.
One fan praised Nick for his positive attitude, telling him to keep moving forward. He further added that it's also alright if he takes occasional breaks too. The wholesome comment ends with the message of always getting back up and moving forward in life.
Keep taking those steps forward,it's ok to take a break bro keep getting back up and pushing forward in every aspect of life that's what's most important!!#fighter#warrior#bangbang!!

— Phill (@PhillBurtonn) February 2, 2023
Another fan called him a true warrior, both in and outside the ring.
This man is a true warrior inside and outside that square circle , all the best Nick!

— (@Gav94151294) February 2, 2023
Fans also expressed their admiration for Nick's character, with one commenting, "What a human being you are Nick. If legends are born, then that's you."
What a human being you are nick. If legends are born.
Then that's you

— ricky jones (@bury_jones) February 2, 2023
Another asked if the injury was caused by a sparring incident after a fight.
Glad to see you doing well Nick. Was it the sparring incident after the fight that caused most of the problems?

— Mediumrare (@Mediumr32557956) February 2, 2023
One person praised Nick for always staying upbeat and thinking of other people.
Legend
Never fails to put a smile on my face,always upbeat,always thinking of other,absolute warrior

— Richard Williams (@MrRic_Hard) February 2, 2023
Overall, Nick's journey has touched the hearts of many. It serves as a reminder that with hard work, determination, and support, anything is possible.
The post "If Legends Are Born. Then That's You": Boxer, in Recovery From Brain Injury, Inspires Boxing World by Sending Positive Message Around the Globe appeared first on EssentiallySports.