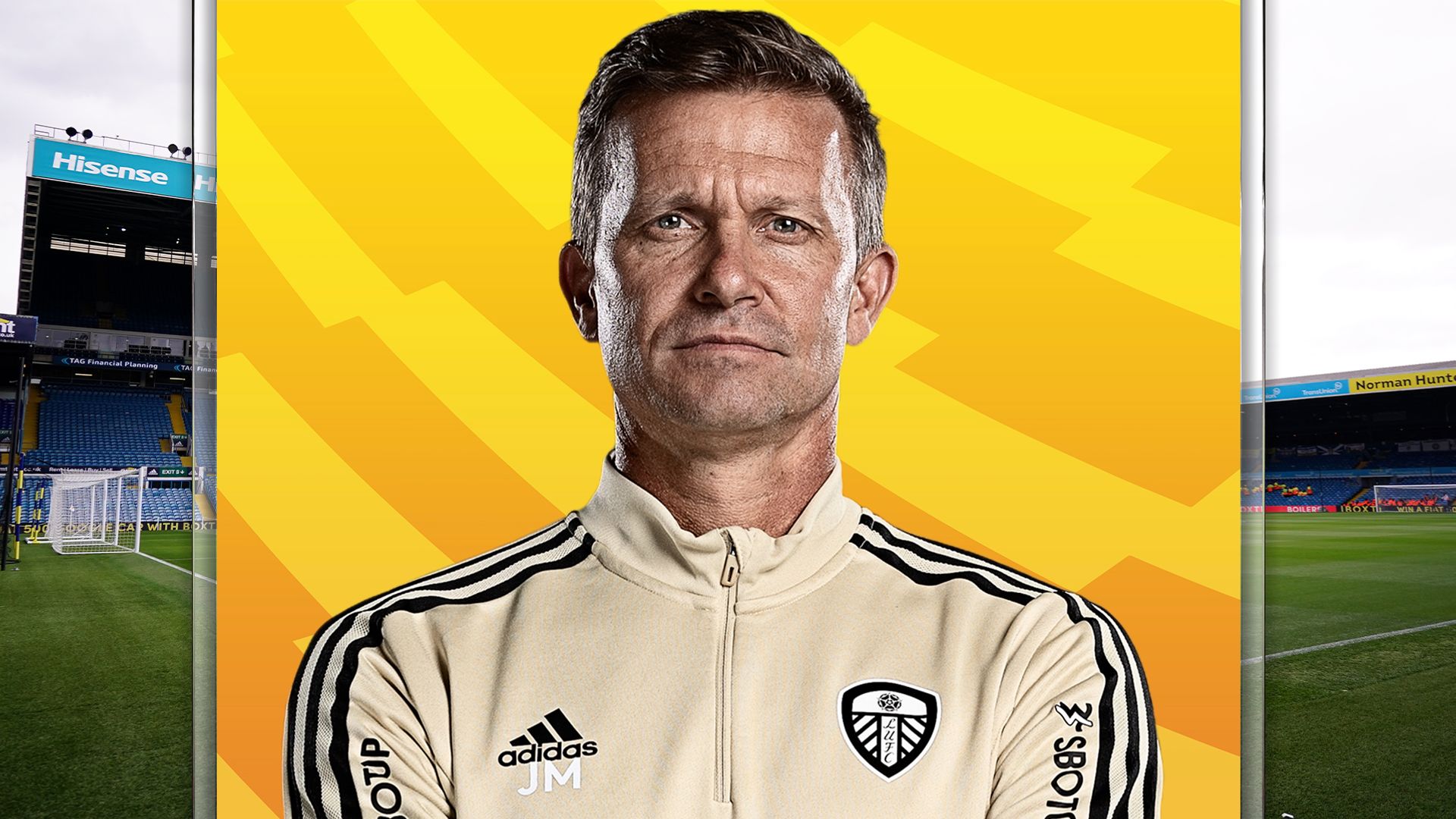 "There's a lot of tricky things. Even last year, trying to convert the team to a new playing style wasn't easy because we just needed results," says Leeds manager Jesse Marsch before pausing for a moment, and adding with a smile: "But it's been great."
It's coming up to a year since Marsch was appointed Leeds boss. Following on from the revered Marcelo Bielsa at Elland Road, with the club deep in a relegation battle, would be a tricky task on its own.
Doing so as only the Premier League's second American manager added an extra layer of scrutiny for the Wisconsin-born coach. It's one he knew was coming – Marsch even referenced infamous American comedy Ted Lasso in his first press conference – and something he's never shied away from.
"We've done plenty of things wrong, we've done a lot of things right, and I think we're now in a place to show we can be a good team," he tells Sky Sports from his office at Leeds' Thorp Arch training base.
"With challenges, you're forced to grow. I've done that, we've all done that together but, reflecting on myself, I've had to try to be at my best every single day. That's the only way we would get better."
Marsch, like his predecessor, has proven a popular character around Leeds as he approaches his first anniversary, even when results have not been so well-received. He's warm, welcoming and has as much time for anyone as if he were a fan on the street.
Like them, he's found some aspects of their first year together year frustrating. Perhaps less like them, and thanks to seeing his squad day-in, day-out, he feels a clear corner has been turned – even if results are still catching up.
Leeds are on a six-match winless league run stretching back to November 5. On the other side of the coin, they have lost one of their last four games – and played well in that defeat at in-form Aston Villa – ahead of this weekend's trip to Nottingham Forest, live on Sky Sports.
"When you say it's been a year here, for me it's taken too long to get this team to be where I want it to go," he says candidly. "There's reasons for that, but the best thing about where I sit right now is that I feel strongly we're finally initiating a process to get us on the path to where I want us to be, and we're now able to really start to play the way we want.
"What were the reasons? There's multiple things. The transformation of the playing style, bringing in the right kinds of players, the pressure of what the league is, and I'm also new to the league.
"There were many days where I felt frustration and disappointment, but I had to stay positive especially with our team and be creative to show them how to get to where we wanted to go.
"The best thing would be to build a process in isolation, but you can't. There's pressures of results, the league, relegation."
Sunday 5th February 1:00pm
Kick off 2:00pm
A productive January transfer window will have helped to ease some of those remaining frustrations. Marsch has welcomed Maximilian Wober, record-signing Georginio Rutter and Weston McKennie to Elland Road over the past five weeks. When asked about Leeds' winter business, there's a fourth name on his mind.
"I'm really excited about the three players who have come in, but also the fact that we kept Jack Harrison," he says, unprompted.
The Leeds boss has already confirmed by this point "conversations" were had with Leicester about a potential Deadline Day move for a player coming into the final 18 months of his contract, with reports he even underwent a medical in the Midlands – but in the end, Leeds decided to keep their man.
Neither manager nor player wanted him to leave. Looking forward, the relationship between both is such that Harrison is in full contention to feature at Forest on Sunday less than a week on.
"When things become concrete at the end, everyone has to identify what they're doing and it just took us longer than it should to get to that point," Marsch says.
"I know it may seem we don't always discuss these things openly, but with Jack I probably had 10 open conversations within 48 hours where we were very clear with each other. The outcome is the most important thing, navigate the situation to get the outcome that's best."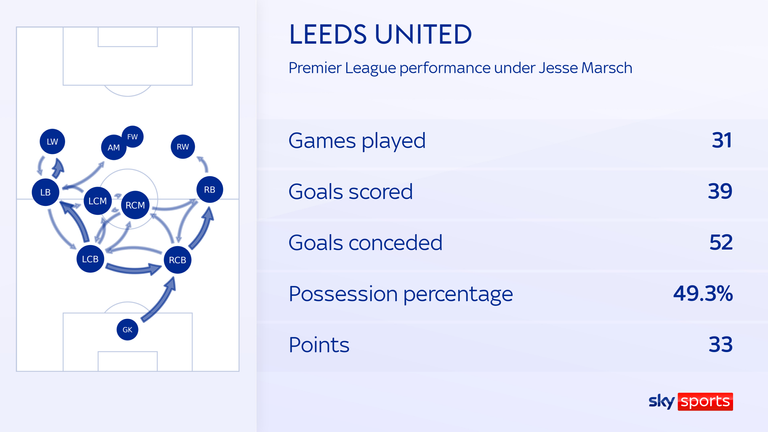 Leeds' squad already had an American flavour to it with the summer signings of Brenden Aaronson and Tyler Adams, with McKennie's January arrival adding a third Stateside voice to the playing staff.
It's tempting to equate that influx to Marsch's familiarity with the US game, and his countrymen. There is an aspect of that, but these are three players with Champions League pedigree, almost 40 games between them, and are an embodiment of the level the professional game is reaching across the pond.
Marsch, who began his career as a midfielder in the debut season of the MLS in 1996, playing more than 300 games before amassing nearly as many as a manager, is as well-placed to comment as anyone.
"The young US players are playing at a different level of club than they were 20 years ago, for sure," he says. "The sport has developed a lot. The three we have aren't just young American players, they're sophisticated in the way they think about the game and the way they're able to play. So there's definitely growth in the game.
"Then for me, it was just with what we're doing here, I felt each of them in their own way fit their identity of what we're creating almost perfectly. They're the types of player that the fans will love and understand.
"They're excited to play for a club like this – that says a lot, Weston coming from a team like Juventus, to be here at Leeds, and to take a step in his career like this, shows a lot of his belief in what we're doing."
McKennie, a regular fixture in Juventus' midfield in the first half of the season, may slot straight in at the City Ground on Sunday. Another of the three January arrivals, 20-year-old forward Rutter, may also be in line for a Premier League debut quicker than expected.
He or Patrick Bamford are likely to get the nod to replace absent striker Rodrigo, who will miss the next two months with an ankle injury. The Spain international is one of Marsch's biggest success stories at Elland Road, scoring 13 goals in 30 league games since he took over, after 10 in 45 under Bielsa – and he will leave a hole in Leeds' attack.
"From day one, I challenged him, he challenged me," explains Marsch. "We had to come together, understand each other, and that process has led to him being in an incredibly strong place mentally, and then he's able to show his quality on the pitch every day.
"It hurts to lose him, but my thoughts are more with Rodrigo. He was in such a good place, and to pick up an injury in the last minute of a match at Accrington, you never want to just protect your players but it's frustrating for him.
"But the side effect is there is an opportunity for others. Patrick (Bamford) is in an incredibly good way, and we're excited for what he can bring. And we brought in Jorginho as a young, attacking striker who we think can help the team now, not in six months, not in a year, now. I think he's already shown that."
Leeds' busy January means Marsch has now overseen the recruitment of nine first-team players in a year and shows the stamp he has put on his squad. In much the same way, the city and wider community has done the same to him and his family in his first 12 months in Yorkshire.
His wife, Kim, is an adopted lover of Yorkshire Tea and while Marsch is still getting to terms with some English colloquialisms, as well as being a rare managerial import from the USA, there is plenty that does feel familiar after a year in Yorkshire.
"There's some phrases like 'innit', 'y'alright?' which I'm still getting used to, but there's so many random acts of kindness," he says.
"Whether it's out on the street, in the park with my pets, it's not necessary how friendly, open and generous people are, but they find it really important to be like that and it reminds me of where I'm from. It makes it feel like home for both of us."
If there's one thing that could make Elland Road feel even more like home, it's a run of results to match the buy-in Marsch says he has seen from his players. Three points at Forest on Sunday would be the perfect start.
Watch Nottingham Forest vs Leeds live on Sky Sports Premier League from 1pm on Sunday; kick-off at 2pm.