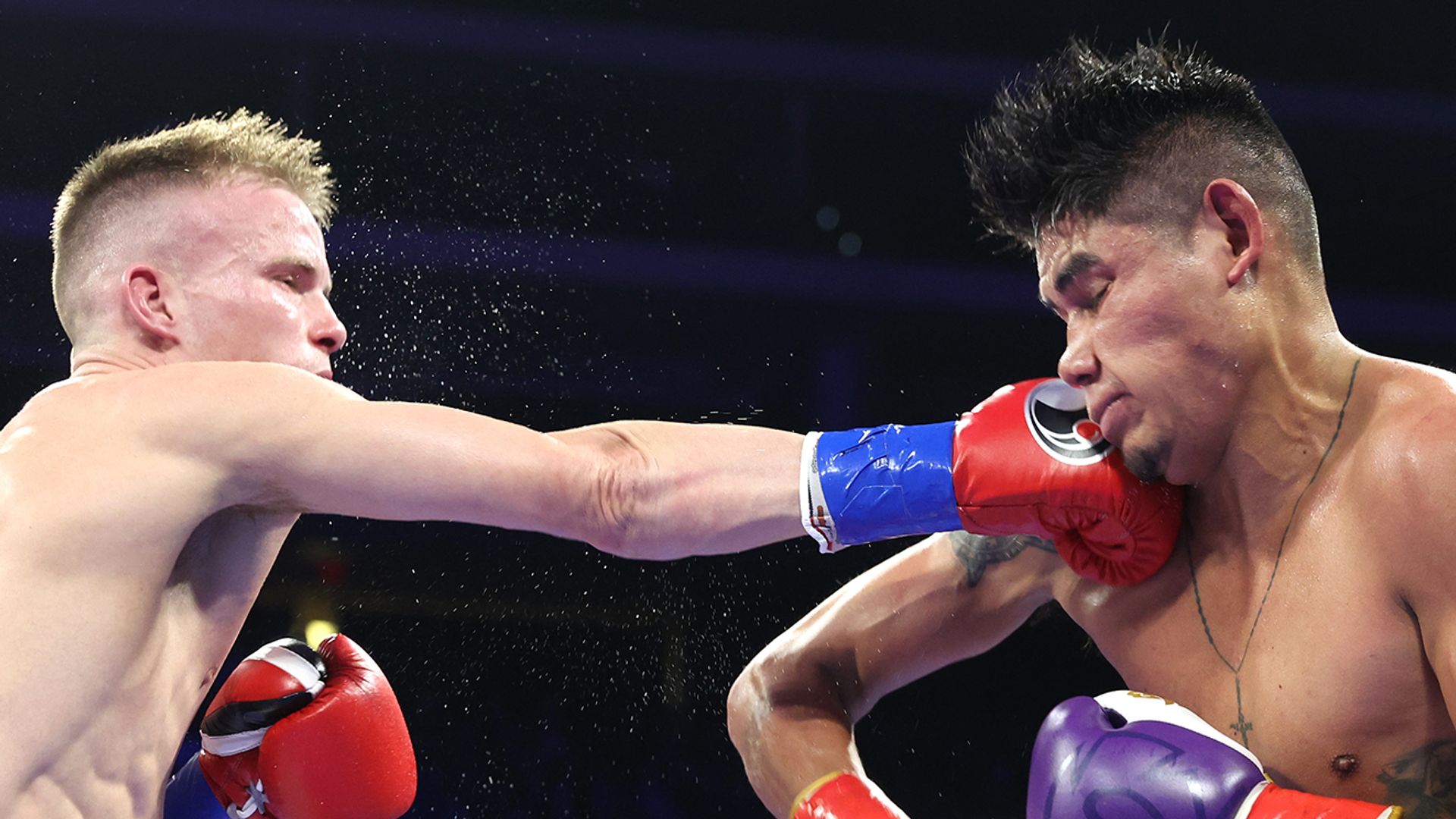 Emanuel Navarrete forced a dramatic stoppage in the ninth round to win a thrilling clash with Liam Wilson and win the vacant WBO super-featherweight title.
Australia's Wilson was a significant underdog against Navarrete, the unbeaten Mexican star who had already been a world champion at super-bantam and featherweight.
But it was Wilson who struck first at the Desert Diamond Arena in Glendale, Arizona on Friday. Opening up against his all-action opponent, Wilson hurt Navarrete in the fourth round. As the Mexican wobbled back Wilson sustained the flurry and bowled Navarrete off his feet.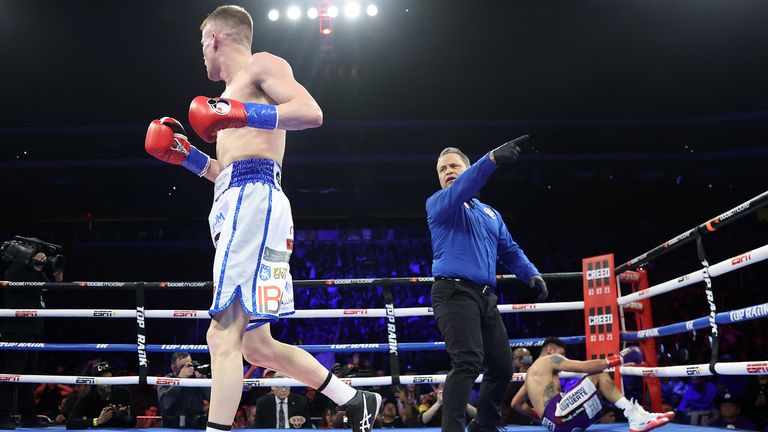 Afterwards Wilson complained the referee's count after the fourth-round knockdown had lasted too long. "I thought I won the fight in that sense because I think it was about a 20-second count. I'll review it and see what happens there," he said afterwards.
Navarrete's mouthguard had dropped out and he bought extra time as the gumshield was put back in place.
At 28 years old and in the 38th bout of his professional career, Navarrete used all his experience and rallied remarkably.
Coming back at Wilson, he put combinations together. But the Australia managed to shake him up again in the sixth round when he planted a big right on his chin.
Work to the body however continued to weaken Wilson and Navarrete put his opponent down with a tremendous flush right early in the ninth round. He maintained a relentless assault after that to force a dramatic stoppage win at 1-57.
"I'm made of a lot of work, strength, lots of heart, and the Mexican spirit that never lets me down," Navarrete said.
"Liam is a warrior. He was able to land a shot that stunned me a lot. Obviously, we tried to take things calmly. Fortunately, we were able to recover our calmness. We went out to recover a bit. We returned to 100 per cent."
Wilson said: "Tonight, I came up a bit short, and I'm disappointed."
"But I knocked him down in the fourth round, and I felt that the count was a bit long. We'll have to review it and see what people think. He's a true champion, though.
"I want to come back. I'm a true champion. This is my 12th fight, but no excuses. I love to fight, and I love challenges. I'd fight any other champion any day of the week. He's a tough champion. With all due respect to him, he's very awkward. But this is boxing, and stuff happens. All credit to him. I hope he goes on to do great things. I'll be back. Make no mistake about it."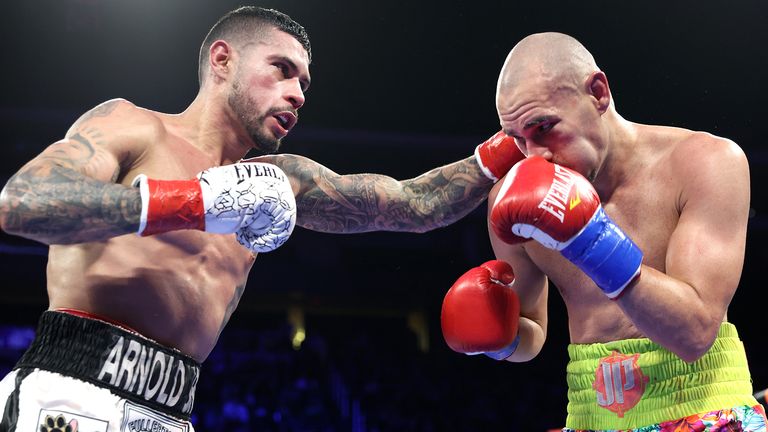 Navarrete has now established himself as a three-weight world champion.
"The satisfaction of winning like this is enormous," he said.
"I think that I needed this test in order to be able to say my career is more complete. Now that I know that I can hit the canvas and get back up and keep fighting, I'm more than happy because I know that I can continue forward."
On the undercard Arnold Barboza extended the unbeaten run of his career to 28-0 as he outpointed Jose Pedraza.
He won their super-lightweight contest on a unanimous decision, 97-93 and 96-94 twice after 10 rounds.
It was a key a result for him. The victory over former lightweight champion Pedraza he hopes will put him in line for a major fight at 140lbs next.
"I was making the fight easy for the first five or six rounds, but I wanted to stay in there and start brawling. Pedraza is a tough guy. All training camp we were working against southpaws, but he did a good job of switching to southpaw in the middle of the fight. It's hard fighting a guy like him with a lot of experience," Barboza said.
"I think I've paid my dues. I want a title shot. I want Regis Prograis, Alberto Puello, or the winner of the IBF title or the WBO title. If I can't get them, everyone knows who I want: Teofimo Lopez."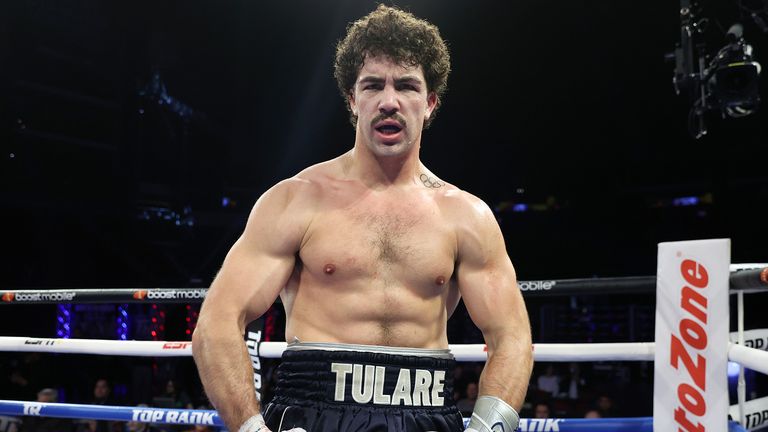 Olympic silver medallist Richard Torrez won his fifth pro fight with a fifth consecutive stoppage when he halted James Bryant after landing a punishing uppercut. Bryant was hurt and his corner pulled him out at the end of the first round.
"When you land a punch like that, it almost feels like there's no glove there. It just feels like a solid shot from your knuckle to his head. And that's when you know you hurt the guy," Torrez said.
"I thought he was in the recovery state because he had a minute left, but if the fight were to continue, I would have applied pressure. I started off the first round a little slower than usual, but I did that on purpose.
"I wanted to set my distance and my jab and feints. And luckily that uppercut landed and there was more to come."
Muhammad Ali's grandson, Nico Ali Walsh took a six-round decision win over Phoenix's Eduardo Ayala.
Ali Walsh said: "He was a big guy, and I wanted to show that I could muscle him around on the inside. Ayala was the hometown favourite. That was a new experience for me, but it was a valuable one."