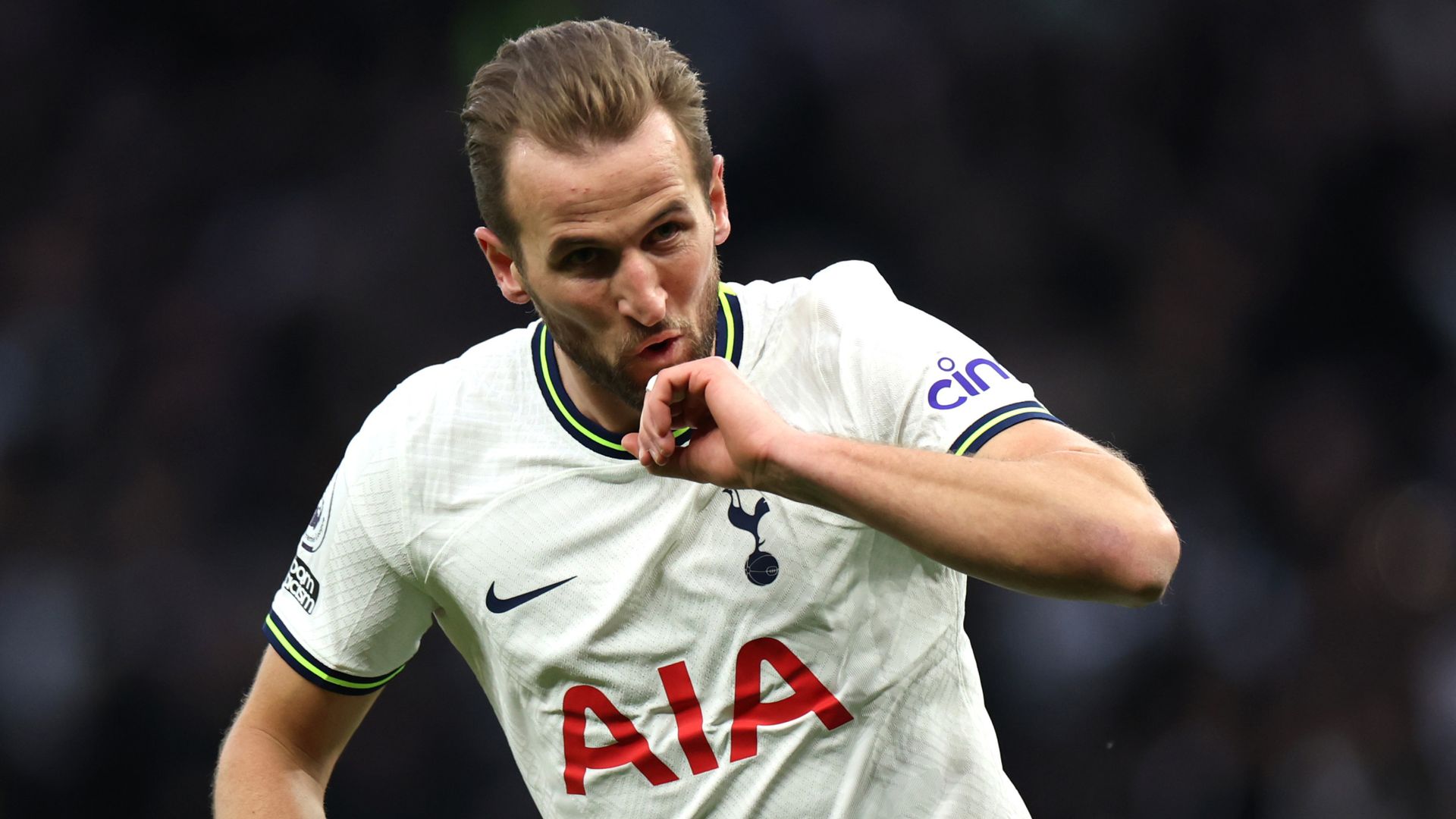 Harry Kane broke Jimmy Greaves' record to become Tottenham's all-time leading scorer as they inflicted a blow to Manchester City's title-defence with a 1-0 win in a frantic encounter.
Kane punished Rodri's error in possession on the edge of his own box by scoring his 267th goal in Spurs colours (15) as City failed to take advantage of league leaders Arsenal's defeat at Everton on Saturday.
Spurs held on despite Cristian Romero's late red card (87) for a second bookable offence to ensure City have now lost all five of their games at the Tottenham Hotspur Stadium and remain five points behind the Gunners in their race for a third successive title.
Team news
Head coach Antonio Conte was absent for Spurs after undergoing gall bladder surgery.
Assistant Cristian Stellini named an unchanged side from the win at Fulham.
Pep Guardiola made four changes for Manchester City as Kevin De Bruyne dropped to the bench.
Phil Foden (illness) and John Stones (injury) were unavailable as 18-year-old Rico Lewis started at left-back.
Spurs, meanwhile, move to within a point of the top four having played a game more than their rivals after recording three consecutive wins for just the second time this season with one of their best performances of the campaign.
Player ratings
Tottenham: Lloris (7), Emerson (8), Romero (6), Dier (7), Davies (7), Perisic (7), Hojbjerg (9), Bentancur (7), Kulusevski (7), Kane (8), Son (7).
Subs: Sessegnon (5), Bissouma (N/A), Sanchez (N/A).
Man City: Ederson (6), Walker (6), Akanji (7), Ake (6), Lewis (7), Rodri (5), Silva (6), Grealish (7), Mahrez (6), Haaland (5), Alvarez (6).
Subs: De Bruyne (6), Gundogan (N/A).
Player of the match: Pierre-Emile Hojbjerg.
How Kane made history in big win for Spurs
Man City dominated possession in the early stages but looked vulnerable to the counter-attack. The early blow, though, came after Rodri gave up possession on the edge of his own box, allowing Pierre-Emile Hojbjerg to set up Kane to become Spurs' all-time leading scorer.
Kane received the ball at an angle and slotted home first-time with a low finish, which was his first touch of the game with his feet after 15 minutes. It was a landmark goal for the 29-year-old as he became Spurs' record scorer on 267 and the quickest player to 200 Premier League goals.
Spurs were roared on by the home crowd after going ahead and continued to cause City problems with Kane coming close to doubling their lead at a set-piece. City, though had a chance to level in the dying moments of the first-half as Riyad Mahrez rattled the bar with a strike from inside the box.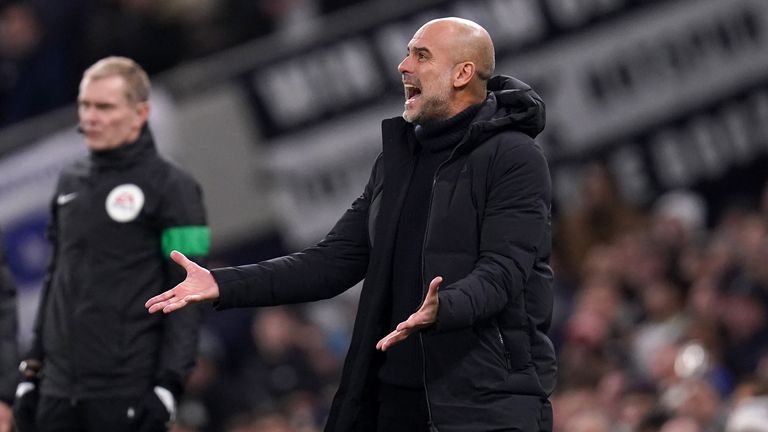 Man City failed to find their groove in the second half and Kevin De Bruyne came on as the game became stretched. It was Spurs, though, that posed more of a threat with City's forward line looking disjointed for most of the game and Erling Haaland unable to get into the match.
Kane twice came close to scoring in quick succession after the hour, missing a low cross from Ivan Perisic at the back post and being denied by a big Ederson save. Jack Grealish pushing City forward, but they couldn't create a clear-cut chance, coming closest with a long-range strike from Julian Alvarez.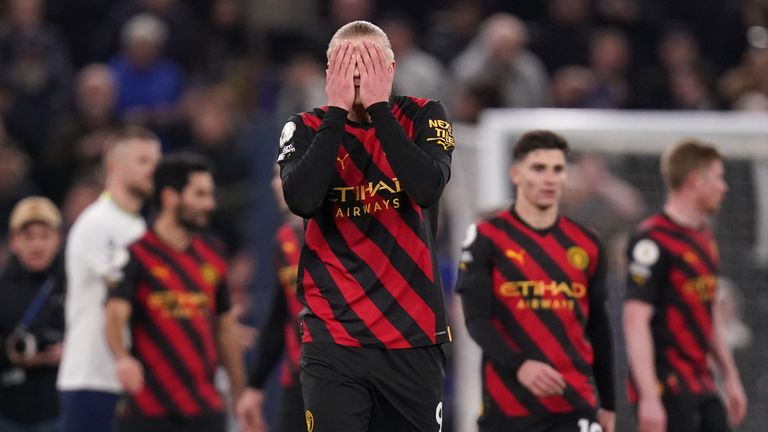 Romero's sending off with three minutes to go gave the visitors some encouragement but they were shut out by an impressive Tottenham backline, who barely put a foot wrong all afternoon.
Record-breaking Kane inspires Spurs
It was an emotional scene at the Tottenham Hotspur Stadium as Kane was serenaded by the Spurs faithful before addressing the crowd as the club's record goalscorer for the first time.
He picked the perfect time to break Jimmy Greaves' record. This was a huge game against the Premier League champions at a time when the club needed a lift.
Spurs were without head coach Antonio Conte but Kane led by example on the pitch and gave everyone else the platform from which to perform.
Emerson Royale and Pierre-Emile Hojbjerg were among the Spurs foot soldiers that were inspired by their captain as they outfought City and took yet another three points against Pep Guardiola's side in north London.
So often derided for failing to perform for the full 90 minutes, Spurs were the better side from the first to the final whistle and always looked more threatening. They stood up in Conte's absence, when it really counted.
City disjointed as Pep tinkers again
When the teams were announced, the Manchester City line-up caused a bit of confusion. For starters, Kevin De Bruyne was on the bench but it also wasn't clear how the team would line up.
That feeling appeared to be felt by the City players, too. For so long we have become accustomed to Guardiola's champions looking almost machine-like, knowing exactly where they need to be at all times.
But at the Tottenham Hotspur Stadium that wasn't the case at all. The balance of the side was off and the decision to play Julian Alvarez up top with Erling Haaland at De Bruyne's expense left big holes in City's midfield.
Evolution is key to keeping a team at the top of the footballing food chain. That's part of the reason Pep Guardiola allowed Gabriel Jesus and Oleksandr Zinchenko to leave in the summer. But the changes to the system don't appear to be clicking just yet and it could cost City the title if they don't find their groove soon.
Stellini: Kane is a GOAT in PL
Tottenham assistant manager Cristian Stellini told Sky Sports: "Harry Kane, in his DNA, he has football. He understands football in every moment. He can play in any position. He is a GOAT in this league, in this sport. He is a great example.
"It was a tough week and we have to give a great compliment to all the players and the staff. It was a tough week because we lost Antonio [Conte] this week, hopefully he'll be back next week. He'll be back happy now.
"I spoke to him on the phone just now and he said congratulations to the team and especially Harry.
"The key was the capacity to suffer when City has the ball. We know when we play against this team we have to suffer because they have the ball a lot but we moved well in the defensive situation and defended the goal in a brilliant way.
"We knew very well that in that game (at City) we lost our key – our capacity to suffer. We lost that last time, we spoke about that situation and that we had to be angry, motivated.
"To reach our target, we have to suffer more, to fight. When you are winning against City, they can play with great pace. You have to be strong and we controlled the space very well."
Pep: Strange we can't score at Spurs
Manchester City boss Pep Guardiola told Sky Sports: "We started really well, as usually happens against Tottenham home and away, but after we made a mistake they punished us – 1-0 down it is different, we had chances, and of course when we lose balls in transition with Kulusevski and Son, it is not easy. We dropped three points."
"Sooner or later it is going to change [City's record at Spurs], but it is strange we haven't scored one goal, we have missed penalties in the past. To find an explanation is not easy.
"We found the positions, made good balls to the channels, but missed the last action up front.
"We are not in the position to think about being champions, just the next game, Aston Villa, we will prepare well and play our game as best as possible.
"Tottenham has a fantastic team and squad and they punish you. They have a lot of quality up front and don't need much with transitions, set-pieces, give a lot of credit to them."
Nev: Something isn't right at Man City
Sky Sports pundit Gary Neville on co-commentary:
"I remember when Tottenham went 2-0 up at the Etihad and I said that Pep Guardiola was messing around and tinkering a bit a few weeks ago.
"I felt the same today when I saw the teamsheet came through with no Kevin De Bruyne and Ruben Dias and Aymeric Laporte still on the bench.
"You can never write Manchester City off. It's almost embarrassing that sometimes you are sat up here saying Guardiola has got it wrong, particularly when proves himself so right so many times like he did a few weeks ago.
"But something isn't right at Man City. It just feels a little bit strange at the moment."
Sky Sports pundit Jamie Carragher added: "We're waiting for City to kick into the City we know so well and this might be the season where they are not themselves, for lots of different reasons," he said. "It's not the Manchester City of old."
Tottenham visit Leicester next up on Saturday February 11; kick-off 3pm, before they return to their Champions League campaign with a last-16 trip to AC Milan on Tuesday February 14; kick-off 8pm.
Manchester City's next challenge is a televised game with Aston Villa, live on Sky Sports from the Etihad Stadium on Sunday February 12; kick-off 4.30pm. They then visit leaders Arsenal on Wednesday February 15; kick-off 8pm.