WWE star Rhea Ripley has been on a roll recently. The former NXT UK Champion won the 2023 Women's Royal Rumble earning a title shot at WrestleMania in April. Apart from that, The Eradicator has been making her name as the muscle of The Judgement Day faction, drawing comparisons with the legendary Chyna. Her storyline arc with Dominik Mysterio has also impressed the fans, with the former RAW Tag Team Champion referring to her as 'Mami'.
Both Ripley and Dominik have been enjoyable to watch as an on-screen pairing, and their relationship has been portrayed as a lovely couple. But away from the world of kayfabe, Ripley is rumored to be in a romantic relationship with former WWE star Buddy Murphy, who goes by the name Buddy Matthews in AEW. The former RAW Women's Champion shared a tweet of her alongside Matthews inside a gym that got the fans talking.
Fans left wondering about Dominik's status after Rhea Ripley's photo with Buddy Matthews
Rhea Ripley has been dating Buddy Matthews for some time, and the pair have often posted pictures with each other on social media. Their latest photo together in a gym drew sharp reactions from the fans who have enjoyed the chemistry between 'The Nightmare' and Dominik Mysterio.
You make my heart happy pic.twitter.com/c73Q8JpNgV

— RheaRipley_WWE (@RheaRipley_WWE) February 9, 2023
Many fans sent their best wishes to the couple, but some hilariously questioned the status of Dominik and his Mami. The fans kept wondering where was Dominik and how would he react to this photo of Ripley with her real life boyfriend.
ALSO READ- Despite Scaring a Kid, Rhea Ripley Receives Love From Fans: "She's the Best"
Here are the top reactions from the fans to Rhea Ripley's gym photo with Buddy Matthews.
where's dom dom?

— random person (@bangrolland) February 9, 2023
Daaaaamn Dom Dom got ripped

— Jared C. 4CD#895 (@Mayowulff) February 9, 2023
Tough Break Dom!

— MRTNA (@Phoinexthe2nd) February 9, 2023
@DomMysterio35 you gonna stand for this?

— 16Cam_ (@16Cam_) February 9, 2023
Dominick be like Mami why

— Israel Oke (@Oke3Israel) February 9, 2023
Not Dom?

— God of reality (@Hemilton__) February 9, 2023
Fans also gave the couple their best wishes.
Both of you are so incredibly talented! I wish you both continued success and happiness.

— JenWilson1015 (@jen_wilson1015) February 9, 2023
Awwwww the are so cute together https://t.co/zbL6geqjpm

— Elizabeth head (@Elizabeth_wwe) February 9, 2023
So happy for you two.

— (@RunzWithWolves) February 9, 2023
You must marry each other

— َ (@1Ronda0) February 9, 2023
While Rhea Ripley has enjoyed working with Dominik Mysterio on RAW, it is clear to see where her preferences lie outside the ring.
Buddy Matthews history with Mysterio family
This isn't the first time Buddy Matthews is incorporated up in the Mysterio family dynamic. He had a romantic storyline with Rey Mysterio's daughter Aalyah during the Mysterio family feud with him and Seth Rollins in 2020.
Moreover, last year when The Judgement Day began feuding with Mysterios, Rhea Ripley confronted Aalyah and shoved her. This led to fans amusingly calling for Buddy Matthews to respond. The Australian star responded in kind and posted a hilarious tweet saying they could have a match for his custody, a reference to the infamous Eddie Guerrero-Rey Mysterio Ladder Match for the custody of Dominik.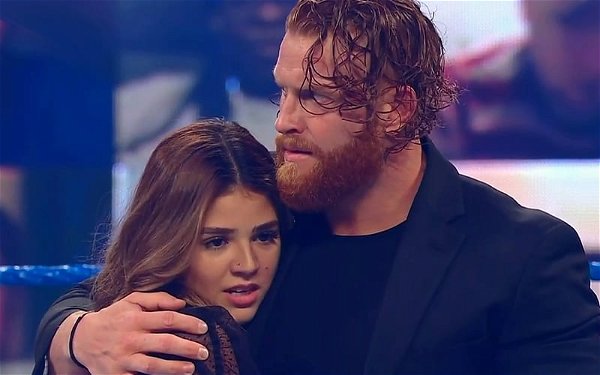 Ripley is clearly loving life with Matthews at the moment. Her on-screen relationship with Dominik also remains a whole different ball game. For now, Rhea Ripley is focused on winning the SmackDown Women's title at WrestleMania and establishing herself as a top star in the company.
Watch This Story: Dwayne Johnson John Cena Hulk Hogan and others 10 WWE legends who acted in films
The post "Damn, Dom Dom Got Ripped", "So Cute Together": Rhea Ripley's Latest Gym Photo Alongside Rumored Boyfriend Grabs Fans' Attention on Social Media appeared first on EssentiallySports.