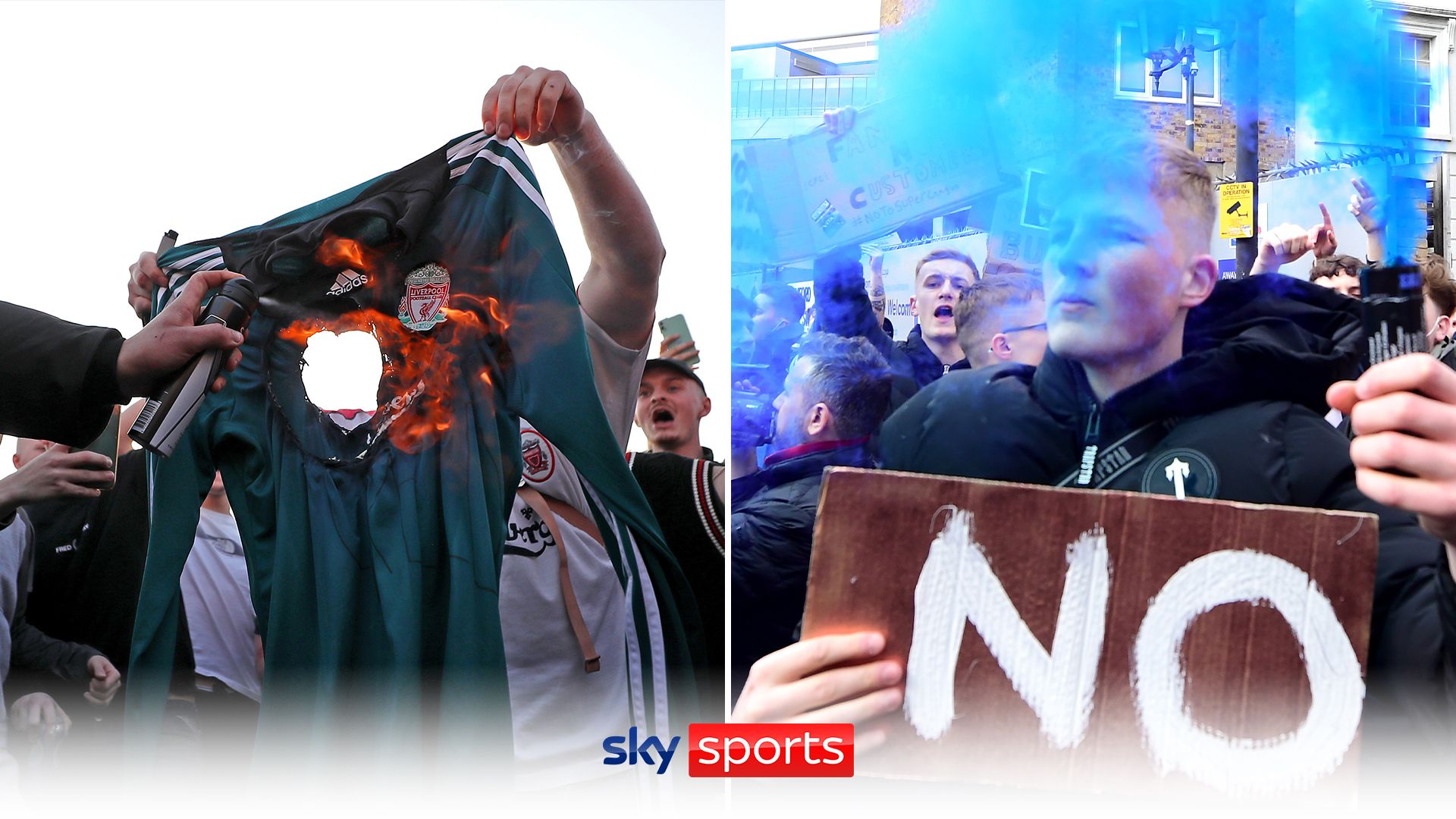 Several Premier League clubs have privately distanced themselves from the proposed new version of the European Super League, believing it to be laughable, Sky Sports News can reveal.
The announcement by A22 – the company fronting the ESL – on Thursday of a proposed new-look, open competition containing up to 80 teams in a multi-divisional format is being shrugged off, with strong sentiment that their "flimsy" press release does not even merit a public response.
Five clubs have indicated they want no involvement in the ESL, with a senior executive from a London team describing the latest push as "all hot air".
"There is no 'who' or 'how', nor any demonstrable mechanisms and substance. It's laughable," the senior executive added.
Resistance from the Premier League was expected by the rebel three – Barcelona, Real Madrid and Juventus – still peddling the failed project.
The division's 2022-23 owners' charter, designed to avert any future breakaway threat and signed by all 20 teams, reads: "We are collectively committed to the Premier League and recognise our responsibility to support it. We will not engage in the creation of new competition formats outside of the Premier League's rules."
So, while the ESL's first attempt at a breakaway hinged on participation from England's elite, the approach now has been to spark backing across the continent by attacking the top-flight's wealth.
A tone of exclusion is further underlined by the final principle of their manifesto stating a 'respect for European Union law and values', which is not applicable to England's pyramid.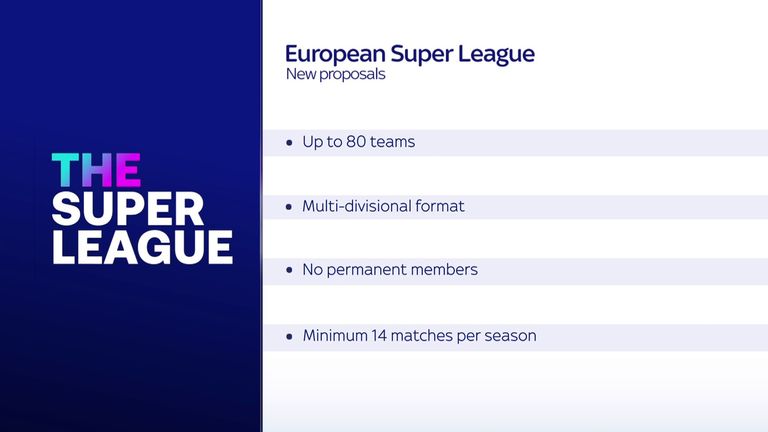 The ESL's latest move is seen as a desperate attempt to generate goodwill ahead of the European Court of Justice's ruling later this year on the legitimate power of UEFA over club competitions.
The ESL was dealt a blow in December when the non-binding advice from advocate-general Athanasios Rantos to the court was that the restrictions UEFA and FIFA assert over football are compatible with EU competition law.
Premier League executives met on Thursday to discuss long-term strategy plans for the competition ahead of the regular shareholders' meeting on Friday. This was already in the diary before the ESL press release was circulated.
Opposition to the new version of the ESL has not just stemmed from England, with LaLiga's statement comparing it to "the wolf in the story of Little Red Riding Hood".
"It is disguising itself as an open and meritocratic competition, but underneath there is still the same selfish, elitist and greed-driven project. Don't let their tales fool you," added the Spanish top flight.
LaLiga president Javier Tebas said: "The Super League is the wolf, who today disguises himself as a granny to try to fool European football, but HIS nose and HIS teeth are very big.
"Four divisions in Europe? Of course the first for them, as in the 2019 reform. Government of the clubs? Of course only the big ones."
A22: We don't need English teams
When asked whether the Super League needs to have Premier League teams in order for it to thrive, A22 chief executive Bernd Reichart admitted English teams are not a necessity.
"This project is not dependent on one specific territory to join," he exclusively told Sky Sports News on Thursday.
"I'm not excluding anything. Our wish would be to have the best European tournament. That continues to be the objective.
"We believe the other European club competitions are not living up to its potentials. European club competitions should be exciting. We think the first phases have a lot of inconsequential matches which could be filled with so much more excitement. The Premier League is a good example of how they produce the best matches with top players.
"If one country, FA, one league is not able to join and will not join the European competition that is brought on the way, this project will not die."
ECA: When will A22 move on?
The European Club Association echoed LaLiga's views on the new plans.
"This is just another deliberately distorted and misleading attempt to de-stabilise the constructive work currently taking place between football's real stakeholders to move things forward in the overall best interests of the European club game," the ECA said.
"As the sole organisation recognised by FIFA and UEFA representing clubs at European and international level, and the only body through which clubs have genuine representation in their decision-making, ECA reiterates its long-standing opposition to the European Super League and any breakaway project.
"A great amount of progress and positive change has been achieved by ECA in recent years in collaborative partnership with all football stakeholders – UEFA, FIFA and the confederations, national associations, leagues, fans, players and clubs of all sizes – working for the benefit of the entire European football ecosystem.
"From 2024, more clubs from more countries will participate in European men's club competitions every season, growing the passion of European football and greatly increasing the amount of revenue being shared.
"Significant progress can be seen across other aspects of the game from women's football, youth and academy development, finance and regulation to sustainability and social impact.
"This is what real change looks like. We have moved on, when will A22?"
'European model far from broken'
The European Leagues said in a statement:
"The European Leagues are very surprised by the statement from A22 which refers to an open consultation process and its results.
"The European Leagues – the body officially representing the interests of 40 domestic competition organisers coming from 34 countries in Europe and 1,092 clubs – never met with A22 and were not consulted.
"The leagues fully support the current European club football model which is based on an open pyramidal structure with promotion and relegation from grassroots to professional at domestic level, and where qualification for the UEFA clubs competitions is based on the annual performance in the domestic competitions.
"This model is far from being broken and does not need to be fixed."
'The walking corpse twitches again'
Fan opposition to the 2021 plans was especially key to sinking the project, and Football Supporters' Association chief executive Kevin Miles likened the European Super League to a twitching corpse on Thursday.
"The walking corpse that is the European Super League twitches again with all the self-awareness one associates with a zombie," Miles said.
"Their newest idea is to have an 'open competition' rather than the closed shop they originally proposed that led to huge fan protests.
"Of course an open competition for Europe's top clubs already exists – it's called the Champions League.
"They say 'dialogue with fans and independent fan groups is essential' yet the European Zombie League marches on – wilfully ignorant to the contempt supporters across the continent have for it."
Will new-look European Super League succeed?
Sky Sports News chief reporter Kaveh Solhekol:
"I would say the chances of it happening are somewhere between slim and none. To have a European Super League that anyone is ever going to watch, you're going to need to have English clubs in it like Arsenal, Liverpool, Manchester United, Manchester City, Chelsea.
"These Premier League clubs cannot join a breakaway league. The Premier League handbook has the owners' charter which is something all the owners of Premier League clubs have had to sign. In that charter, point nine says: 'We are collectively committed to the Premier League and recognise our responsibility to support it. We will not engage in the creation of new competition formats outside the Premier League's rules'.
"The government white paper that is going to come out which will recommend setting up an Independent Regulator for football will make it absolutely clear that clubs cannot join a breakaway Super League either.
"Last time they tried it, Arsenal, Chelsea, Liverpool, Manchester City, Manchester United and Tottenham all thought it was a fantastic idea. It fell apart in a matter of days and all were fined.
"In my opinion, this is never going to happen because the Premier League clubs cannot join it.
"A22 Sports Management is effectively saying UEFA are anti-competitive, why shouldn't other people be allowed to set up leagues? What they want to do is replace one cartel with another cartel. Instead of UEFA running the game in Europe, they want it to be run by Real Madrid, Barcelona and Juventus."
In October, Bernd Reichart, the CEO of A22 revealed the new-look European Super League could be up and running by the 2024/25 season.
Asked then if that was the earliest the failed project could start up again, Reichart said: "That might be the first reasonable and realistic call but there are so many variables that I can't actually foresee. That is probably the first realistic call."
The European Super League was initially launched in April 2021 with 12 founding members – Arsenal, Chelsea, Liverpool, Manchester City, Manchester United, Tottenham, AC Milan, Inter Milan, Juventus, Atletico Madrid, Barcelona and Real Madrid – who would permanently take part in the competition.
The plan quickly collapsed after the six Premier League clubs pulled out in the face of fierce criticism from supporters, pundits, clubs and the media, but Juventus, Barcelona and Real Madrid remain committed to the concept.
Permanent membership of the European Super League for the founding members was a significant point of criticism, but Reichart previously said: "There has been an important reassessment and the concept is spreading out about openness and taking the permanent membership off the table. I can say the three clubs have credibly reassessed and taken some learnings from the first approach.
"I am aware of what the English clubs stated a year and a half ago, but I hope the whole football community is appreciating the approach to continue to care and try to come up with solutions."
The Premier League referred to their statement from June 2021 when contacted by Sky Sports News and ahead of the 2022/23 season, all clubs in the top flight signed up to the following commitment: "We are collectively committed to the Premier League and recognise our responsibility to support it.
"We will not engage in the creation of new competition formats outside of the Premier League's rules."
The story of the European Super League
European Super League – Timeline
1990s — Wealthy European clubs make veiled threats of breaking away into a Super League to pressure UEFA into giving them more Champions League money and format changes in their favour.
2008 — European Club Association created to make long-term peace with UEFA and lock club leaders into Champions League consultation.
November 2018 — Real Madrid-backed Super League plan revealed in Football Leaks series using hacked documents.
2019 — ECA-backed plan for semi-closed Champions League in 2024 fails amid backlash by leagues and mid-ranking clubs.
October 2020 — Outgoing Barcelona president Josep Bartomeu reveals Super League plan in resignation speech, reportedly urged on by Real Madrid president Florentino Perez.
December 2020 — UEFA works on a 36-team Champions League plan to start in 2024 that gives clubs the extra games and money they have demanded.
January 2021 — Reports emerge of Real Madrid-backed Super League plan with financier JP Morgan Chase. UEFA and FIFA unite to oppose, threaten bans for players who take part.
March 8 2021 — ECA chairman Andrea Agnelli of Juventus praises UEFA's proposed Champions League changes, calls the 36-team, single-standings format "beautiful."
March 29-31 2021 — ECA-UEFA meetings to sign off on the 36-team Champions League format. Super League clubs start pushing for more financial control of the competition than UEFA is offering. UEFA president Aleksander Ceferin rebuffs their demands in rift with Agnelli.
April 16 2021 — ECA board and UEFA's club competitions committee sign off on Champions League changes with no dissent ahead of expected decision at meeting of UEFA executive committee.
April 17 2021 — Rumours of imminent Super League plan emerge. Ceferin later reveals that Agnelli stopped taking or replying to his phone calls.
April 18 2021 — Reports of a Super League announcement sparks a backlash by former players and France president Emmanuel Macron. The 12-team Super League is later announced in coordinated statements from the clubs after most fans in Europe are asleep. Agnelli resigns as ECA chairman and from the UEFA executive committee.
April 19 2021 — UEFA executive committee confirms the 36-team Champions League revamp. British government warns of new legislation on club ownership to help block the Super League. Ceferin denounces the "snakes" who betrayed UEFA, warns Super League players could be banned from their national teams. Liverpool manager Jurgen Klopp says he dislikes the Super League. Fans protest at Liverpool's stadium and at Leeds, where the team is playing that night.
April 20 2021 — Real Madrid president Perez, who would be Super League chairman, breaks his silence on an overnight Spanish show. He claims the project would save European football. At UEFA's annual meeting later that morning, FIFA president Gianni Infantino says he disapproves of the Super League project. Ceferin delivers a strong speech against the club owners while also inviting some in England to change their minds. The other 14 Premier League clubs in England meet to discuss the six rebels. The project cracks in the evening. Manchester City and Chelsea are first to withdraw. Manchester United vice-chairman Ed Woodward, a leading agitator, announces he will leave his job later that year. By midnight, all six English clubs are out.
April 21 2021 — Atletico Madrid, Inter Milan, AC Milan and Juventus drop out, leaving only Real Madrid and Barcelona. Juventus and AC Milan both signal that there is a future for the Super League.