There is no doubt that Floyd 'Money' Mayweather can easily be considered one of the best boxers of the best of our time. It is safe to say that fans did not welcome UFC fighter, Jorge 'Gamebred' Masvidal's Facebook post, which reminded everyone of the little feud that took place between Floyd Mayweather Jr and T.I., who is a famous rapper. Jorge Masdival is a popular mixed martial artist and currently holds the record for the fastest knockout in the UFC, which is five seconds.
Floyd Mayweather has been a part of a lot of controversies in the past. The fight with his father which was caught on camera, his jail time of 3 months in 2011, and his sucker punch to Victor Ortiz, all of these incidents made even his own fans a bit concerned. Now, Jorge Masvidal reminded fans of one such controversial moment of Floyd Mayweather, involving famous gangster rapper, T.I. Before this, he also gave a deadly 300 pounds answer to people claiming "WWE ain't real".
Mayweather's controversial moment with rapper T.I.
At the time, gangster rapper T.I. was dating a woman who went by the name, 'Tiny'. And T.I. suspected Mayweather of having some kind of affair with his girlfriend. So at first, Floyd straight up denied any relation with 'Tiny' whatsoever, and the conversation between the two ended. Then some other day both men confronted each other again at Fatburger in Las Vegas, where the topic again came up which eventually broke out into a feud. Floyd Mayweather and T.I. were wreaking havoc on each other.
That's exactly how the beef between the two got in front of the general audience. The whole chaos at Fatburger was caught on multiple cameras. Now, many fans laughed it off and moved on, but some were upset with this behavior on both of their behalf.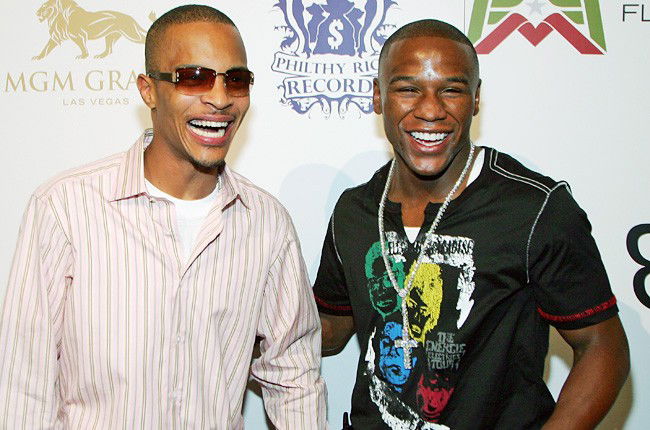 Jorge Masvidal has made a recent Facebook post about the incident, and the fans are not particularly upset over the post itself. Fans seem disheartened with what 'Gamebred' had to say in the caption. In a nutshell, the fans thought he sort of undersold fighters like Manny Pacquiao and Canelo Alvarez in order to put Floyd Mayweather in the limelight.
Fans are not happy with Masvidal's caption
The fans are particularly frustrated about a line in Jorge Masvidal's caption, which read, "As an old man [Floyd Mayweather] with brittle hands nearing retirement, He DEMOLISHED #MannyPacquiao and #Canelo in the primes of their careers". So they obviously expressed their disagreement in the comments.
One fan disagreed with Pacquiao being in his prime. They wrote, "That's a lie Manny Pacquiao was definitely past his prime."
Another comment pitched in saying the same thing for both the fighters. They wrote, "Hold up!!! In the prime of their careers???? Cuz I don't remember it that way!!"
One of the fans went deep into analysis and explained how both the fighters weren't in their prime when they faced Mayweather in the squared circle. They wrote, "Nope not true, Manny was at the end of his career and Canelo had barely started his pro career. Somebody must not know facts then, stick to hockey bruh."
One comment solely disagreed with the part where Masvidal stated that Mayweather 'demolished' Pacquiao. It read, "Demolished Pac-Man?! What fight were you watching?! I like Floyd, but he ran and okie doked the whole fight my dude! Come on Man!"
Read More: New Video Shows Floyd Mayweather Fanboying Over LeBron James After Record-Breaking NBA Achievement
One fan talked about remembering when the news about this beef came out. They wrote, "I remember this from 8 years ago sh*t is still funny now". 
The fans slammed Masvidal for misanalyzing the boxers. But nonetheless, the Facebook post of Jorge Masvidal definitely refreshed the memories of a lot of fans.
Watch This Story: Floyd Mayweather Net Worth: Five Biggest Fight Purse of 'TBE'
The post "What Fight Were You Watching?!": While Bringing Up Past Floyd Mayweather Controversy, Jorge Masvidal Gets Slammed by Fans for Making Bold Remarks appeared first on EssentiallySports.