Damar Hamlin had a close shave with death a month ago in the NFL. While talking to Michael Strahan recently, Hamlin opened up about his situation but he froze after one particularly difficult question. Now, after a brief period in recovery, Hamlin's immediate reaction was complete silence to the question, Why did your heart stop?
The NFL league was brought to a sudden halt when Damar Hamlin suffered a cardiac arrest on the field. It was Week 17 and he was playing against the Cincinnati Bengals.
A young athlete's worst nightmare
NFL fans were in shock after the Hamlin incident. Especially, because Hamlin is just 24 years old. He is in the prime physical condition of his life.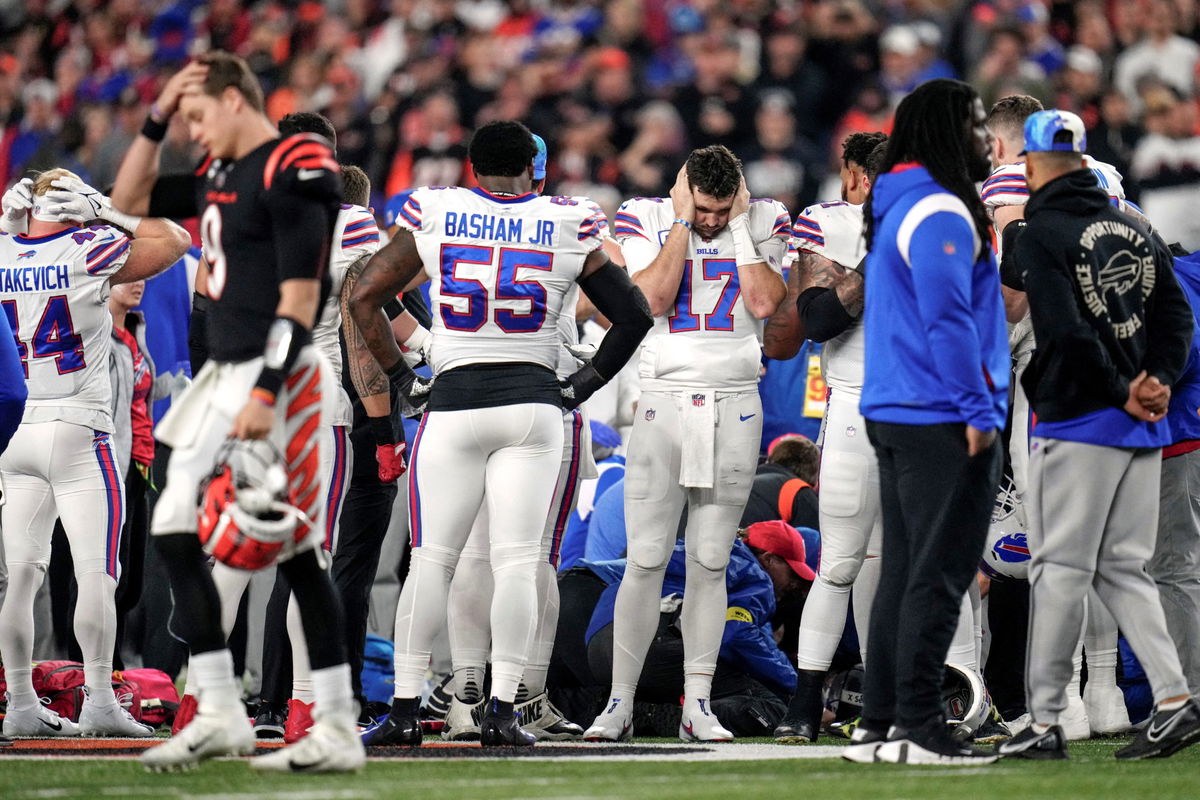 Hamlin, talking to Strahan, said that there were no symptoms of any kind to expect such an unfortunate incident. As NFL tests the players regularly, doctors did not find any anomaly in Hamlin's routine tests. Similarly, the medical unit didn't come up with any reason for his cardiac arrest on the field.
During his conversation, he answered the difficult question, "How did doctor describe what happened to you?" The safety probably could not process the impact of the whole incident again. But after 7 seconds of deep pause and a silent breath, Hamlin said, " I want to stay away". 
NEW — Damar Hamlin is Asked What Reason Doctors Gave Him For His Heart Stopping

"Umm, that's something I want to stay away from" pic.twitter.com/pVUytXblOH

— Chief Nerd (@TheChiefNerd) February 14, 2023
It should be the worst nightmare for an extremely well-trained and fit athlete to experience a full-blown cardiac arrest. Likewise, Hamlin would have been in a state of shock at his predicament. 
Read more- "Taking Advantage on His Second Lease of Life": Weeks After Life-Threatening Incident, 24-Year-Old NFL Star Goes Viral With Billionaire LeBron James at Super Bowl LVII
As for the severity of his condition, Hamlin was revived twice after suffering two cardiac episodes. One on the field and the other at the hospital.
NFL fans go crazy after Damar Hamlin's reaction
Damar Hamlin would have envisioned a completely different situation for himself. Unfortunately for himself and NFL fans, his return to the field does not look certain right now. When asked about playing again, Hamlin said, "As a competitor, I'm trying to do things just to keep advancing my situation. But allowing that in God's hands. I'm just thankful he's giving me a second chance."
NFL Twitter fans were vocal during the Hamlin incident. After his interview with Strahan, fans could not contain their theories and reactions.
Sounds like NFL told him to shut up about it.

— Fibci (@Fibci2) February 14, 2023
A curious reply to a benign question

— Rob (@hillingdon531) February 14, 2023
Thought it was from getting hit in the chest? Isn't that the narrative he is supposed to stick to?

— Paul Atreides (@SaltyChalkDemon) February 14, 2023
Can you imagine being told to keep your mouth shut about something that literally killed and you have been revived? Wow!

— Captain Buddy Fender (@CaptFender) February 14, 2023
Some Twitter users valued Hamlin's privacy.
Or MAYBE he actually values his privacy. Some of us don't go on social media, national tv, etc and blab about our PERSONAL health because it's nobody's business so much in fact they created a law called HIPAA.

— Sandy Savage (@SandySa48608217) February 14, 2023
In his defense, it might not be the easiest subject to talk about yet cause, he practically died. Some questions more than others might very well bring up that thought, that memory of the moment the curtains came down.

— Chaz Einriech (@ChazEinriech) February 14, 2023
Contact sports, especially American football, are intense. The players are always playing at the one-inch mark to dangerous territory. Evidently, some moments in the game can be heart-stopping, albeit literally in Damar Hamlin's case. Though the NFL management is constantly restructuring safety protocols, unfortunate incidents prop up now and then. Looks like there are a lot of unknowns in Hamlin's situation. NFL fans will be looking forward to a lot of answers.
Watch This-After horror situation with NFL's Damar Hamlin, Nascar could suffer big time in strange but real domino effect
The post "I Want to Stay Away": Emotional Damar Hamlin Explains 'What Doctors Told Him' After 7 Seconds of Deep Pause and a Silent Breath appeared first on EssentiallySports.