NBA history has seen some of the most legendary against partnerships. The 1990s had a single tandem take over the league. Notably, Michael Jordan and Scottie Pippen won six championships in just an eight-year span. The pair are attached in the record books together. However, it seems their partnership is going way beyond the basketball premises. His Airness might invite Pippen's ex-wife, Larsa Pippen, into the family after she shared a heartfelt valentines day post.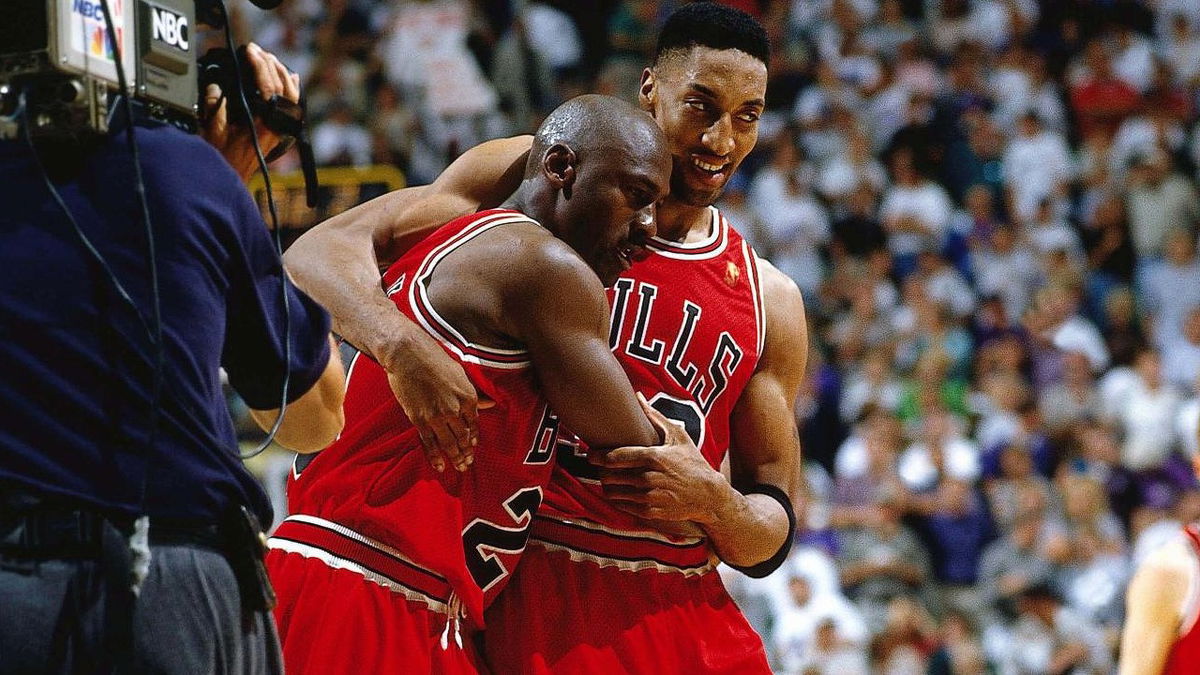 Several NBA couples enjoyed valentines with their special half. Hype Beast even reported the launch of LeBron James 'Valentine's day' colorway for his sneaker. However, the most watched couple might be the one who has taken the buzz. That is none other than Larsa Pippen and Marcus Jordan. The pair who first made headlines for their age difference seem to be falling deeper into the relationship.
Despite all the critics, they have kept their bond strong. As it seems, they have grown quite fond of each other. Reacting to a recent post by Larsa, people felt sorry for NBA legend Scottie Pippen.
Scottie Pippen and Michael Jordan might have to get together for this one
On the day of love, the Jordan-Pippen couple were in full fledge. The 48-year-old Real Housewives star shared a cute picture of the couple on the beach. The caption however put together a picture of how far their relationship has progressed. Notably, Pippen put forth a lifelong commitment onto Marcus Jordan.
READ MORE-When Scottie Pippen Openly Challenged Michael Jordan and Instantly Regretted It at Practice: "Slow Up, Man"
In the caption of her Instagram, "My forever valentine". NBA fans watched and took pity on Scottie Pippen. They foresee Larsa soon being a part of the Michael Jordan family.
She really changing her name from pippen to Jordan https://t.co/skIsHe8nZZ

— Ben. (@MCsun24) February 15, 2023
Why she still carrying that man last name just to embarrass him

— laker general (@sportszone30) February 15, 2023
She gon' be on ONE when she change her last name from Pippen to Larsa Jordan

— Sportsminds2020 (@sportsminds2020) February 15, 2023
Scottie Pippen somewhere rn pic.twitter.com/OcBqUFnh7s

— Tang Gang (@LoftCatKSU) February 15, 2023
Jordan Pippen teaming up.. oh wait wrong sport

— simon n (@ANgfrom323) February 15, 2023
They're keeping the duo alive

— Jefferson Lloyd (@JeffersonAge) February 15, 2023
The couple has a 16-year age difference between them. That is one of the factors creating a major rift in the media. However, as it seems, the couple is head over heels for each other. They have put their relationship out in the public with no fear of backlash. In the bigger picture, the two are probably doing nothing wrong. But with the ongoing tension between Pippen and Michael Jordan, their relationship was taken in a bad light.
Watch this story- Will Smith's Net Worth Compared To Michael Jordan and Shaquille ONeal
Despite seeming impossible, the couple is making it work and seems to be growing. Do you think they will get married in the future? Let us know your views in the comments below.
The post "Really Changing Her Name From Pippen to Jordan": Fans Feel Bad for Scottie Pippen After Ex-Wife Larsa Makes Bold Commitment With Michael Jordan's Son appeared first on EssentiallySports.