Ludwig and QTCinderella are one of the power couples in the streaming community. They both are successful streamers but are mostly known for organizing big events. Ludwig hosted a chess-boxing tournament, while his girlfriend hosted a baking competition for creators called Master Baker.
The couple has been open about their relationship and is one of the most-talked streaming couples. The duo never misses an opportunity to set great couple goals. But it seemed they would miss setting one on Valentine's Day this year because both were far away from each other. But despite all odds, they managed to create one of the best couple goals.
Ludwig fulfilled QTCinderella's Valentine's Day wish
QTCinderella recently was on the podcast Fear& hosted by her streamer friends HasanAbi and Will Neff. They shed light on many topics in this recent podcast. But Will decided to specifically remind QTCindrella that her boyfriend is in Japan, so she can move in with Hasan and they all can have a sleepover. But the Streamers Award founder rejected the idea.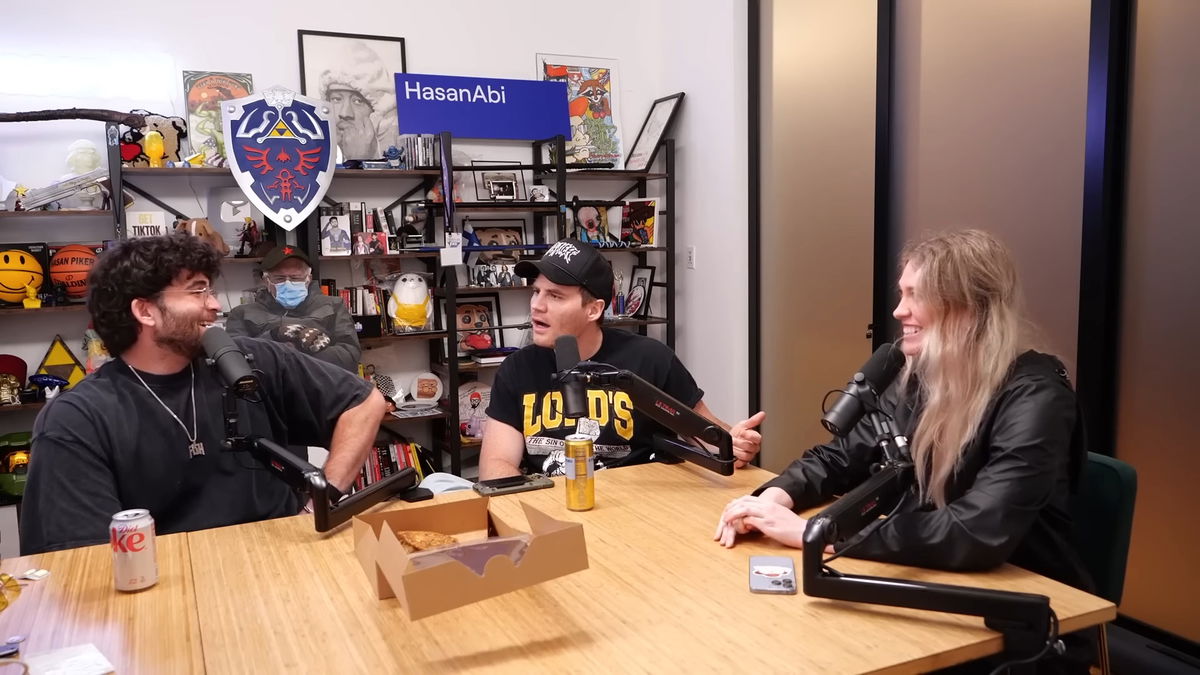 She 'turned her evil-girlfriend mode' and shared her thoughts, "I've decided as a surprise he's flying home for Valentine's Day." QTCindrella wanted Ludwig to fly back from his Japan trip a few days early to celebrate February 14 with her. Moreover, HasanAbi and Will also laughed at her, claiming he might not come.
READ MORE: "I Hate Backseaters, and I Think I'm Smarter…" Internet Sensation Ludwig Wins an Insane Challenge Against 10,000 People!
Ludwig also tweeted about doing an IRL stream with CDawgVA on February 15. It led to QTCinderella getting more trolled by haters. But Ludwig silenced those haters by sharing a photo with his girlfriend. So, the YouTube streamer returned early from his trip to celebrate Valentine's Day. Ludwig further added the caption, "I lied. Happy Valentine's Day!"
How did Twitter react to Ludwig's surprise?
Ludwig's fans and friends appreciated his lovely surprise for QTCinderealla on Valentine's Day. HasanAbi also jokingly said now QTCindrella won't have a pajama party with her. Some of them claimed they were routing for Ludwig to show up on February 14 and be with his girlfriend. Also, Ahgren revealed in the comments that the IRL stream on February 15 is canceled. Let's look at some of the exciting reactions from fans.
She was so stressed how dare you but also yay happy vday

— RAE (@Valkyrae) February 15, 2023
WAIT, NO PIJAMA PARTY?!?!?!!?!

— hasanabi (@hasanthehun) February 15, 2023
THIS JUST MADE ME SO HAPPY

— brooke (@brookeab) February 15, 2023
luckiest man on earth

— minx (@JustaMinx) February 15, 2023
Good man

— Giri 鬼ギリ cooking stuffs (@OnigiriEn_) February 15, 2023
ITS A CHRISTMAS MIRACLE

— Th3Vale (@Th3ValeOfficial) February 15, 2023
NGL, was routing for the Ludwig W…. But was worried he was gonna fumble the bag

— CoffeeFanatics (@FanaticsCoffee) February 15, 2023
Me rn pic.twitter.com/Pwoa4czAvF

— Imjustzander (@ImJustZander) February 15, 2023
Damn. He bamboozled us all.

— UncleBebop (@UnclBebop) February 15, 2023
Did you expect Ludwig to cancel his Japan trip early to celebrate Valentine's Day with QTCinderella? Let us know in the comments below.
WATCH THIS STORY: Top 10 Male Streamers Of 2022
The post YouTube Streamer Ludwig Sets a Couple Goal by Fulfilling Girlfriend QTCinderella's Valentine's Day Wish appeared first on EssentiallySports.