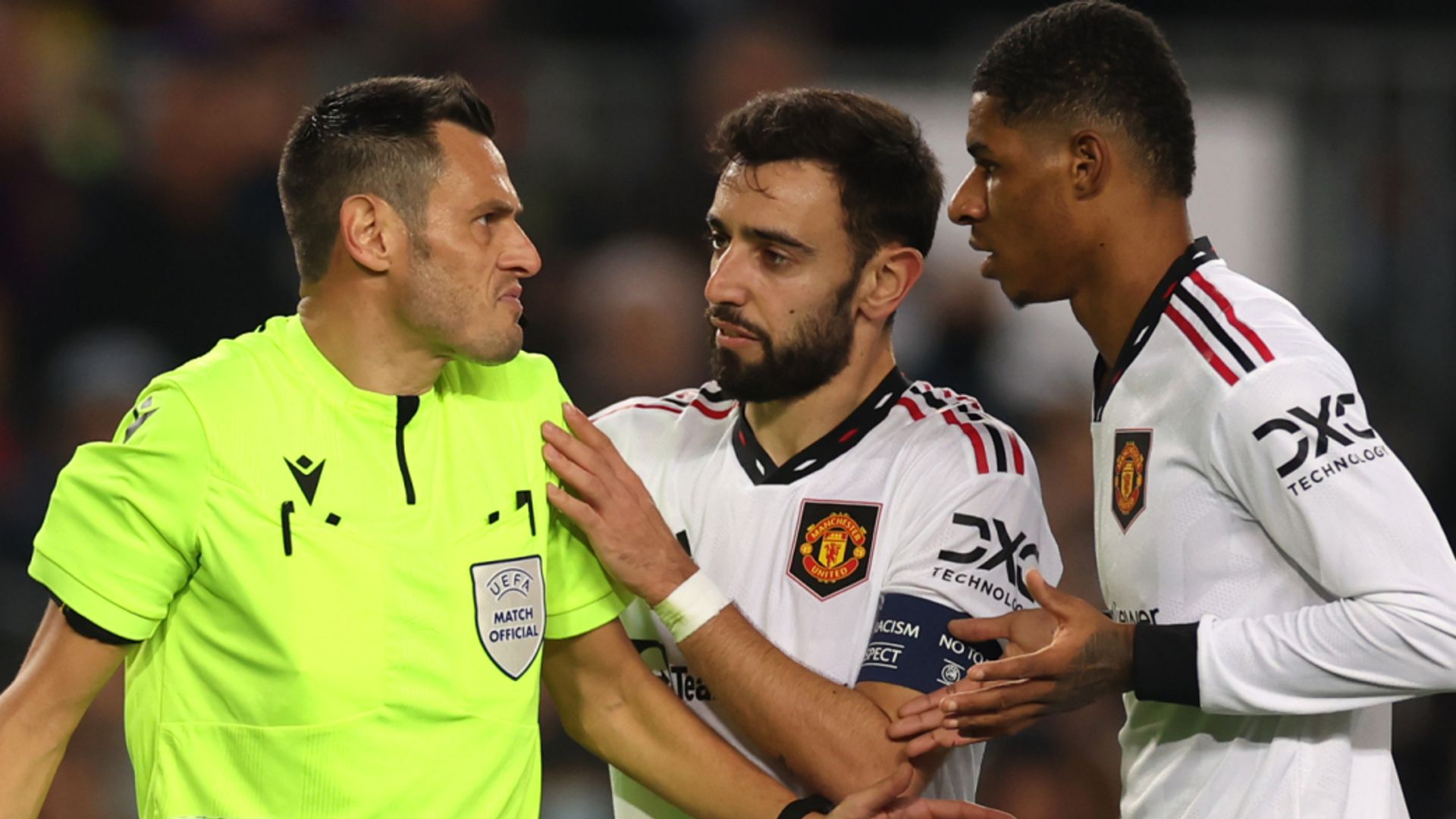 Erik ten Hag was furious with the performance of Maurizio Mariani during Manchester United's 2-2 draw at Barcelona on Thursday, saying the referee made a clear error by not sending off Jules Kounde for a second-half challenge on Marcus Rashford.
Man Utd fought back from 1-0 down to lead 2-1 thanks to Rashford's rasping drive and Kounde's own goal, and should have seen Barcelona reduced to 10 men when the defender clipped the England international from behind as he bore down on goal.
The incident occurred just outside the Barcelona area meaning that, as the last man, Kounde should have been sent off.
However, both Mariani and the VAR official decided no foul had been committed, and Barcelona levelled less than 15 minutes later through Raphinha to leave the scores level at 2-2 ahead of next Thursday's knockout round play-off second leg at Old Trafford.
Ten Hag said he asked Mariani after the game about his decision and publicly questioned whether the Italian referee was intimidated by the Barcelona fans.
Ten Hag – who was booked for his protests in the aftermath of Kounde's tackle on Rashford – said: "I have to make the point that it's a big influence, not only on this game but on this round, when on 2-1 there is a clear foul on Rashford. You can discuss if it's in the box or outside the box, but definitely it's a red card.
"I asked the referee 'why' and he said 'it was outside the box and it was no foul'. I think the linesman and the referee were in very good positions to see, and we have the VAR.
"It's not good. It was a really bad decision and I can't understand. Maybe there were impressed by the pressure Barca made, but it can't be on the highest European level."
Ten Hag was considerably more impressed with Man Utd's display than the referee's, but felt his side should have taken a win back to Manchester.
"If you face No 1 of Spain in an away game and you are that dominant, you can see it as a positive," said the former Ajax boss.
"We created many chances – more than you can expect, actually – and there's a little bit of disappointment that we didn't score them. We should have scored minimum four goals tonight."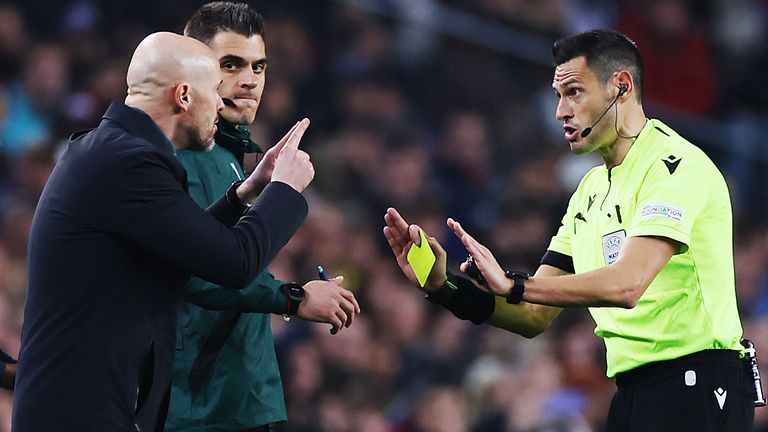 Rashford: It's a massive moment in the game
Rashford was just as bemused as Ten Hag by the officials' decision not to award him a free-kick and Kounde a red card that would have ruled the France international out of the rematch in seven days' time.
"It's a massive moment in the game," Rashford told BT Sport. "I've not watched it back, but in the moment I don't understand why the linesman or the referee think I'm going down there.
"I've touched it past him and my foot's in front of the ball, he hits my leg and it's clear contact. It's not a penalty but it's 100 per cent a foul."
Sunday 19th February 1:00pm
Kick off 2:00pm
While Ten Hag was upbeat about Man Utd's performance, Rashford struck a more pessimistic tone, saying: "It feels like a loss.
"We did well to get back into the game. The first half was probably a little bit in favour of them but we stayed calm and we tried to create chances when we could.
"In the second half, we scored two goals in quick succession and we felt in control of the outcome. But they're a good team with good players and they managed to get an equaliser."