A key component of Newcastle's success so far this season has been their rock-solid defence.
Newcastle have the best defensive stats in the top-flight, racking up 12 clean sheets from their 22 league games
They have conceded just 13 goals so far this campaign – an incredible eight less than Arsenal, who have the next best goals against record. The equaliser they conceded to West Ham earlier this month was the first time Nick Pope had been beaten in the league since the start of November.
That defensive solidity has played a huge part in the club's long unbeaten run in the league with the 1-1 draw against Bournemouth last weekend taking it to a club record-equalling 17 league games.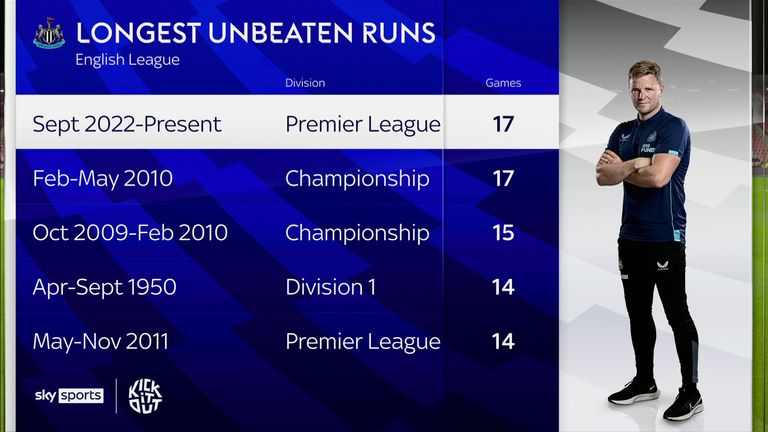 In truth, this is not normally the sort of record you'd associate with a Howe side. His front foot football at Bournemouth had lifted them through the leagues and earned them five seasons in the Premier League. But they were regularly among the top three for goals conceded during that top-flight period, letting in an average of 66 goals per season.
So, what's the secret to Newcastle's defensive solidity? Was laying solid foundations always part of Howe's Newcastle plan? Speaking exclusively to Sky Sports ahead of his side's Saturday Night Football clash with Liverpool, Howe insists no extra attention has been paid to the defensive side of Newcastle's game with the focus very much on his side's attacking threat.
Saturday 18th February 5:00pm
Kick off 5:30pm
'The chemistry between the players is really good'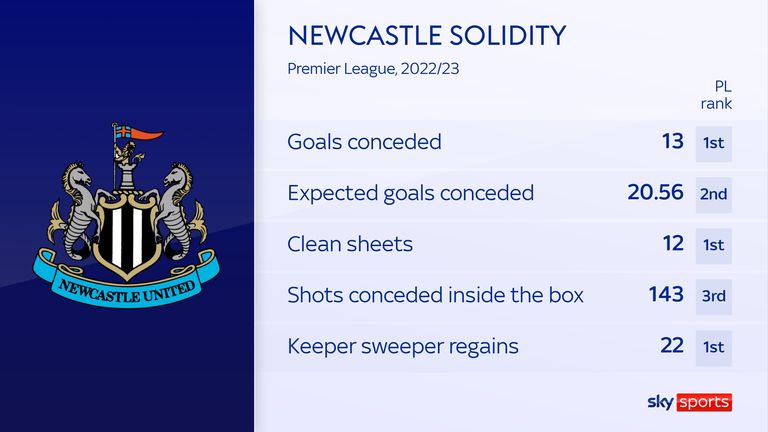 "We haven't necessarily set out to be a defensive team in any way," Howe said.
"We've actually done the opposite. We've tried to be very positive and progressive, and a lot of our focus is on our attacking work and getting the balance right between defence and attack.
"I think what has happened is the team have gelled really well together."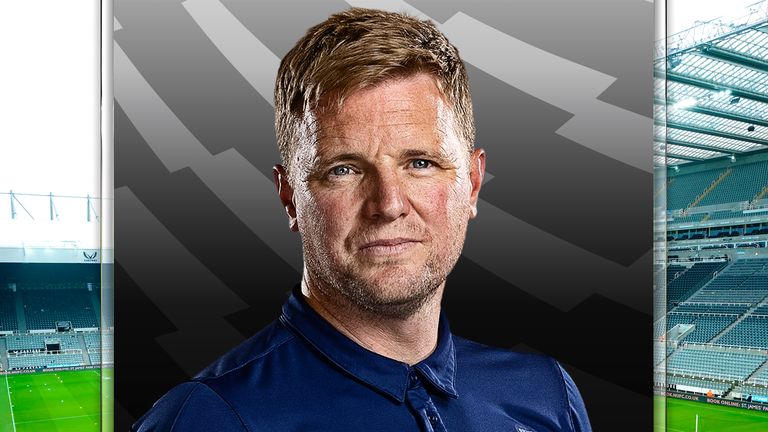 There is a really good chemistry between the players, especially in the back line. That has given us a confidence to produce some outstanding defensive displays. However, the focus still remains very much on trying to attack, trying to entertain and trying to be the team we want to be now and in the future.
He added: "I don't think that quest will ever stop.
"Whether we can be as good defensively into the future, who knows. Whether we can improve our goal scoring prowess, again, we'll have to prove all those things.
"But the work towards both areas of the pitch will never stop."
Howe on Newcastle's run of draws: 'We need to find solutions'
Despite Newcastle's long unbeaten run their form has stuttered slightly in recent weeks.
Howe's side have drawn five of their last six league matches, picking up three points on only one occasion in 2023. Newcastle still sit pretty in fourth, but the draws mean they now have plenty of sides breathing down their necks in the race to qualify for the Champions League.
The goals haven't been flowing and because of their success so far this season, teams have set up differently against them, using a more defensive approach to stifle Howe's side, and the Newcastle boss insists finding a solution against all styles is art of his team's evolution.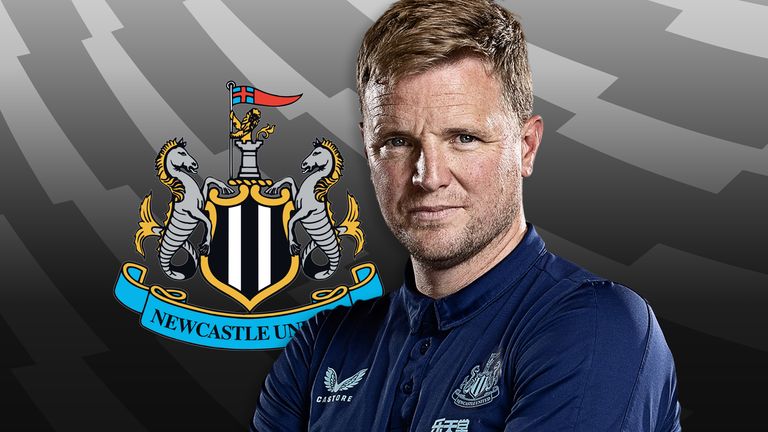 I don't want us to focus on staying unbeaten. I want us to try and win, and have our energy and focus on that. It's not about extending the unbeaten run.
He said: "As you play teams again and they get to know you I think it is natural that strategies against you will change, but certainly we've seen that this season.
"I think there's a healthy respect for us. There are different challenges out there for us and I'm sure there will be different challenges out there for us in the future.
"We do have to be a team that can find solutions to all problems, whether teams are high pressing us or dropping off on us. Whatever the game situation we need to have a tool in our makeup to find a solution. Again, the work towards finding solutions to all of these things never stops."
'We are determined to get back to our best'
It would be surprising to see Newcastle come up against 10-men behind the ball when they face Liverpool on Saturday, Manchester United in the Carabao Cup final the following weekend, and then league leaders Man City on March 4.
It's a crucial run of games for Newcastle's season and when asked if playing some more attack-minded sides could help, Howe said he was only focussed on what his side could do.
"I'd like to think we can play against all types of teams and all types of ways teams set up against us.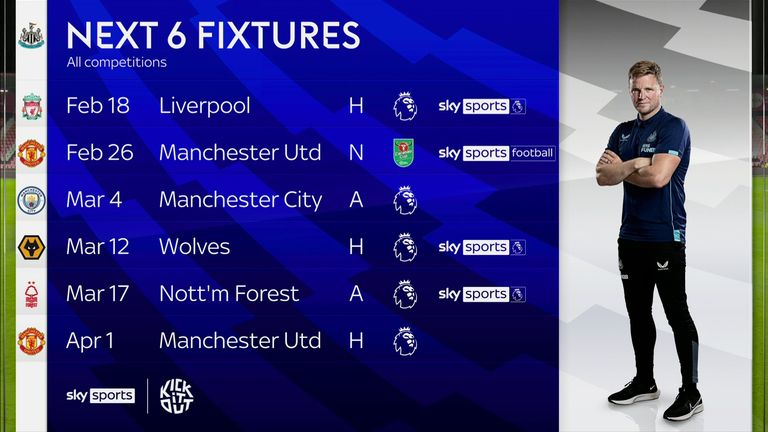 Newcastle's next three games…
Sat Feb 18: Liverpool (H) – Premier League, live on Sky Sports
Sun Feb 26: Man Utd (N) – Carabao Cup final, live on Sky Sports
Sat Mar 4: Man City (A) – Premier League
"I have no issue with how any side decides to play against us, and you can never predict that. When you think a team will do a certain thing sometimes it can be very different.
"So, we have to concentrate on being the best version of ourselves and making sure we are playing at our best level. During the few draws that we've had maybe we have dropped a little bit below that level and think that will happen during a long season.
"But we are determined to get back to our very best."
'Special games coming up for Newcastle'
Howe on facing Liverpool, Man Utd and an City in Newcastle's next three games:
"I'm sure if I went back many, many years to when I started, and you could have any three games lined up in our current position, that would have been an incredible thing.
"I think when you are in the thick of it, working day-to-day in the midst of having a really good season, you are just working towards the next game.
"But when you look at it from a broader view, these a three extremely special games for us."
Howe's focus remains on the short term
Not many would have predicated Newcastle's sharp rise up the league.
Competing at the very top of English football, would have been part of a long-term plan for the club's mega-rich owners, but Howe's overseen a sharp improvement at the club, who now have an excellent chance of securing Champions League qualification and potentially finishing the season with silverware.
Project and process are two of football's new buzz words when a new manager goes to a club and they are definitely relevant to Howe's Newcastle. But are they ahead of where Howe was expecting them to be?
"You don't sit down ahead and produce a curve," Howe said.
"You have an idea of what you want the team to look like and you have an idea of how competitive you want to be, but the reality can sometimes be very different.
"So far, I've been hugely impressed by what the players have delivered on a consistent basis.
"We're delighted to be in the Carabao Cup final and we are delighted to pushing hard in the Premier League.
"My focus is to try and keep that moment going, keep the positive mindset going, and keep the focus on the very short term."
Howe focussed on Liverpool, not Carabao Cup final
Talking of the Carabao Cup final, it's hard not to mention next week's Wembley showdown with Man Utd when on the topic of Newcastle.
It's the talk of the town as Howe has the chance to lead Newcastle to a major honour since for the first time since their FA Cup success in 1955.
Has it been difficult to keep the focus on the here and now with Wembley firmly on the horizon? The priority for Howe is still the league, for now.
"It's not difficult for me," Howe said.
"I can't speak on behalf of the players. I hope not for them. But for me, game preparation and getting everything right is so important.
"We are playing Liverpool on Saturday, a team we respect greatly, and we know if we are not right in any way, they will find and expose that.
"The focus is clearly on Liverpool from my perspective, and hopefully for the players too, and then we can fully attack the Carabao Cup final when Monday comes around."
Sunday 26th February 3:00pm
Kick off 4:30pm
He added: "We are looking to kick off our final preparations in the perfect way with a win against Liverpool.
"Our league form is so important to us. We cannot prioritise any game ahead of any other game.
"We've tried to approach the whole season in that way and our biggest game of the season is now our next game against Liverpool, and we are looking forward to it."
Howe: 'Time with clubs useful'
Howe on spending time with clubs like Liverpool and Atletico Madrid on his time away from management:
"Spending time at clubs was useful but I do think that sometimes it can be overblown a bit when you visit a club, and somebody is kind enough to let you in.
"The majority of the clubs were abroad because it was difficult in England to get access to too many teams quite understandably.
"You are in for a day and then you are gone.
"It's more about building relationships, building an understanding of how the whole club works, what the training ground looks like and other different things. It's not just about a training session. Training is a very small part of that day."
'The fans are a difference maker for us'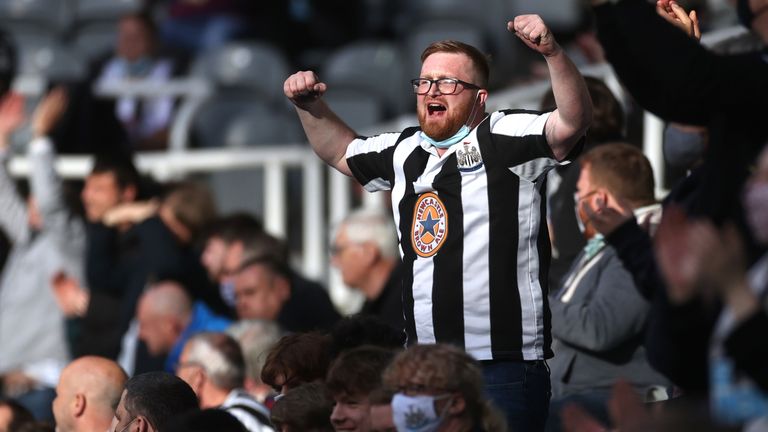 The unwavering support of the Newcastle supporters is nothing new.
The atmosphere at St James' Park, where Newcastle haven't lost so far this season, is regularly considered as one of the best in the Premier League and Howe was quick to hail the importance of the Newcastle fans in his side's success so far this season.
He recalled night Newcastle beat Champions League chasing Arsenal last season and insists the fans have gone up another level since then, describing them as the difference maker during a number of games this season.
"The atmosphere the fans create is hugely important," he said. "They are a difference maker and they have been a difference maker throughout my time here.
"They stayed with us initially when we were fighting relegation. We saw a glimpse of what it could be like this season against Arsenal towards the end of last season. The stadium was in a really positive moment and the atmosphere was electric.
"I think the supporters have built on that this season where they have carried us in certain games, and they really do make the difference.
"We hope that against Liverpool they can make the difference again."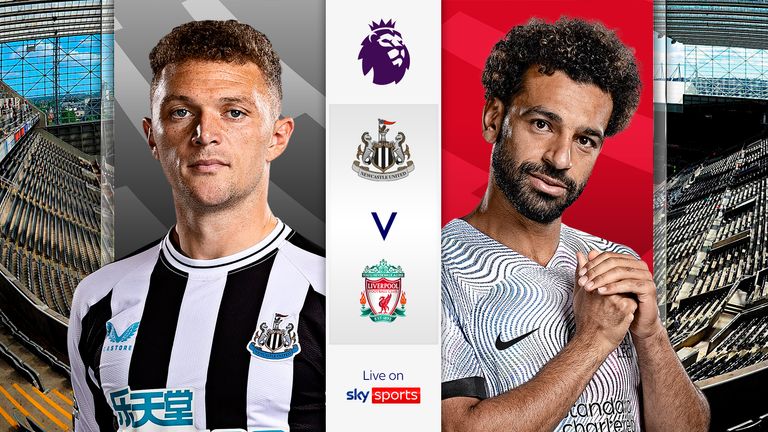 Watch Newcastle vs Liverpool live on Sky Sports Premier League on Saturday from 5pm; kick-off at 5.30pm.
PODCAST: The making of Eddie Howe – From the bottom of League Two to the Carabao Cup final…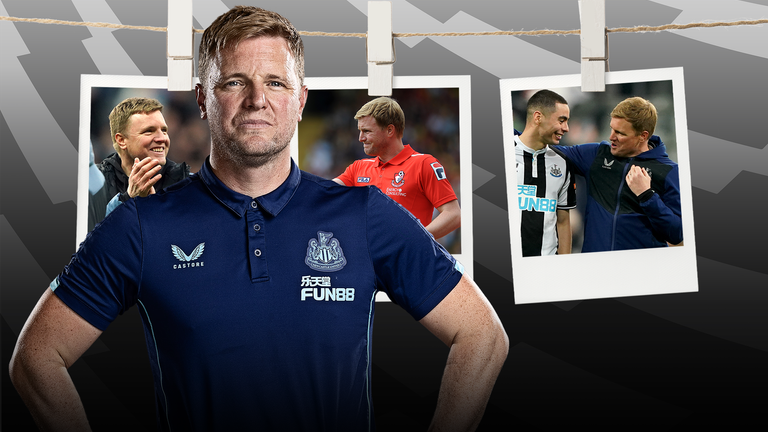 Ahead of Newcastle's games against West Ham and Bournemouth, Essential Football take a closer look at the rise of Eddie Howe.
The Newcastle boss celebrated 600 games as a manager when he took charge of the Magpies' 1-1 draw with West Ham. Howe has also led Newcastle to their first cup final for 24 years – some rise for a manager that began his career in charge of a Bournemouth side that were bottom of the Football League and in danger of going out of business 15 years ago.
Sky Sports reporters Mark McAdam – who worked with Howe at Bournemouth – and Keith Downie join Peter Smith to discuss the standout moments in the manager's career, what he's like away from the dugout, and what the future holds.
Listen and subscribe to Essential Football on: