It was in New Zealand in 2008 where James Anderson and Stuart Broad became a Test bowling partnership and it is in the same country 15 years later where they have become the format's most prolific – in quite some style to boot.
When Broad cleaned up Black Caps opener Devon Conway under the lights on Saturday night, the pair moved onto 1,002 Test wickets in games they have played together, above the previous record of 1,001 held by Glenn McGrath and the late Shane Warne for Australia.
Ten overs later, thanks to Broad's box-office, four-wicket burst in the pink-ball Test, McGrath and Warne trailed by four.
It was rather fitting that Broad earned himself and Anderson that slice of history by slicing through an opposition batting order. These sorts of spells have become his trademark.
Think his 8-15 against Australia at Trent Bridge in 2015 – a game Anderson actually missed through injury – or his 6-17 against South Africa in Johannesburg in 2016. There have been ample others.
When Broad gets his knees pumping, he gets batters and the crowd jumping. When he is on a roll, cricket grounds become amphitheatres and he becomes England's gladiator. Maximus Broadyus. One half of one hell of a bowling duo.
It's now 1,005 Test wickets – and counting – for 'Branderson'. It's a number Anderson, 40, and Broad, 36, could not possibly have comprehended when Anderson bowled New Zealand opener Matthew Bell with a sizzling, swinging delivery to secure their first wicket as a tandem in Wellington all those years ago.
But 1,005 it is. Due to finesse and fitness, hard work and hunger, the desire to keep going and keep improving, England's king of swing (Anderson) and king of game-changing spells (Broad) are record breakers. Not the quickest but still the slickest. Getting older but getting better. Fifteen years on, still going strong.
Since turning 35 in July 2017, Anderson has taken 198 wickets at an average of 20.96 in 53 Tests, which is just mind blowing. Broad's average since being recalled to the side ahead of the 2022 home summer (we'll get on to his and Anderson's 2022 dropping in a minute) is 34 wickets in eight Tests at 25.91.
Their success in home series with the Dukes ball is central to their tale. Anderson has 429 wickets from 101 UK Tests at an average of 23.79, while Broad's ledger reads 370 wickets in 70 Tests at 25.89. But there have been overseas triumphs, too. Broad's latest coming on Saturday evening as he smashed the stumps of Devon Conway, Kane Williamson, Tom Latham and Tom Blundell in Tauranga.
Anderson averaged less than 24 in the Ashes last winter, Broad under 27. In South Africa, Broad has 45 wickets in 12 Tests at 23.95. Anderson's average in Asia is now 26.78 following December's 3-0 sweep in Pakistan, in which he bagged eight wickets in two Tests at an average of 18.50.
The lavish seam and swing Anderson and Broad often find at home has helped their numbers but so has their development of cutters, slower balls and wobble-seam deliveries for more alien conditions. Their roles have adapted at times, too.
Anderson was the fifth bowler used by Ben Stokes against Pakistan in Multan in December, saved for when the ball was reverse swinging. Broad – who missed that tour due to paternity leave – is also now frequently first change in more seam-friendly environments with Anderson and Ollie Robinson sharing new-ball duties.
Former England captain Sir Alastair Cook told BT Sport: "Jimmy and Broady have redefined themselves so many times, learning how to bowl in the subcontinent. Jimmy learning to bowl when it doesn't swing. Broad is also so effective with his cutters and has improved bowling to left-handers.
"It has been a great evolution and the courage to keep pushing yourself. It is very easy to stay safe and say this is what I do, but those guys haven't done that.
"There is not a rivalry between them but an 'if he's doing it, I can do it as well'. They are similar bowlers in the sense of the pace that they bowl but very different when you face them.
"At 16, Broad was an opening batter who bowled a bit of medium pace. He is probably not the same natural bowler as Jimmy but he is a very astute bowler and gets the most out of the conditions.
"Broady and Jimmy's great strength is that they do not miss length – that should not be taken for granted as it is a serious skill.
"They question your technique and decision-making time and time again. Even if you make the right decisions as a batter, you get very little reward as they don't miss length."
Anderson and Broad's departure from white-ball cricket following England's dismal 2015 World Cup campaign – Anderson has not played a limited-overs international since, Broad just the two in 2016 – has also helped extend their red-ball (and this week pink-ball) partnership, giving them regular breaks in the calendar to refresh their minds and bodies.
Of course, they were given an unwanted chance to rest their minds and bodies from red-ball cricket last March when they were controversially omitted from the tour of the West Indies by interim director of men's cricket Sir Andrew Strauss and his selection panel.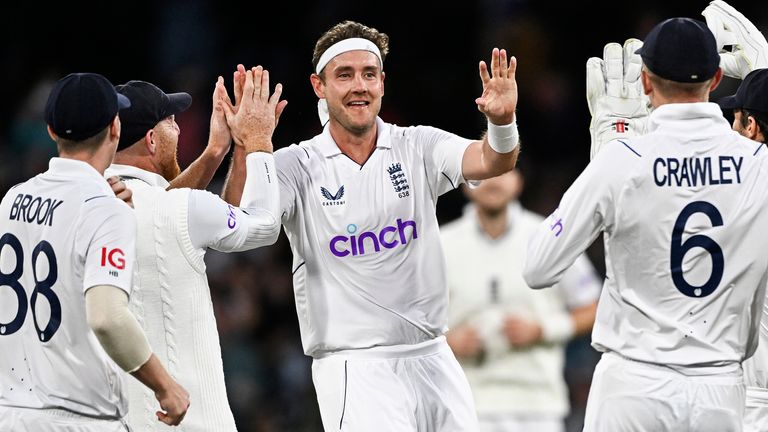 Broad was left "confused and angrier each day" by the decision while Anderson said he was "praying" his England career was not over. Had this partnership reached its finishing point after 14 years? 'No' was the unequivocal answer from soon-to-be England captain Stokes.
Anderson and Broad is now an alliance that has reached 15 years. They'd be getting something crystal if they were married but they will settle for another trophy, something that has become the norm of late. Three Test series played under Stokes, three Test series won. Thanks to Broad's latest match-defining spell, they look set to go 1-0 up in New Zealand as they chase four in a row.
Outsiders call England's new thrilling style 'Bazball'. Those inside the camp just love being part of it, none more so than Broad and Anderson. They have been energised by the attacking approach, which for them includes prioritising taking wickets over saving runs.
Speaking to Sky Sports in December, Anderson said: "I have been around for 20 years and [Stokes'] attacking mindset is making me think differently about the game. He wants us to have fun and enjoy the time we are having together. It has been a breath of fresh air and I feel I could carry on for a number of years in this regime.
"I have seen the white-ball side go from strength to strength from the sidelines but, to be in a group that is taking the game forward, and raising the bar of Test cricket, is something special."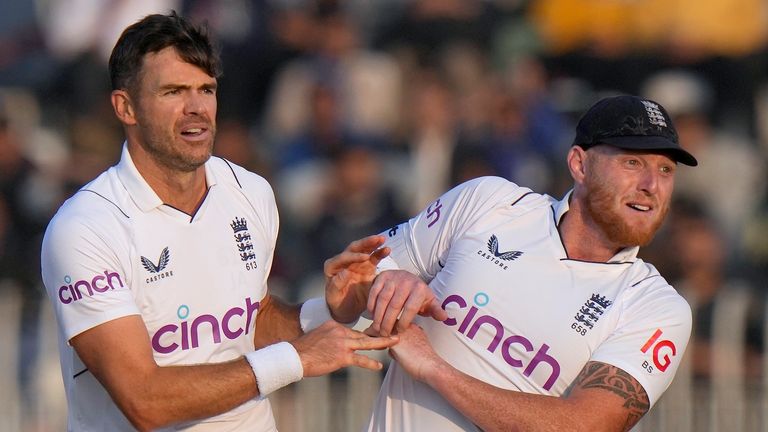 Broad told The Mail ahead of the series in New Zealand: "There is a great vibe around this team under Brendon and Ben. Loads of different styles work in getting results but without doubt this is the most fun environment I've been involved in with England."
With Anderson and Broad enjoying themselves and still taking wickets, there is no reason to believe this partnership will end soon.
Anderson has not ruled playing in the next away Ashes in 2025 at the age of 43. That may be a stretch but he and Broad might fancy India away in 2024. That could be Bazball's biggest challenge of all. No side has won a Test series in India since England did so in 2012 when Anderson took 12 wickets on a trip Broad was also part of.
One day, Anderson and Broad's alliance will be no more. Broadcasting beckons for them both. But, right now, bowling remains their focus. They may not play every game together, with England possessing quite the cabal of pacemen if everyone is fit, but there will surely be times when they do dovetail again
Anderson and Broad. Fifteen years on, still going strong.