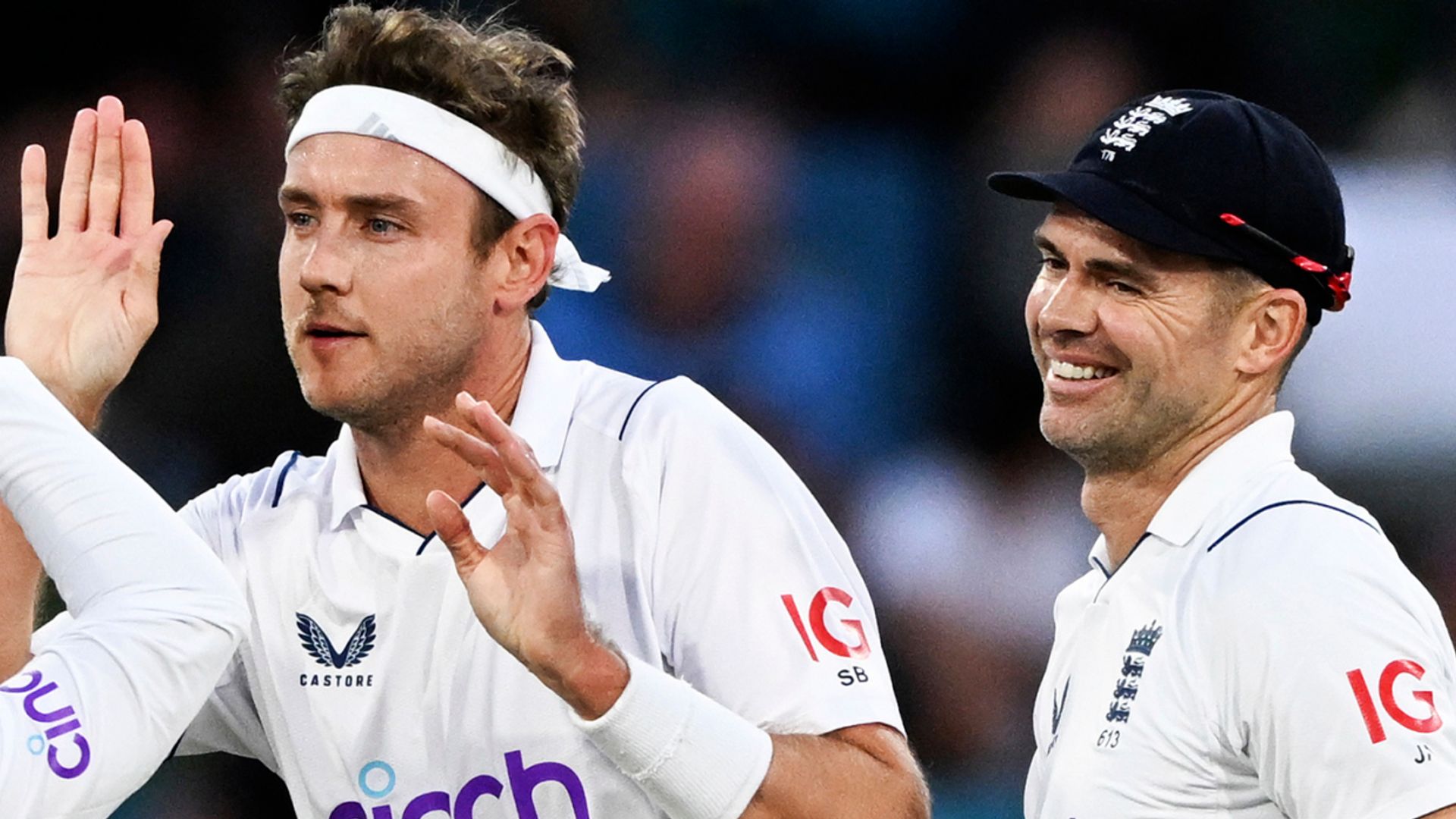 Stuart Broad says England team-mate James Anderson is "probably the reason I'm still going" after the pair became Test cricket's most prolific bowling partnership.
Broad's magnificent spell on Saturday saw the duo surpass the mark 1,001 wickets achieved by Australia's Glenn McGrath and Shane Warne, while also putting England on the verge of a dominant first Test victory over New Zealand at Mount Maunganui.
The 36-year-old Broad clean bowled four of New Zealand's top six to help reduce the hosts to 63-5 in their chase of 394, after Anderson, 40, had moved the duo level with the record by taking the final wicket of the Black Caps' first innings on Friday.
The record-breaking moment came almost 15 years on from when the pair first played Test cricket together, which was also in New Zealand.
"It's a special country for us, New Zealand," Broad told BT Sport. "Back in 2008 at Wellington we came into the team together.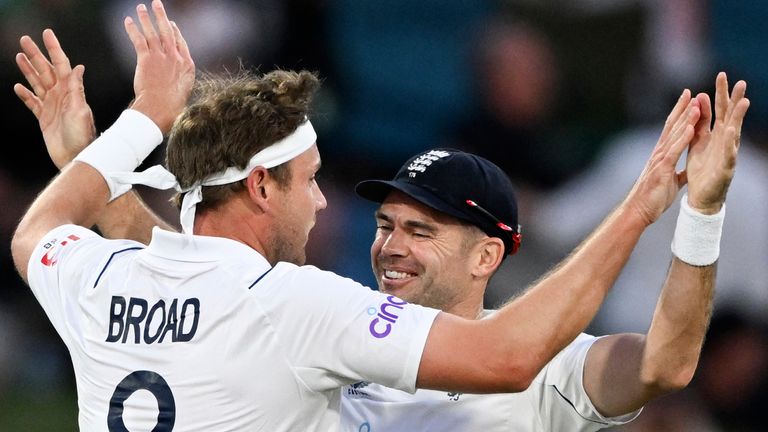 "And to go past two heroes of mine growing up in McGrath and Warne, certainly we're not in the category of quality of those two – they were absolutely heroic in what they did for the game.
"But just to be up there and have taken the amount of wickets with Jimmy… I feel very lucky and blessed to have been born in the same era as Jimmy because certainly without him, I wouldn't have been able to be at the other end taking wickets in the partnership that we've had.
"I've learned so much from him throughout my career and it's probably the reason I'm still going at 36 – the way that he's done it and been a great leader to follow."
Broad's 10-over spell evoked memories of some of his most special performances, including in 2015 when he took 8-15 against Australia in an Ashes Test at Trent Bridge.
He said the fact he had been unable to complete a five-wicket haul meant Saturday's performance did not quite belong in the company of some of his others.
"You go into a rhythm of not overcomplicating, not thinking too much," Broad said after finishing with 4-21. "You're not trying to swing one away, swing one in, change your length.
"I was just so simple in what I was trying to do. I was almost taking the batter out of the equation. I was looking to bowl the same ball whoever I was bowling against.
"I sort of ignored whoever was at the other end and just thought if I hit the pitch as hard as possible at a length that I can't get driven but still can hit the stumps, then I was going to be in the game."
Broad: England 'unrecognisable' under McCullum and Stokes
For the second time in the day-night match, England's positive approach with the bat set them up to bowl at New Zealand under the lights, when conditions are most favourable for the fielding team.
Broad praised the team's batters for their display, and insisted there was never any doubt in the England changing room, buoyed by nine wins in 10 matches under coach Brendon McCullum and captain Ben Stokes' leadership, as to whether they should take a more cautious approach as wickets fell during the second innings.
"Since June, I can't remember having heard a negative word in the changing room," Broad said.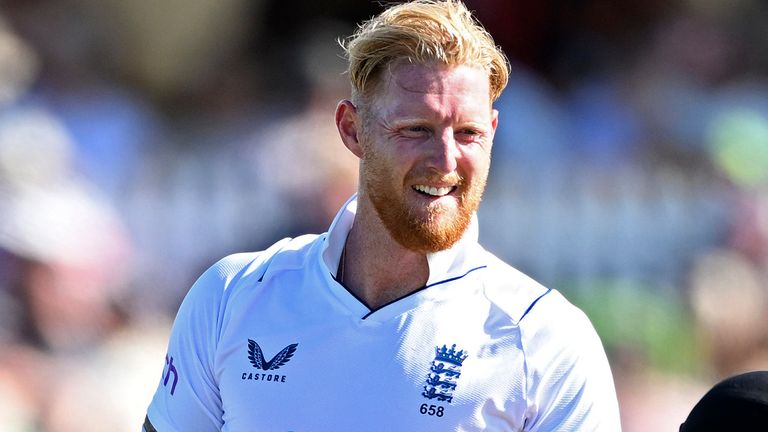 "It's quite phenomenal to watch up close how Baz (McCullum) and Stokesy go about their business. It's all very positive and looking forward to the next step.
"It almost just felt inevitable that we were setting the game up to bowl at the right time. There was never a question of, 'if this happens, do we need to change in any our style?'"
England's new leadership took over last year following a run of just one win in 17 Tests, and Broad says the team is now "completely unrecognisable", comparing the transformation to England's development in limited overs cricket under former captain Eoin Morgan.
"It's a shame there's not a fly on the wall documentary on it because it's amazing to be a part of," Broad said.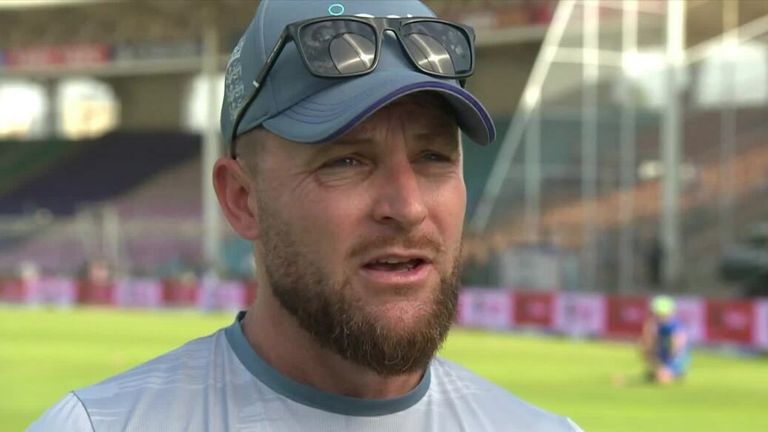 "I'm so lucky to see it first hand. I can imagine it was exactly like this with the white-ball resurgence with Morgs (Eoin Morgan).
"Morgs and Baz just seem the same human being and I can imagine it being the same mentality of positive intent all the time, looking at the positive option.
"Every day Baz walks in and he's like, 'what a job this is, what a gig I've got.' And it's not fake, it's really authentic, and he genuinely hand on heart would prefer you to get caught deep square leg than out defending."