The Kai mafia is cruising towards a successful Twitch subathon, with Kai's numbers increasing day by day. Kai Čenat has become one of the most prominent names on Twitch and in the streamers' circle. His current subathon has gotten prime limelight, and it is popularizing the energetic streamer even more.
Amidst all these spotlights, Kai remains the same light-hearted and generous individual. The recent generous act by the streamer which stole the hearts of the fans is an example of this.
Kai Cenat donates to a young patient
Kai is considered to be one of the most lovable streamers on the Twitch platform. Currently, the streamer is busy with his subathon and it surely is garnering him more followers. During his stream, Cenat was seen calling up a 13-year-old fan, and it surely was a heartwarming scene to watch.
The child was in a difficult state as he has undergone three heart surgeries since he was three years old. According to reports, he was not expected to live past the age of three, but the boy has been fighting strong for the past 10 years. The cause of this hurtful condition is that the 13-year-old has severe scoliosis, which is a rare heart condition.
Read More: Twitch Star Kai Cenat Reveals Top 10 Most Essential Things He Can't Live Without
During the call, AJ (the 13-year-old kid) was telling Kai that he only had a 5% chance of survival. Which really shocked the streamer. "You know you beat the odds!… Damn Man, you did it!" was Kai's response to little AJ. What he did next stole the hearts of the thousands who were watching the live stream and made AJ emotional.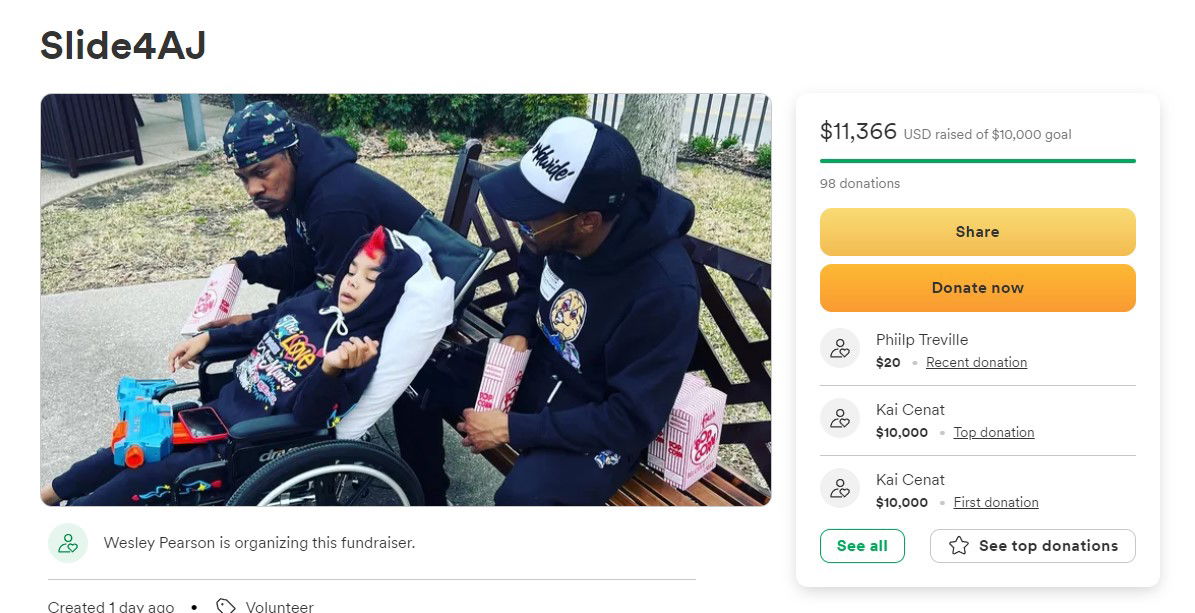 Kai told him to go check his GoFundMe. "Oh, my god. What the! Kaiii," was the excited reply that Kai heard after AJ saw what the streamer did. Cenat donated $10,000 towards the kid's fund. The child could not control his excitement and was screaming on the call. Even the fans felt emotional seeing Kai's generosity.
Fans were touched by the streamer's gesture
The donation that Kai made towards AJ rendered many emotional. Kai Mafia were appreciating Cenat for his beautiful heart.
This is the kinda stuff that makes me have a little bit more faith in humanity.

— Galactic Limey (@Galactic_Limey) February 26, 2023
kai is genuinely such a nice guy man

— Louis's fifa duo (@zainnnnnn28) February 26, 2023
That was awesome of him.

— Descry (@Descry) February 26, 2023
People also took this opportunity to talk about how Kai sometimes gets portrayed in a negative light, when actually he is engaging in such wholesome gestures.
people always try and find the worse clips and make kai look like a horrible person when he does things like this

— . (@NyqLOW) February 26, 2023
Twitter users who were not an audience of Kai's videos were also touched by his actions and additionally went on to say that he deserves all the fame he is currently receiving.
Never watched Kai Cenat but I have heard he is like the top of twitch. He genuinely deserves the success for the great stuff he does like this.

— Oranging (@iOranging) February 26, 2023
This surely was an emotional moment for the Kai Mafia. And they can hope that Kai reaches the topmost position as a streamer on Twitch with his ongoing subathon.
Watch this Story: Streamers who left Twitch for YouTube
The post "You Know You Beat the Odds!..": Kai Cenat Steals the Audiences' Heart With a Generous $10,000 Donation to a Struggling 11-Year-Old appeared first on EssentiallySports.