When the K.C. Chiefs QB Patrick Mahomes and the Philadelphia Eagles QB Jalen Hurts faced each other in Super Bowl LVII, they made history. It was the first time two Black quarterbacks started against each other in the Super Bowl. As everyone knows, the game was neck to neck. The Eagles dominated the game before halftime, but the Chiefs took the Lombardi Trophy away. Seeing the grilling game, fans asked: Are Mahomes and Hurts on cordial terms or are they the new-age rivals? 
Number 15 is a few years older than the 24-year-old. But Hurts expressed he had a lot of respect for the two-time Super Bowl-winning shot-caller. 
What is the unusual connection between Patrick Mahomes and Jalen Hurts?
Mahomes and Hurts belong to Texas and played high school football in the Lone Star State before becoming star quarterback players in the NFL.
Read more: "Patrick Mahomes Made 5 Million to Say 'I'm Going to Disneyland' After Winning the Superbowl" – KC Chiefs Star's Shenanigans Draw Hilarious Reactions From UFC Fighter and Fans
High school football is more popular in Texas than in any other state. Mahomes played high school football at Whitehouse. He was a three-star recruit who stayed in the state to play for Texas Tech in college. On the other hand, Hurts played high school football at Channelview, which was four hours away from Mahomes at Whitehouse.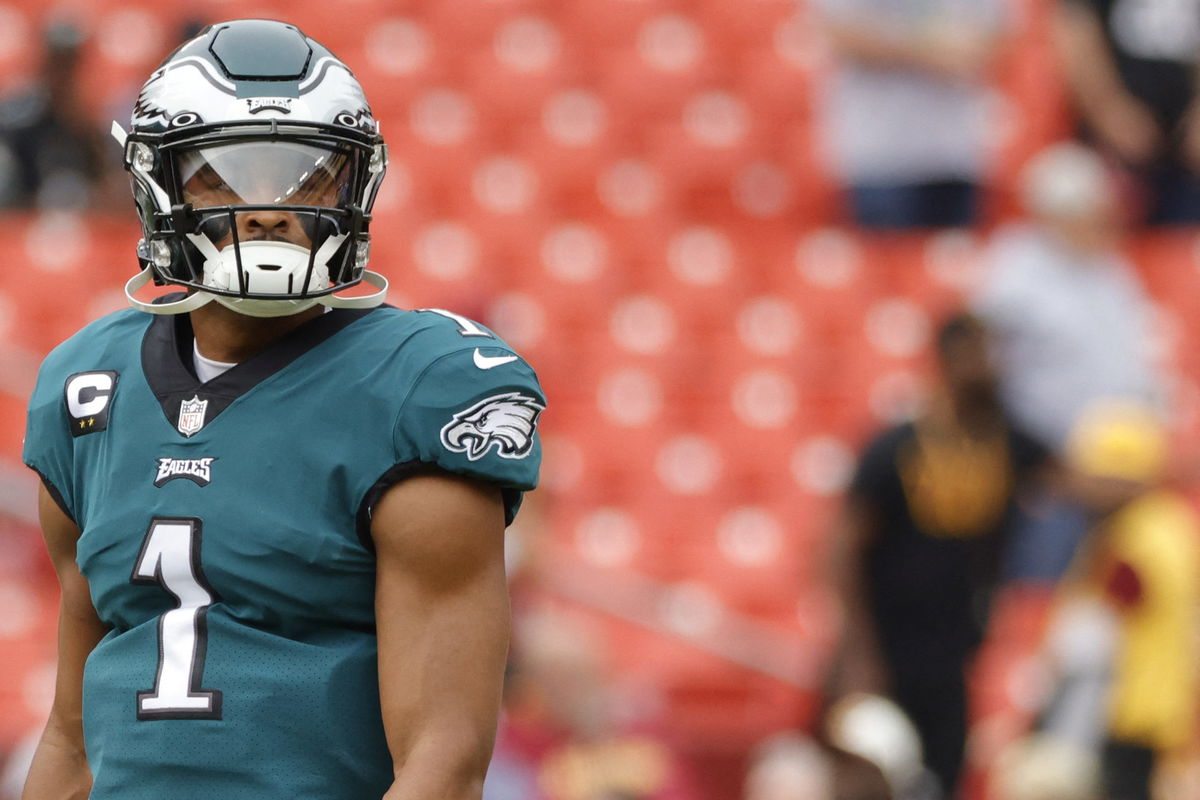 The Philadelphia QB was considered a better prospect and was recruited harder than the 27-year-old signal-caller. He had prospects from Arizona, Houston, Kansas, and Kansas State but committed to Alabama in 2015. But was transferred to Oklahoma after he got benched from the Crimson Tide. 
Hurts remembered watching Mahomes play. He said as reported by CBS News, "I'd turn on the TV, he's a little older than me too, but turn on the TV and you had a Texas high school football late-night show, and it runs throughout the whole state. And you see what he's doing in east Texas. You have Houston, you have Dallas, San Antonio, you have so many areas. And at Whitehouse, I think he went to Whitehouse, he was always lighting it up over there, so I always had a lot of respect for him and was always watching from afar."
Do these QBs like each other?
Both the star quarterbacks appreciated each other and other's talents. Even though they play for two different teams, their thoughts aligned when asked about the honor of being the only Black starters in a Super Bowl game. 
Mahomes thought they were lucky enough to get the opportunity. And it is important to inspire the younger generation to become whatever they want to. He also paid respect to all the players who helped to break the color barriers. Hurts, who conveyed a similar thought to him, believed that though there were fewer African-American QBs in the league, the NFL made considerable progress and will continue to do so.
Hence, even though going against each other in the ultimate matchup, Mahomes and Hurts showed that sometimes there can bloom a friendship where there is a healthy rivalry. It will be interesting to see how their friendship will strengthen in the future.
Watch this story: Tom Brady Went to The Same High School As This Controversial MLB Hall of Famer Who Was Also A 14x All-Star
The post Are Patrick Mahomes and Jalen Hurts Arch Rivals or Good Friends? appeared first on EssentiallySports.