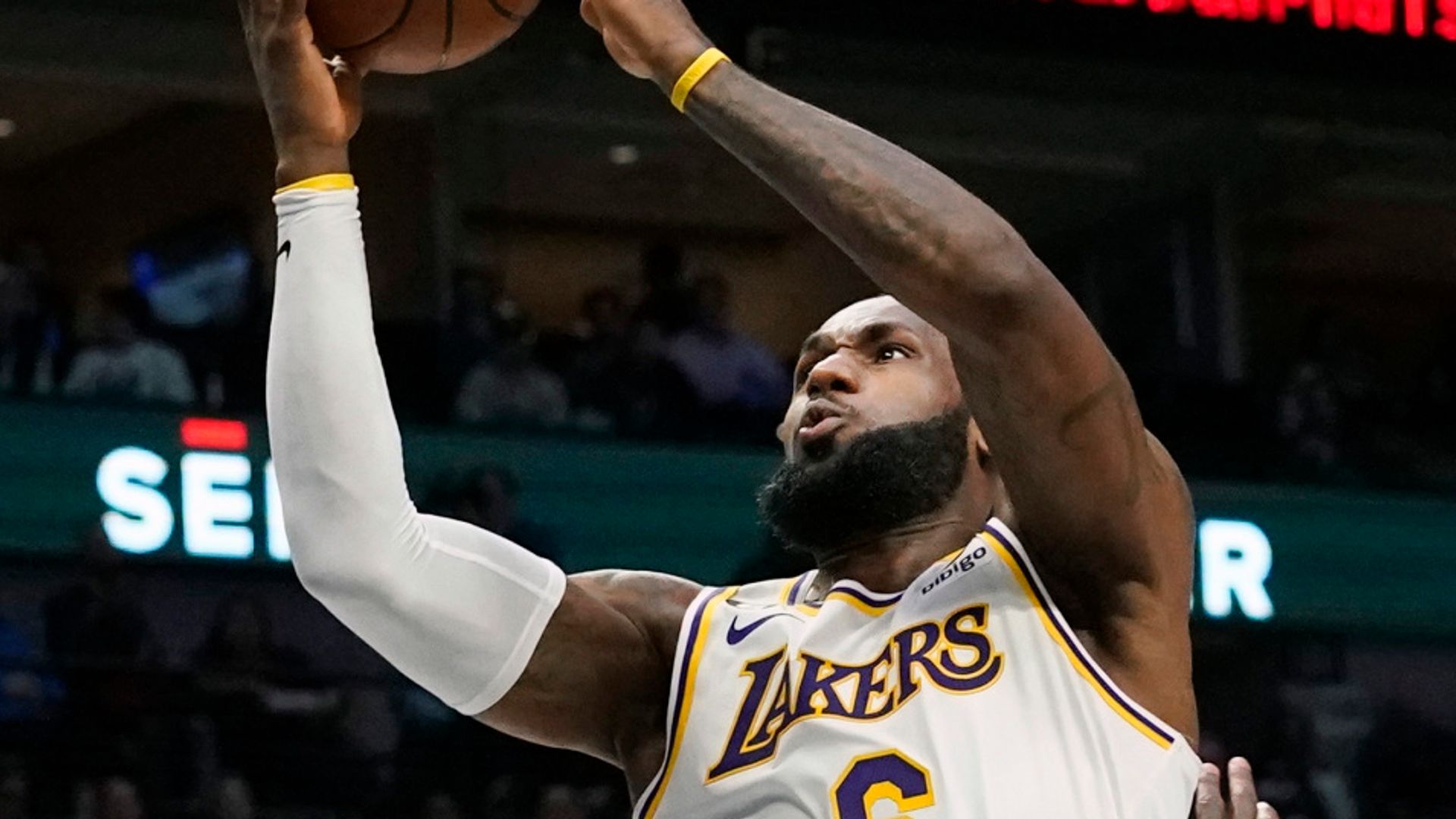 LeBron James claimed to "hear a pop" in his right ankle after landing awkwardly on it while missing a layup in the third quarter of the Los Angeles Lakers' 111-108 win over the Dallas Mavericks on Sunday.
James was able to finish the game out and help his team win from a 27-point deficit – the biggest comeback victory in the NBA this season – but that might have also been due to the fact that head coach Darvin Ham was unaware of what had happened.
Indeed, he played the veteran for an additional 20 minutes in the fourth quarter, later claiming: "I didn't hear that. I didn't hear him say that at all."
The injury occurred as James drove on Dwight Powell and missed a layup with three minutes remaining on the clock. He tried to plant his sneaker in the paint and twisted his foot awkwardly on the way down. As he lay on the floor, grimacing, he turned to the Lakers bench and said "I heard a pop", but this was only picked up by the floor microphones on the telecast.
He received some treatment on the side but then went on to play through the pain to see out the game, scoring 26 points, eight rebounds and three assists in 37 minutes. The 38-year-old was seen limping around the locker room afterwards.
"It's been better," James said later in a press conference. "That's for sure. But I definitely wasn't going to go to the locker room and not finish the game out tonight. Just understood the importance of the game, and then with the momentum that we had, I felt like we could still win after being down".
"We'll monitor it the next couple days, see how it feels and go from there."
James has also been nursing soreness in his other foot for several weeks, an ailment that caused him to miss multiple games, and will likely linger into the offseason. He has detailed it as a stress injury that flares up and requires him to be attentive on a day-to-day basis.
Ham tried to play down any injury concerns surrounding James.
He said: "Our medical people are looking at him now. He'll be re-evaluated again in the morning. So once we get some type of official word tomorrow, we'll go from there. But as of right now, he's good".
The Lakers are spending the night in Dallas on Sunday before flying to Memphis on Monday to continue their three-game trip with back-to-back games against the Grizzlies on Wednesday and Oklahoma City Thunder on Thursday.