UFC 285 was much anticipated by the fans as Jon Jones was returning after the gap of three years in the main event. The MMA fighter last took to the octagon in February 2020, when he beat Dominick Reyes on points to retain his light heavyweight title. He demolished his rival Cyril Gane on Sunday, sparking the debate between fans.  
Jones took a gap of three years to shift to the heavyweight category. He made his heavyweight debut in UFC 285 in style. It took two minutes for the fighter to claim his first heavyweight title. He now joins Conor McGregor and Daniel Cormier to win the UFC titles in two weight divisions.
Dominant Jon Jones sparked debate between fans
The dominant win of Jones over Gane made a social media user tweet, "Jon Jones is the most dominant athlete of all time in any sport." It didn't go down well with the soccer fans, especially Lionel Messi fans, who were quick to respond to the original tweet. 
One soccer fan wrote, "Lionel Messi is laughing at this tweet." The majority of the fans disagreed with the original tweet and mentioned Messi as the one. Messi recently won the FIFA Best Men's Player award after winning the World Cup with Argentina last year. He is a seven-time Ballon d'Or winner and holds many soccer records to his name. 
Lionel messi is laughing at this tweet

— Jadukar (@Ikburner1) March 5, 2023
This guy is pic.twitter.com/gqEMyo0uPS

— Sports _ is _Lif3 (@M3ssiFan) March 5, 2023
Jordan, Messi, Ali, Mayweather, Pacquiao, Federer, Nadal, Djokovic >>>>>>>>

— azazel_2100 (@2100Azazel) March 5, 2023
— Ryan  (@ryanlee9969) March 5, 2023
Its easily messi

— MJMessi (@EPrzytyk) March 5, 2023
MESSI.

— Ike Jernigan (@JerniganIke) March 5, 2023
John who pic.twitter.com/rhEOEW5BlW

— Pain (@impishpain) March 5, 2023
It wasn't only Messi fans who were involved in the debate. NBA fans named Michael Jordan the most dominant athlete in any sport.
READ MORE: "Where You at Francis Ngannou" – UFC World Goes Berserk as Jon Jones Completely Overwhelms Cyril Gane at UFC 285
There were a few social media users who brought up the names of tennis superstar Serena Williams, boxer Floyd Mayweather, swimming great Michael Phelps, and Jamaican Usain Bolt, amongst others. 
Hell nah that's Floyd

— HollowFrobe (@the_only6) March 5, 2023
Bolt, Serena, Phelps, Mayweather all exist

— ELECT (@sandile_jn96) March 5, 2023
— Suns lawyer (@CPT_SaveAHoe87) March 5, 2023
Whenever a superstar from a particular sport achieves something big, fans give audacious reactions sparking the debate about greatness. Jones's achievement wasn't an exception to this. It will be interesting to see how long the argument between the fans goes on. 
Lionel Messi won the FIFA Best Men's Player award
FIFA organized the ceremony to present the Best awards on February 27. As anticipated, Messi won the Men's Best Player award ahead of his PSG teammate Kylian Mbappe and Real Madrid forward Karim Benzema.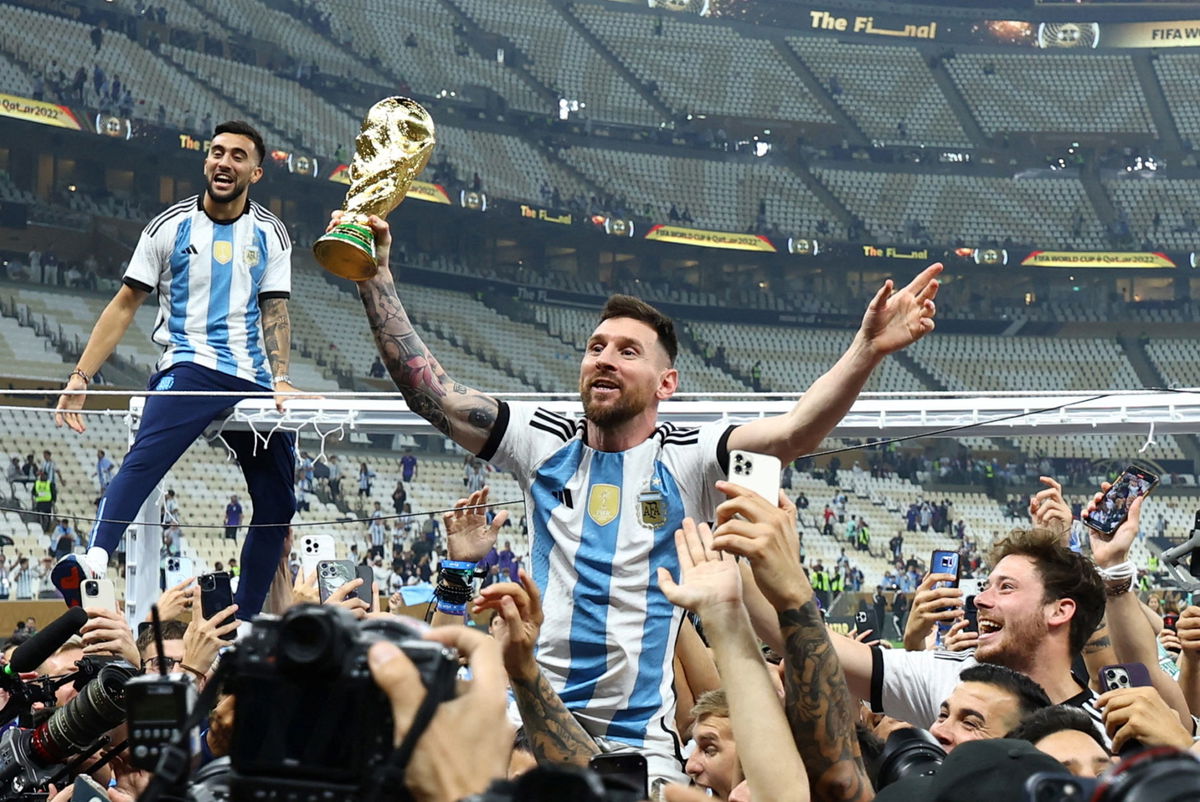 The performance of the Argentine in the Qatar World Cup last year was the crucial factor in Messi winning the award. The seven-time Ballon d'Or winner helped his country to win the World Cup for the third time and the first time since 1986. Messi recently completed 1000 goals and assists in his career.
WATCH THIS STORY: Alexis Ohanian's Seven-Word Reaction to Alex Morgan's Heart-Warming Disclosure
Let us know your thoughts on the fight between Jon Jones and Cyril Gane. 
The post "Lionel Messi Is Laughing at This" – Jon Jones' Title Win Over Ciryl Gane at UFC 285 Sparks Major Debate appeared first on EssentiallySports.