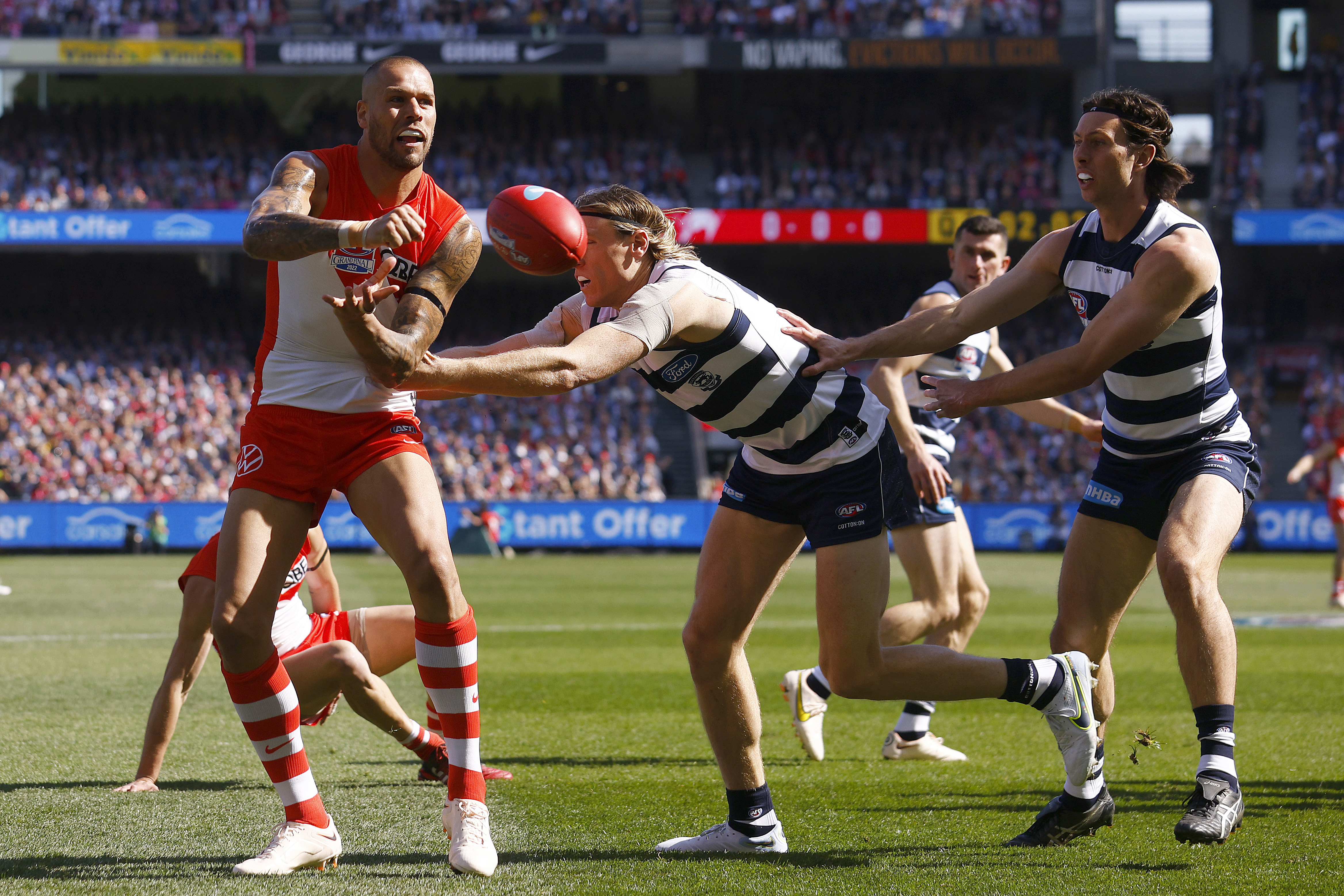 More than 70 per cent of AFL fans would like to see the grand final remain in the afternoon timeslot, according to the annual AFL Fans Association (AFLFA) survey.
The Age, which exclusively released the findings of the survey on Monday, reported that keeping the traditional Saturday afternoon schedule is a priority for viewers.
In contrast, 21 per cent of fans preferred a twilight kick-off.
READ MORE: How Bennett knocked down 'humiliated' legend
READ MORE: Massive blow for Wallabies as star signs big deal
READ MORE: 'Glaring' solution to alarming Panthers slide
During the COVID-impacted 2020 and 2021 seasons, the competition's decider was scheduled in the evening as the grand final was forced from the MCG.
As is the case every year, there was fierce debate surrounding the start time for last year's match between Sydney and Geelong, however the AFL eventually reinstated the customary 2.30pm opening bounce.
In response to the survey's findings, AFLFA president Ron Issko concluded that fans wanted a hospitable start time.
"All those polls – when do you want the grand final – 2.30pm keeps coming up, the tradition, taking kids, then being able to celebrate afterwards and not coming home at a ridiculous hour," he said.
"If you have it at twilight or nighttime, it's going to be that much harder afterwards. But broadcasters prefer twilight, so we have a little bit of a conflict there. It's not easy for the AFL to balance that, but if the majority of fans say 2.30pm, then you have to go with 2.30pm. If it was 50-50, then it would be a different story."
There are several benefits to broadcasters and streaming services that plead the case for a twilight grand final.
Pre-game and half-time entertainment are thought to be more striking at night, while a higher advertising price can be argued during primetime slots.
Ticket allocation for the grand final was also reviewed, with fans wanting each participating club to have more than 17,000 tickets available for members.
Last season, the AFL froze entry-level tickets for the grand final at $185 for the fourth consecutive year.
"Ninety-two per cent of fans support more than the current 34,000 tickets allocated to competing club members for the grand final. Qualitative comments from fans recognise the importance of sponsors and revenue but believe the allocation needs to be increased given the importance of fans to the competition," the survey said.
"Fans also question the proportion allocated to MCC members, noting it is a national game."
Issko argued that there must be a way to set aside more tickets for club members without limiting benefits to sponsors.
"In the spirit of sitting down and discussing fan issues, let's sit down and discuss that old chestnut of more tickets for competing club members … I am sure it is possible," he said.
For a daily dose of the best of the breaking news and exclusive content from Wide World of Sports, subscribe to our newsletter by clicking here!