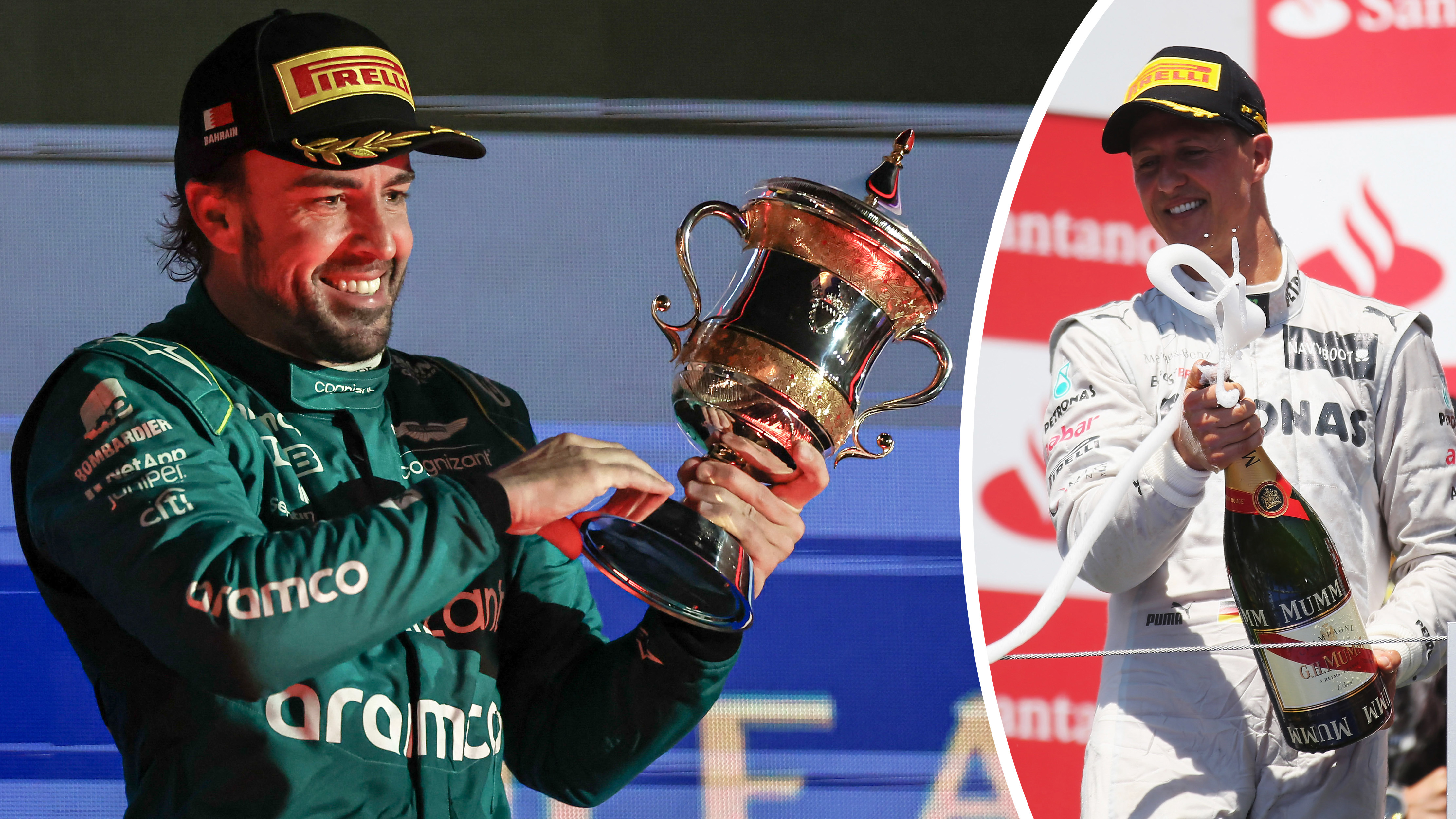 While Max Verstappen dominated the Bahrain Grand Prix, it was Fernando Alonso's third place that seems to have triggered the biggest excitement among fans.
On the opening lap, Alonso fell behind the two Mercedes of Lewis Hamilton and George Russell after he he was hit by teammate Lance Stroll at turn four.
Somehow Alonso's Aston Martin was undamaged. Through clever strategy and the retirement of the Ferrari of Charles Leclerc, he fought back – overtaking Russell, Hamilton and then the other Ferrari of Carlos Sainz to claim a popular third behind the two Red Bulls.
READ MORE: Piastri's Formula 1 debut ends in disaster
READ MORE: Piastri's struggles 'no Ricciardo situation'
READ MORE: 'Glaring' solution to alarming Panthers slide
Alonso won in Bahrain for Ferrari in 2010.
Now, he is the oldest to stand on an F1 podium since Michael Schumacher at the 2011 European Grand Prix in Valencia – which Alonso also won.
"What have you done guys? What have you done?" a jubilant Alonso radioed his team as he crossed the line in Bahrain. "I'm so proud."
Alonso, who joined after an acrimonious split with Alpine, pumped his fist at the finish line and then hugged his race crew.
"To finish on the podium first race of the year is just amazing," Alonso said. "What Aston Martin did over the winter to have the second best car on race one is just unreal."
The Spaniard said he felt Aston Martin had a fighting chance after pre-season testing, and he was strong all weekend in Bahrain in spectacular debut with his new organization.
"I had the same feeling from testing — it's too good to be true," Alonso said. "But it seems real. I could have driven for another hour on the track."
Alonso has now kicked off "Mission 33", the catchphrase his fans created as he chases a 33rd career F1 victory. The 41-year-old is a two-time world champion but last won a grand prix 10 years ago.
"I would say yes, when you are P3 in race one, anything can happen in 22 races," Alonso said of his chances at winning a race this year.
Alonso's teammate Lance Stroll missed pre-season testing because of an injury suffered in a bicycle accident. He needed surgery on his right wrist and wasn't even confirmed able to drive until Thursday.
He finished sixth.
"Congrats to my teammate Lance; 12 days ago he had surgery," Alonso said. "He is fighting right up with everybody. So amazing for the team."
Alonso was a menace for Ferrari and Mercedes, who both made tyre stops to ward off any challenges from Alonso. That helped Stroll, who used the undercut perfectly to overtake Russell just as he was emerging following a second tire change.
Alonso passed Hamilton on lap 37 but then slid wide as Hamilton reclaimed position. Alonso had another go on the next lap, and passed him by attacking on the outside and then quickly diving inside at turn 10.
It could be one of many such moves in a season where Alonso has a car to match his talents.
"This is just the beginning," Alonso said.
– With Damien McCartney
For a daily dose of the best of the breaking news and exclusive content from Wide World of Sports, subscribe to our newsletter by clicking here!