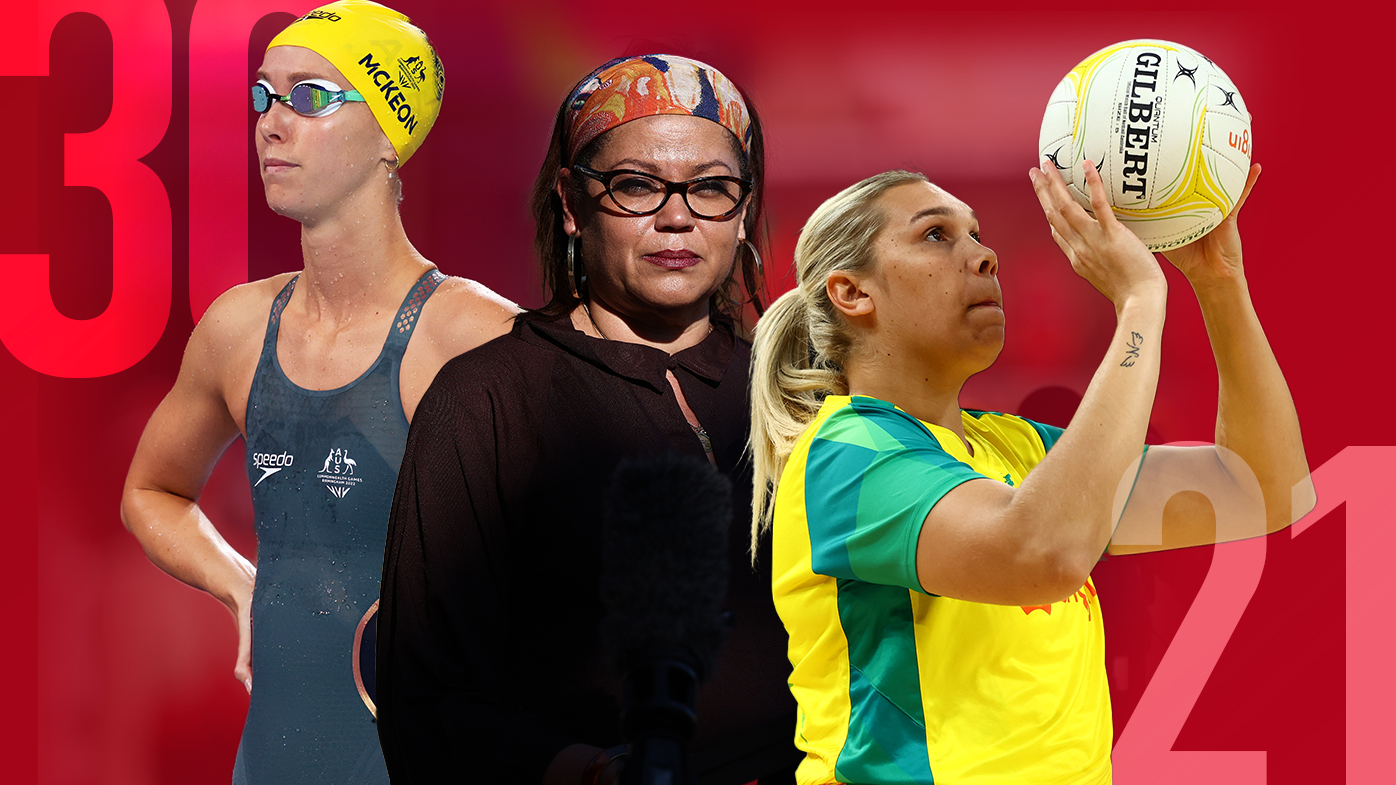 After kicking off our 50 most influential women in sport series to mark International Women's Day with 50-41 and 40-31, we move to the next stage of our countdown, unveiling 30-21.
This list isn't about the greatest athletes, although there are plenty of superstars among the top 50. To make this list, it wasn't enough to be a champion sportswoman, although many are. From athletes to administrators, journalists to sports agents and sponsors, these women have made a difference.
Some have taken a stand on issues that transcend sport, some made the decisions that determine where the money goes or what sports we see on TV, and others work in the background to keep the major codes rolling along.
READ MORE: 50-41 – MOST INFLUENTIAL WOMEN IN SPORT
READ MORE: 40-31 – MOST INFLUENTIAL WOMEN IN SPORT
READ MORE: 'Glaring' solution to alarming Panthers slide
Here's who made the list from 30-21:
The star netballer became the face of one of sport's biggest stories in 2022 when her opposition to having Hancock Prospecting on her Diamonds uniform ended with Gina Rinehart pulling a $15million-dollar sponsorship.
Wallam's strength in standing up for her beliefs and for the Indigenous community in the face of massive pressure and scrutiny in the lead-up to the biggest moment in her career – her debut for Australia – was widely applauded and led to a bigger conversation about athletes taking principled stances. Brooke Boney
The national wicketkeeper from 1984 to 1995 remains the most-capped Australian woman in terms of Test matches.
Matthews has been the chief executive of the Western Australian Cricket Association since 2011 – the standout candidate among 34 applicants for the job – driving the change for equal gender representation in leadership positions ever since.
She played an influential role in securing federal and state funding for the redevelopment of the WACA Ground which is due for completion in 2025. Kathryn Wicks
A Muruwari woman, Gardner champions her First Nations heritage and serves as an excellent role model.
She was just the third Indigenous Australian to play Test cricket and the first Indigenous woman to represent the nation at a world cup.
Throughout her career, Gardner has been hailed for her leadership on Indigenous issues, both within the walls of Cricket Australia and beyond.
Using her platform to create social change, Gardner also started the Ashleigh Gardner Foundation, which provides breakfast and sports kits for Indigenous kids to encourage a healthy lifestyle and long-term education. Emily Patterson
Insofar as winning goes, Clark, a former Australian captain and right-hand batter, could write the book.
Alongside her international record of an 83 per cent win rate as captain including two world cups, she also guided NSW to five women's national cricket league championships, moved to Victoria and won two with them.
She was the first person to score a double century in an ODI and is the first and only woman to be honoured with a statue at the SCG.
She was the chief executive of Women's Cricket Australia before its merger with CA, and served in executive roles for decades. Kathryn Wicks
Rugby league wouldn't be where it is without Katie Page.
The Harvey Norman CEO became the first woman to join the board of a mainstream sport in Australia when elected to the NRL executive in 2004, and used her term to push for the rights and recognition of women in the game.
She was the driving force behind the creation of Women in League round and remains a major financial backer of the code.
One of the most powerful and wealthiest businesswomen in the country, Page has spent millions supporting women in a variety of sports and some see her as the most suitable successor to Peter V'landys as ARL Commission chair. Roz Kelly
As Australia's most decorated Olympian, Emma McKeon's feats are unmatched.
A quiet achiever for much of her career, she epitomises dedication to her craft.
On top of her mounting individual achievements, McKeon propels the nation's love for competition and comradeship as one of the world's most impactful relay swimmers.
She is widely recognised and idolised intergenerationally. Emily Patterson
Dodd earns her place here not only for being one of the Matildas' world cup pioneers – she was vice-captain of the 1988 team in the forerunner event – but for working tirelessly to leave the game better than she found it.
Dodd was the first Australian and among the first group of women to be elected to the FIFA executive committee in 2013, working to ensure better investment in the women's game.
She has also served as vice-president of the Asian Football Confederation.
Most recently she served on Football Australia's World Cup bid committee which successfully won the right to co-host this year's tournament. Kathryn Wicks
Kylie Rogers is the AFL's executive general manager customer and commercial, which makes her the chief money maker for the richest sporting competition in Australia.
Her portfolio covers every dollar the league makes from fans, advertisers and corporate sponsors, including licensing and retail, membership, hospitality, ticketing and events, digital marketing and media, and Marvel Stadium.
She was the architect behind the eight-year deal that landed entertainment giant Marvel as the naming rights holder of the AFL-owned stadium in Melbourne for a reported $70 million.
As the force behind the AFL's commercial prowess, Rogers is driven by innovation. "The way I see it, I have to be bold, I have to innovate, I have to take risks, so we can ensure we sustainably grow, so we're continually pumping revenue into the community, into pathways and into the clubs," she told the Australian Financial Review in 2018. Melissa Coulter Ryan
Meares, who won six medals across four Games, is Australia's most decorated Olympic cyclist and the only Australian to win individual medals at four separate Olympics.
Though retired as an athlete, Meares will take on a crucial role as chef de mission for Australia at the 2024 Paris Olympics, where she will lead the nation's delegation.
Meares has spoken about how important the team environment is for Olympic athletes and their success and is aiming to create a haven for Australia's competitors that will help them achieve their best. Claire Siracusa
When the AFL and its 18 clubs belatedly apologised to Adam Goodes for the treatment that drove him from the game, Hosch was the key figure behind it.
Hosch is the AFL's executive general manager inclusion and social policy, and was the first Indigenous person and the second woman to join the league's executive.
With a seat at a table traditionally dominated by white men, she has updated vilification rules, driven a new respect and responsibility policy, made it compulsory for clubs to have Indigenous liaison officers and advocated for Indigenous and female representation on club boards.
Hosch is leading the AFL's efforts to improve the experience of past and present Indigenous players after a series of racism scandals, while tackling the thorny issues of diversity at the AFL and its clubs. Chloe Saltau
– Graphics by Tara Blancato
For a daily dose of the best of the breaking news and exclusive content from Wide World of Sports, subscribe to our newsletter by clicking here!