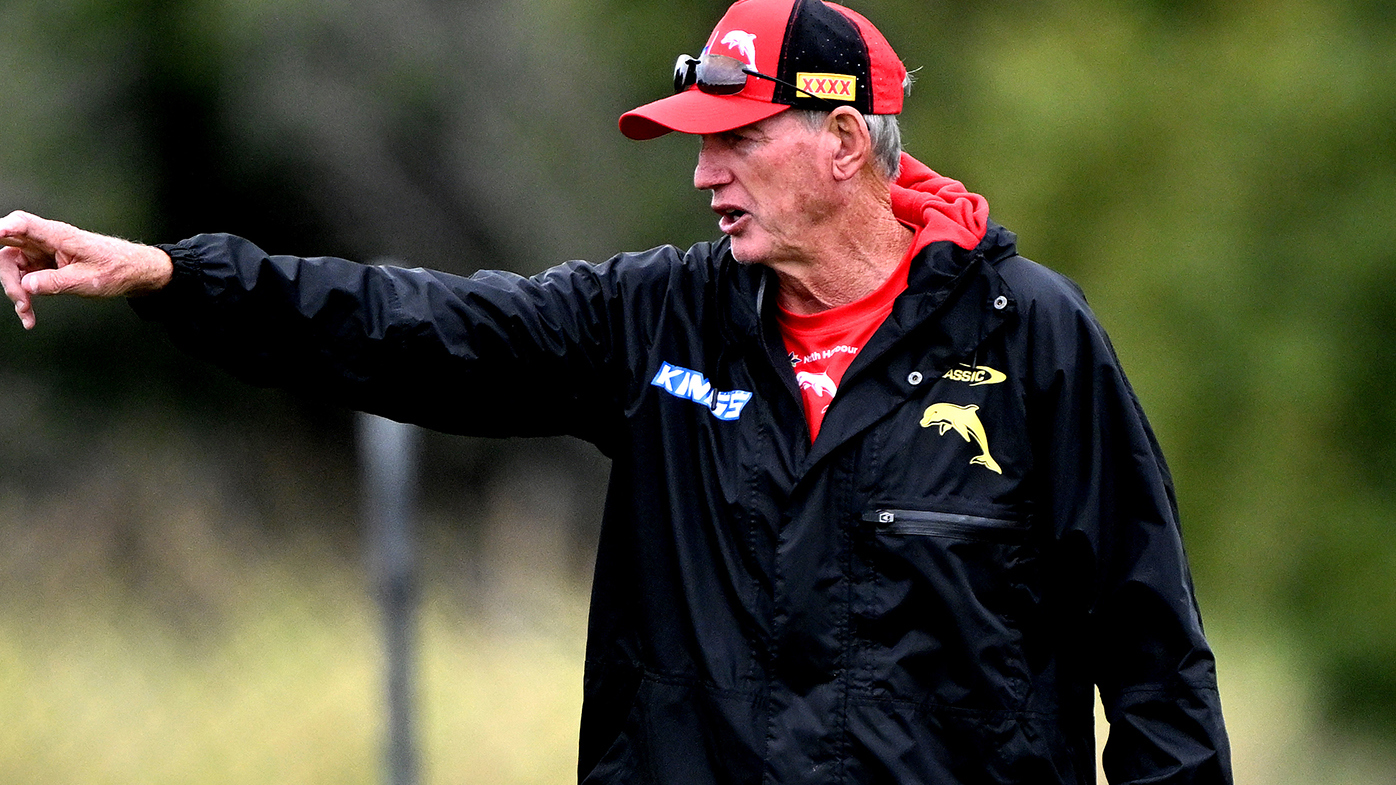 NRL great PAUL GALLEN will appear on Nine's 100% FOOTY every Monday night of the NRL season, debating rugby league's hottest topics alongside Phil Gould and James Bracey. Tune in tonight at 10:30pm (AEDT) following a bumper round one!
I've said it before and I'll say it again – Wayne Bennett is an absolute genius.
The Roosters have, on paper, probably the best team in the competition. If that squad stays fit and healthy, they'll be there come the business end of the season, without a doubt.
There's plenty of expectation around them this year after the disappointment of 2022, when injuries really cruelled them.
READ MORE: Piastri's Formula 1 debut ends in disaster
READ MORE: 'Chief money maker' behind huge Aussie sport
READ MORE: 'Glaring' solution to alarming Panthers slide
So for the Dolphins to knock them off in round one is a remarkable achievement.
I only played three matches under Wayne Bennett in my career, but what I found fascinating was that he was such a different person to what I imagined.
I remember getting on a bus one morning and I always sat roughly in the middle, maybe a little bit towards the front. I get on the bus, and here's Wayne lounging on the back seat as though he owned the place, legs spread, arms up, just giving it to everyone. Nobody was spared.
Wayne and 'Choppy' Close were just going at it non-stop on the way to training. It's something like that that creates such a great environment.
Around the hotel he'd just come up and talk to you. He'd take interest in you as a person. Obviously he was concerned about the football side of things as well, but he'd talk about other things. It's something that not a lot of other coaches have the ability to do.
He makes you feel special. Everything he spoke about in meetings was very simple, in terms of his game plan and his messaging. 
Stream the NRL premiership 2023 live and free on 9Now
You really wanted to play for him and impress him.
There was a lot of talk from Wayne about being good people, good role models and setting the right example. When we went to functions during the All Stars games we had to be properly dressed, he was very diligent about that, and also about timing. "Don't ever be late" was one of his favourite sayings. It's about the little things, even down to making sure you have the right hat on.
He wants to coach good footy players, obviously, but also good people.
He used to love training really early in the morning, we'd be on the bus by just after 6am. Now, I'm not a morning person and I thought I'd save some time by having breakfast after training, just to get a bit more sleep.
I had an apple with me on the bus, and when I got off I left the core in the pocket of the seat in front of me, mainly because I was still half asleep and not really thinking.
We get to training and a couple of others had been a bit late, and because that's his pet hate he sorted them out first.
The Stan Original Documentary Series Dawn of the Dolphins is now streaming, only on Stan.
But after he'd dealt with them, he asked who'd had the apple on the bus. I put my hand up, and he's thrown the apple core at me and said, "Put it in the f—ing bin."
It was quite humiliating, it was like being pulled up by the teacher at school.
But it makes sense, it's just about being a good person and having common courtesy. It's not rocket science.
The other thing that struck me is that he trains alongside the team. You get to the gym and here's this old skinny guy doing chin ups and bench presses!
I heard a story from the early days at the Broncos, he'd make everyone do the 3km or 5km run, and not only did he do the run with the team, he was towards the front of the pack.
When you're a player and the coach is beating you, it's hard to blow up.
Given he's now 73-years-old, to have the ability to relate to people much younger than him is a real skill.
He's been coaching so long that he's had to re-invent himself a number of times over the years, changing his methods and the way he coaches. That's so impressive, because the game has changed so much. It's changed even since I retired in 2019, let alone since he started at Canberra in 1987, and then Brisbane in 1988.
One of the big things for me out of Sunday's game was Felise Kaufusi. He's been a fantastic player for a long time. But, what I saw was a level I haven't seen from him for a while. Some of those hits were incredible, folding guys in half and forcing errors. He was so dominant in defence.
One thing we know about Wayne's teams is they usually have a high completion rate. His game plan is simple, he doesn't over-complicate things. He has the mindset that if you complete your sets and tackle well you'll be in every game, and that was the foundation of the win over the Roosters.
The challenge now is to repeat that, but they've got a really good group of senior guys who won't get carried away by this. They've got to reset to play Canberra in round two, but that won't be a problem for them, taking it week-by-week is what the game is all about and they're used to it.
The win doesn't change a lot for me, though. I don't see them making the eight. If they did it would be a monumental feat.
There'll be injuries, suspensions, all the usual dramas that crop up during the season.
One thing is certain, however.
They're a much better club because of Wayne Bennett.
For a daily dose of the best of the breaking news and exclusive content from Wide World of Sports, subscribe to our newsletter by clicking here!