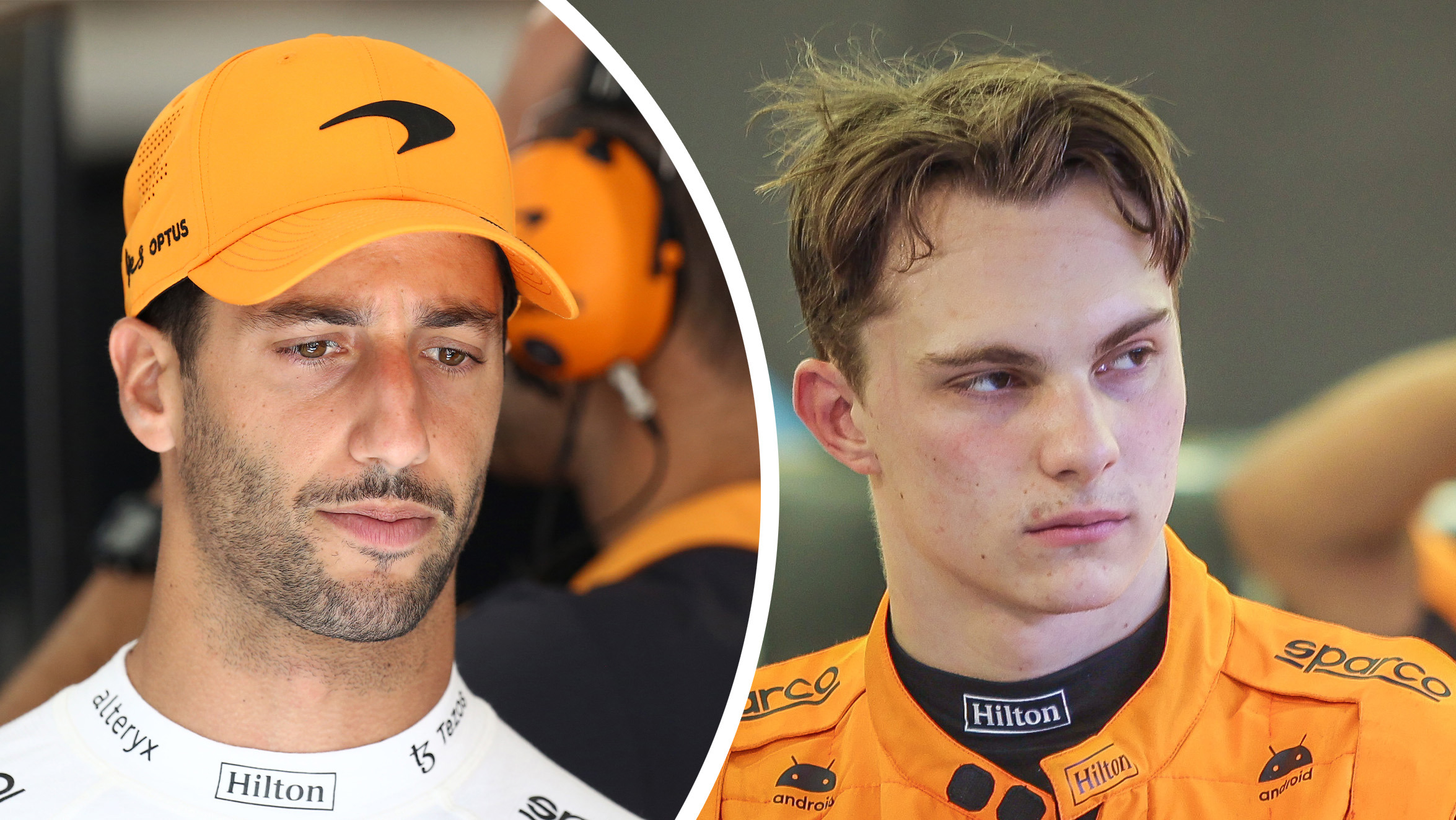 Daniel Ricciardo's 2022 performance at McLaren was a disaster.
And from an outside view, Oscar Piastri's debut grand prix in Bahrain didn't look any better. Piastri qualified 18th – as did Ricciardo 12 months earlier, while teammate Lando Norris made Q2 both times.
Piastri had a car failure and didn't finish the race. Ricciardo at least got to the chequered flag, ahead of Norris, albeit in 14th – but with three retirements the only real reason for his forward movement.
READ MORE: Piastri's Formula 1 debut ends in disaster
READ MORE: 'Chief money maker' behind huge Aussie sport
READ MORE: 'Glaring' solution to alarming Panthers slide
So were McLaren right in firing Ricciardo – an experienced driver with eight race wins to his name – for a rookie in Piastri?
It's hard to argue based on what happened at Bahrain that the answer is no.
A brief analysis of Piastri's performance in his debut Grand Prix points to a superior showing when compared to Ricciardo, despite clearly being hampered by a McLaren that seems to once again be a long way behind the eight-ball.
Ricciardo's gap to Norris in Q1 last year was more than seven tenths of a second – an eternity in F1 terms, particularly in comparison to your teammate.
Piastri's gap this year was less than half a second.
Ricciardo had been with McLaren a year at last year's Bahrain season-opener, and in F1 for more than a decade, having made his debut for the Hispania team way back in 2011.
While the 2022 cars were worlds apart from their 2021 counterparts, direct comparisons can still be made.
On the other hand, Piastri has been out of a race car for a year. Although he did complete multiple tests in F1 machinery in the past 12 months, single laps at high speed like those seen in qualifying did not form a part of those tests.
Qualifying in Bahrain then was his first real chance to wring the neck of not just his 2023 McLaren, but any F1 car.
Norris is obviously the team leader. He's been with the team since 2019, and with Monza 2021 the only real exception – has been the driver to deliver McLaren's best results, so for Piastri to be as close as he was is admirable.
At the start of the race, Piastri picked up two positions – the Alfa Romeo of Zhou Guanyu and the HAAS of Kevin Magnussen – and ran as high as 11th as the pitstop cycle began.
Then disaster struck. On lap 14, Piastri radioed the team saying he had lost the gearbox. The team responded saying they believed it was an issue with the steering wheel.
They pitted him and changed it, but the wheel was not the problem. The team later confirmed an electrical problem was the cause.
Unsurprisingly, Piastri was gutted to not finish his debut race.
"We were going quite well, got a decent start and made some good overtakes," he said after the race.
"I thought up until the electrical problem, we were doing a good job. We're still working out what the issue is and we hoped changing the steering wheel would fix it but unfortunately it didn't.
"Obviously not the finish to the weekend that I wanted but there are positives to take, and the car seemed to have better pace in the race.
"I still learned a lot and I'm glad I've now made my debut, and experienced some of the F1 race weekend firsts. I'm now looking forward to having a better weekend in Saudi Arabia."
As Daniel Ricciardo struggled at McLaren last year, concern about his performance spread far beyond the McLaren garage.
He was – and still will be when he's in attendance at races this year – an incredibly popular figure not just among the fans, but among drivers and engineers up and down the pit lane.
In his Notebook segment after qualifying, Sky Sports F1 pit reporter and analyst Ted Kravitz said nobody at McLaren – or even more broadly the paddock – was concerned about Piastri's deficit to Norris.
"I think he's feeling his way in," Kravitz said. "Yes he is the bright prospect we think he is, just as fast as Charles Leclerc or Max Verstappen, so they say, but … he was not able to get out of Q1, half a second behind Lando Norris, no real reason in the car.
"Listen, we don't have another Daniel Ricciardo situation here; McLaren don't think that, no one in the paddock thinks we have a Ricciardo situation, even though it kind of looks like that on paper."
The F1 circus' next stop is in Jeddah, Saudi Arabia in a fortnight.
For a daily dose of the best of the breaking news and exclusive content from Wide World of Sports, subscribe to our newsletter by clicking here!