The MMA world once again found a picture to relive the moments of the legendary Bruce Lee. This time, it's a resurfaced image of the Little Phoenix, from an iconic film in 1973. Recently, Lee's Instagram page posted an old picture of him standing with his peers./Evidently, Lee came across several celebrities when he was acting in martial arts movies.
What caught the eye of the viewers, even more, was that the picture was from Lee's last blockbuster movie, Enter the Dragon. Thus, the fans wasted no time and crowded into the comment section of the post to share their views.
Bruce Lee's uninterrupted legacy
It's been years since the legend left the world, and though the martial artist-turned-actor had a short lifespan, his work speaks for him. Lee was famous for his various styles in martial arts, which are unique in terms of modern MMA. In fact, he coined another new style named, Jeet Kune Do, which was more of an idea that he wanted his students to internalize.
Read More – "RIP My Friends": Having Been Buried Together, Bruce Lee and John Saxon's Resurfaced Picture Sparks Nostalgia in Fans
His style of fighting has a visible difference from that of contemporary martial artists. He focused more on defense, rather than acing his offense skills. Pioneering Kung Fu in world cinema, the Little Phoenix indeed made his country's name prominent.
View this post on Instagram
Lee's Instagram account posted a throwback image where he was standing and talking with other American actors. The caption read, "On the set of Enter The Dragon with Jim Kelly and Bob Wall." It was an outdoor shooting set where the Chinese actor was having a little chat with his friends. This post soon caught the eye of his fans and they flocked to the comment section to relive the nostalgia.
The Dragon's throwback photograph rendered fans nostalgic
Unfortunately, The Dragon passed away just six days after the movie's release. But he still lives in the heart of his fans. In this resurfaced image, his fans flooded the comment section with love. One penned, "Bruce Lee is my Hero
". Another wrote, "Awesome my favourite kung fu film enter the dragon". "Dragon riffs his tale.", one fan commented, referring to their chat.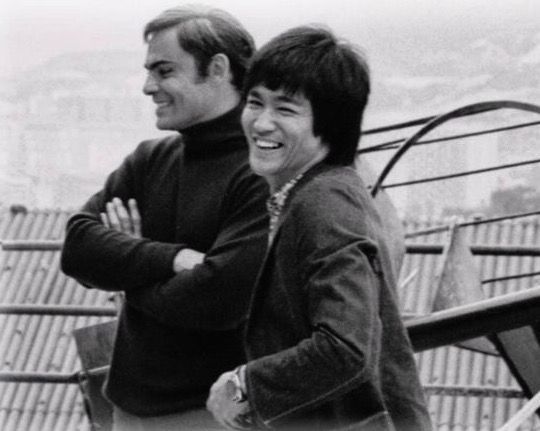 Another fan came with a beautiful insight, as he put it, "A wise man has many questions but he does not spend time answering them instead he has a solution to change." Someone thought out loud, "Imagine having Bruce Lee as your colleague ". Evidently, fans can't miss a chance to remember their favorite.
Watch This Story – Bodybuilding Legend Arnold Schwarzenegger's Build Compared to Bruce Lee and Jackie Chan
Although the legend passed away decades ago, his legacy still lives among his fans. A true hero indeed!
The post "Dragon Riffs His Tale": Rare Image of Bruce Lee With Legendary American Martial Artists on the Set of His Iconic Film Leaves Fans in Frenzy appeared first on EssentiallySports.