The plot to UFC 285 and the return of Jon Jones just couldn't have been written better. The former Light Heavyweight champ coming back after a lengthy layoff, made light work of Ciryl Gane as he finished the Frenchman in just over two minutes to lay claim on the Heavyweight gold. And although 'Bones' making a comeback was definitely the headline, there were also a few aspects of the event that left fans talking, long after the curtains were drawn on the show.
The connection between MMA and Hollywood appears to have grown quite strong over the last few years; multiple superstars are regularly seen in attendance at UFC events. Thus, it was not surprising that UFC 285 too had quite a few of them present as well. Apart from the obvious Jake Gyllenhaal; fans also got the opportunity to see veteran actor Mark Wahlberg and musician Travis Barker among the crowd. Accompanying Barker was also his wife Kourtney Kardashian.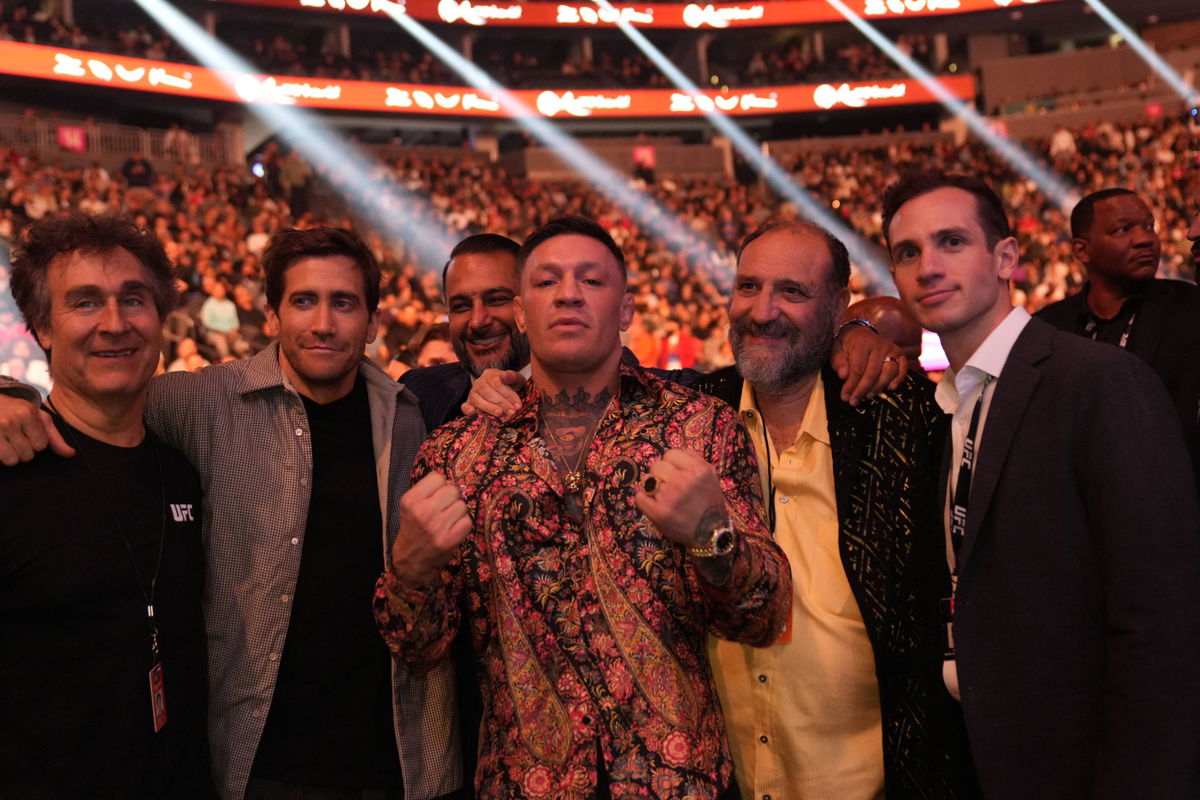 Following this, Wahlberg shared a post of himself with his teenage son Brendan, who was also beside him during the action.
Fans react to Mark Wahlberg's wholesome post with son Brendan at UFC 285
The post, which was also shared by 'People Parents' on Facebook, drew a multitude of reactions from fans of the Hollywood actor. Many expressed their joy at seeing Wahlberg's son, while a few also pointed out that it might be pretty cool to hang out with Travis Barker. The musician, incidentally, was seated right beside the Hollywood star during the event.
View this post on Instagram
"Awesome pic Dad & Son! Both Handsome"
"Handsome guy. He is lucky to have such a talented loving Dad!"
"Looks a lot like Dad ( from back in the "Funky Bunch" days), good lookin kiddo"
"I thought Jake Paul was going to call him out for his next fight. Lmao"
"Boys night out!!"
"Handsome fellas"
"What a cool life. Plus, just chillin next to Travis Barker lol."
"Awesome Dad n Family Man"
It's rather obvious that his fans still loved and respected the veteran actor.
Jake Gyllenhaal shoots fight sequence for 'Road House' during UFC 285
Apart from the multitude of stars in attendance at the event, another special thing that took place was Jake Gyllenhaal stepping inside the octagon. In a now-viral clip, the actor was seen playing the role of an MMA fighter as he knocks out his opponent in a pretty dramatic fashion. Following that, Gyllenhall was observed beside co-actor Conor McGregor as they sat down to enjoy the fights.
Read More: UFC 285 Purse: Estimated Salaries of Jon Jones, Ciryl Gane, Shavkat Rakhmonov and More Revealed
Ultimately, there's no denying that UFC 285 was a star-studded event. With Hollywood A-listers like Wahlberg making regular appearances during fight nights, there's no denying that the sport has grown quite massively over the last few years.
Watch This Story: Jon Jones Stats: Record, Height, Reach KOs, Submissions
The post "Looks a Lot Like Dad": Fans React to Mark Wahlberg's Pictures With His 14-Year-Old Son Next to Kourtney Kardashian & Travis Barker at UFC 285 appeared first on EssentiallySports.