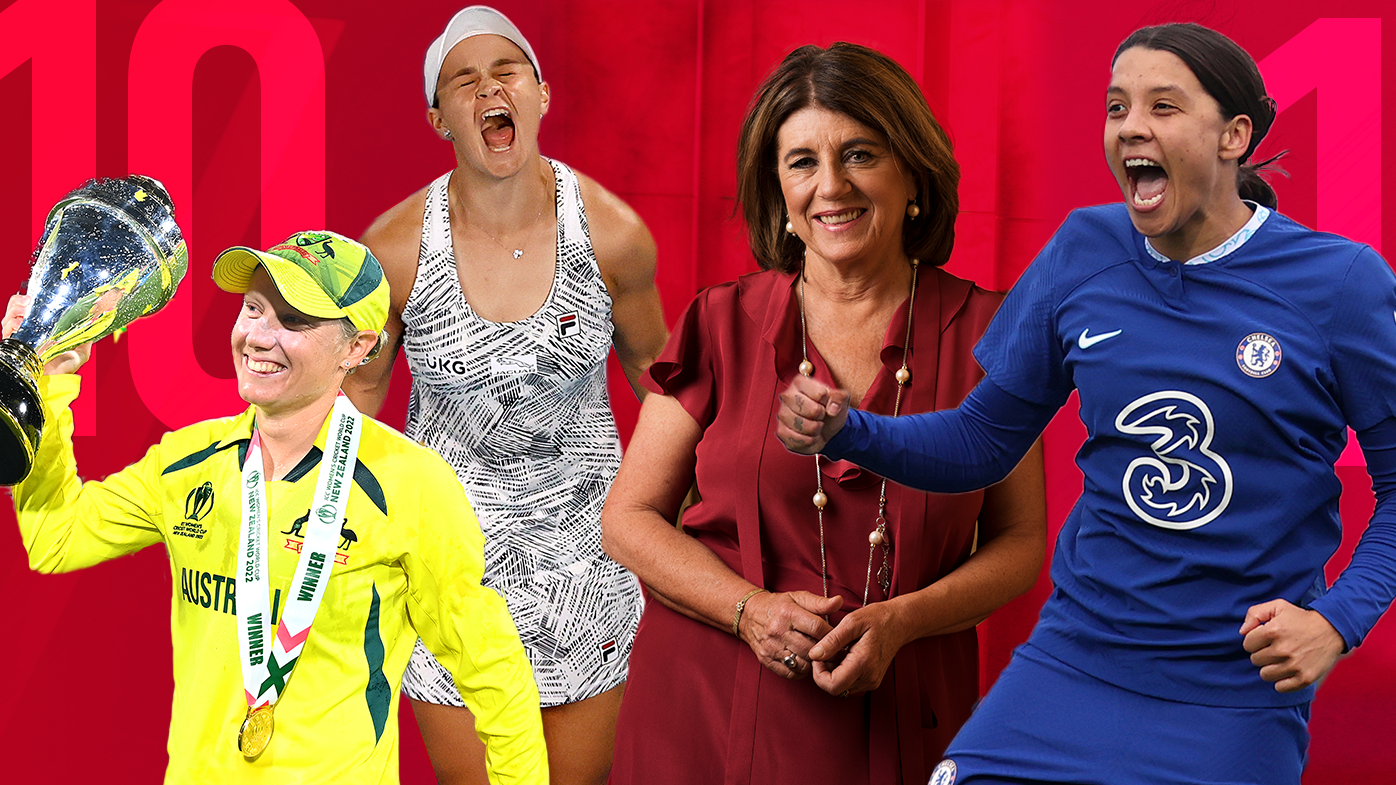 We've reached the top 10 of our 50 most influential women in sport series to mark International Women's Day with 50-41 40-31 30-21 and 20-11 having already been unveiled.
This list isn't about the greatest athletes, although there are plenty of superstars among the top 50. To make this list, it wasn't enough to be a champion sportswoman, although many are. From athletes to administrators, journalists to sports agents and sponsors, these women have made a difference.
Some have taken a stand on issues that transcend sport, some made the decisions that determine where the money goes or what sports we see on TV, and others work in the background to keep the major codes rolling along.
READ MORE: 20-11 – SPORT'S MOST INFLUENTIAL WOMEN
READ MORE: 30-21 – SPORT'S MOST INFLUENTIAL WOMEN
READ MORE: 40-31 – SPORT'S MOST INFLUENTIAL WOMEN
READ MORE: 50-41 – SPORT'S MOST INFLUENTIAL WOMEN
Here's who made the list from 10-1:
Debuted for Australia in 2010 and has become one of the nation's highest-profile cricketers. A multiple world cup winner (Twenty20 and ODI), the wicketkeeper is a destructive batter at the top of the order and a chirpy presence behind the stumps in the powerhouse Australian women's team.
She was named the ICC T20 player of the year in 2018, and player of the match in Australia's T20 World Cup final victory in Melbourne in 2020. As her game evolved, so too did her leadership on and off the field.
She is an insightful cricket commentator and a prominent voice for the growth of women's cricket, having pushed for more collaboration between the men's and women's teams, and for the creation of a Women's Indian Premier League, which has come to fruition. Last year she was appointed vice-captain. Melissa Coulter Ryan
Wilson is a Walkley award-winning journalist who has been a trailblazer in her coverage of Australian rules football since the early 1980s.
She is the former chief football writer of The Age, and though she stepped down in 2017 after almost two decades in that role, she continues to break some of the biggest stories in the AFL, in print, on television and on radio.
Her coverage of football is agenda-setting and her work holds sway with people in power and fans alike.
When Wilson speaks, the AFL world listens. Claire Siracusa
As chair of the Australian Sports Commission, Sukkar holds one of the two most powerful positions in Olympic sports, leading the government agency responsible for funding and investing in all sport across Australia.
While her understated leadership style has repaired the fractured relationship that existed between the ASC and the Australian Olympic Committee under the previous presidents John Wylie and John Coates, Sukkar is also not afraid to make tough calls.
She is also the president of Australian women's rugby and, through the construction company she co-founded, has been a major sponsor of grassroots and women's rugby for almost 30 years. Georgina Robinson
Daisy Pearce will forever be known as one of the most influential names in women's sport, blazing the trail for female athletes and boosting the profile of the AFLW.
She was drafted as the first player for the Melbourne Demons ahead of the AFLW's inaugural season in 2017, playing a total of 55 games and captaining six seasons.
She won best and fairest three times and was voted the AFLW's best captain four times by her peers.
Pearce is one of the most respected commentators of the game, but she is also a sustainability campaigner, midwife and mother, proving to all aspiring female athletes that anything is possible.
In January, Pearce announced her retirement from playing.
But it's not over yet – she joins the coaching team of AFL premiers Geelong from next season. Her influence, it appears, is far from over. Zoe Samios
Lauren Jackson has changed the face of Australian basketball.
With a resume boasting four Olympic medals, a world championship gold medal, two WNBA titles, three WNBA MVP awards and an induction into the Naismith Memorial Hall of Fame, Jackson has forged a league of her own.
After closing the door on a distinguished 20-year career in 2016, the mother of two inspired a new generation of sports fans with her remarkable comeback from chronic injury last year.
Benefiting from a therapeutic-use exemption to take medicinal cannabis, Jackson has become an advocate for the treatment, joining the sports advisory board for Australian sports science company Levin Health. Emily Patterson
Perry was just 16 when she played her first one-day international for Australia in 2007, the youngest player ever to do so. It would be a feat in itself had she not also debuted for the Matildas just 13 days later.
Her football career – the unforgettable highlight of which remains a left-footed goal against Sweden in the 2011 World Cup quarter-final – wound up around 2015 with the advent of the Big Bash and the acceleration of professionalism in both sports.
As the world's premier cricket all-rounder, she was the first player to amass the combination of 1000 runs and 100 wickets in T20 internationals. Sixteen years later, with a swag of awards too vast to list, the unfailingly humble Perry continues to dominate cricket. Kathryn Wicks
Cate Campbell doesn't need an introduction.
She's a four-time Olympian, a world record holder, a four-time gold medallist, and a sporting figure who has long advocated for the representation of women in sport.
In 2022, the 30-year-old took on a new role as chair of the Australian Olympics Committee Athlete's Commission after nine years on the board.
Leading the group that oversees the position of athletes will be very important, particularly in the leadup to the Brisbane 2032 Olympics.
Campbell has already spoken about the role she wants to play – speaking specifically about the AOC's sustainability ambitions and its role in Indigenous reconciliation when elected. Zoe Samios
Retired from tennis at 25 when she was at the peak of her powers as the world No.1 and arguably Australia's best-known athlete.
Yet even in retirement, Barty has a powerful voice. She was coaxed back to the scene of her final grand slam triumph earlier this year to, along with her hero Evonne Goolagong Cawley, be the face of the Australian Open's inaugural Indigenous day.
She is fiercely proud of her Indigenous heritage and uses her platform to create pathways for Indigenous kids to live their dreams.
Barty is also a sought-after corporate speaker and has been appointed by Optus as the "chief of inspiration" in further evidence of her standing. Brooke Boney
Mining magnate Gina Rinehart, Australia's richest person with a value of $43.5 billion through Hancock Prospecting, has long been active in Australian sport.
She provides millions in funding for Olympic athletes in swimming, rowing, artistic swimming and beach volleyball, and as a partner of the Australian Olympic Committee.
Despite her influence, Rinehart's stance on various issues, such as climate change and in response to Australia's netballers uniform boycott in support of Indigenous teammate Donnell Wallam, has resulted in clashes with some of the athletes she sponsors.
Her view "that it is unnecessary for sports organisations to be used as the vehicle for social or political causes" firmly illustrates the fine line that exists between sponsorship, obligation and influence. Melissa Coulter Ryan
Sam Kerr's achievements are staggering, on and off the field.
The Matildas captain is the country's all-time leading goal scorer (62 goals), scored Australia's first World Cup hat-trick and is the first woman to win the Golden Boot in three leagues on different continents.
Off the field, the Chelsea striker became the first woman to feature on the cover of the FIFA series of video games last year, posing next to French superstar Kylian Mbappe. She was named the 2018 Young Australian of the Year and was last year awarded the Medal of the Order of Australia.
Kerr is a global superstar, and her ranking on this list reflects it. Yet she's built her brand on authenticity.
The football megastar is herself on and off the field, and on social media. Her Instagram is full of football, friends, family and loved-up selfies with her partner, American professional player Kristie Mewis. The advertisements that do make it to Kerr's "grid" include partnerships with Nike, EA Sports, Tourism WA and CommBank.
Her profile will peak in Australia this year. If there are still any Australian homes that have not heard of Sam Kerr, a World Cup in Australia will bridge that gap. Georgina Robinson.
For a daily dose of the best of the breaking news and exclusive content from Wide World of Sports, subscribe to our newsletter by clicking here!
Top-20 most marketable athletes in the world in 2022: Aussie superstar Sam Kerr beats host of massive names