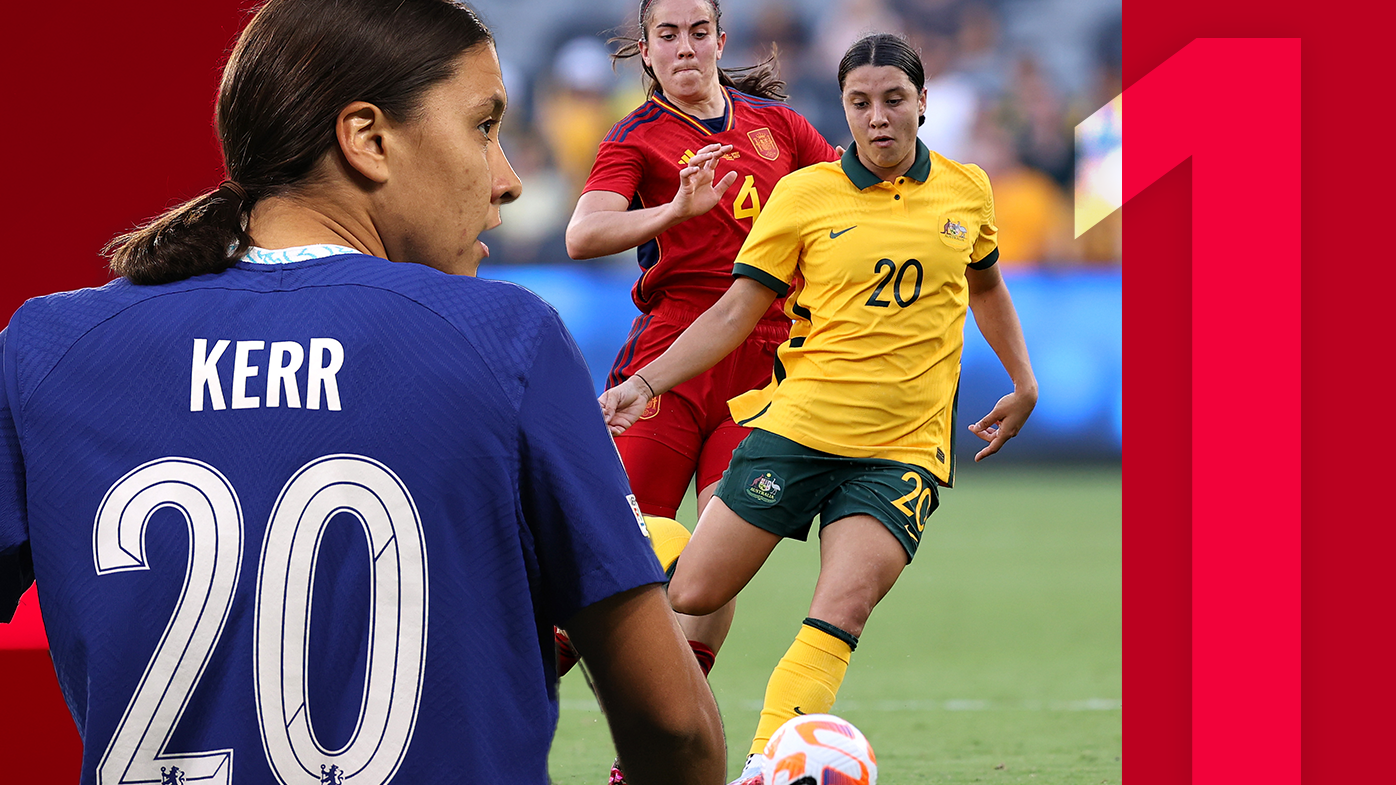 By Georgina Robinson, SMH
Sam Kerr's achievements are staggering, on and off the field.
The Matildas captain is the country's all-time leading goal scorer (62 goals), scored Australia's first World Cup hat-trick and is the first woman to win the Golden Boot in three leagues on different continents.
Off the field, the Chelsea striker became the first woman to feature on the cover of the FIFA series of video games last year, posing next to French superstar Kylian Mbappe. She was named the 2018 Young Australian of the Year and was last year awarded the Medal of the Order of Australia.
READ MORE: 10-1 – SPORT'S MOST INFLUENTIAL WOMEN
READ MORE: 20-11 – SPORT'S MOST INFLUENTIAL WOMEN
READ MORE: 30-21 – SPORT'S MOST INFLUENTIAL WOMEN
Kerr is a global superstar, and her ranking on this list reflects it. From the panel of 10 journalists across the Nine television, print and digital networks, the lowest ranking anyone gave Kerr was eighth. Most of our writers, editors and broadcasters put her in their top five.
Selecting Australia's 50 most influential women in sport
In the same way the 29-year-old football player has backflipped and scored her way into the national consciousness over the past 14 years since her professional debut, Kerr rocketed to the top of the final tally of votes.
She beat recently retired tennis champion Ash Barty and a handful of powerful politicians and administrators, most notably federal Sports Minister Annika Wells and her state counterparts, whose funding decisions are driving the country's so-called "golden decade" of sport, which will culminate in the 2032 Olympics.
READ MORE: 40-31 – SPORT'S MOST INFLUENTIAL WOMEN
READ MORE: 50-41 – SPORT'S MOST INFLUENTIAL WOMEN
Our list showed influence was devoid of sporting sentiment. Gina Rinehart polled second not only for her ongoing funding of several Olympics sports but because her role in the Diamonds' sponsorship saga put a spotlight on the fragile relationship between sport, sponsors and the athletes who benefit.
But Kerr's on-field brilliance trumped Rinehart's financial clout, and not just because of her globally recognised excellence or trademark goal celebrations.
Kerr's influence has been built on her authenticity off the field, too. She has not courted public affection, she has attracted it, through her skill, her devotion to teammates, her family and her love of the game.
To understand the nature of Kerr's appeal, look at the forward's idols: Barty and Cathy Freeman. Freeman and Barty rose to the top of their sports without letting their genius overshadow their humanity. Kerr's influence, like theirs, is founded on authenticity.
"I think anyone I've been on this journey with would say that I've always stayed true to myself and that's something I'm really proud of," Kerr said in 2021.
"I've always stayed the same."
It does not mean she wins popularity contests. In fact, the major individual honours that elude Kerr in her sport are the peer-voted ones, the Ballon d'Or and FIFA's player of the year award. She has been shortlisted or nominated for both, multiple times.
Kerr is herself on and off the field, and on social media. Her Instagram is full of football, friends, family and loved-up selfies with her partner, American professional player Kristie Mewis. The advertisements that do make it to Kerr's "grid" include partnerships with Nike, EA Sports, Tourism WA and CommBank.
Her profile will peak in Australia this year. If there are still any Australian homes that have not heard of Sam Kerr, a World Cup in Australia will bridge that gap.
There is huge pressure on her, as the face of the Matildas off the pitch and their star striker on it. She has spoken about it being the Matildas' "Cathy Freeman moment", referencing Freeman's 400m gold medal win on home soil.
She is focused on staying injury-free and in form before the tournament, with winning in August the ultimate goal.
As she said in an interview in late 2021: "You train and play all these games to lift a trophy, not to have a Golden Boot sitting on the shelf. Those things are nice, to be rewarded for your efforts, but they mean nothing really if you don't have a trophy."
– Graphics by Tara Blancato
For a daily dose of the best of the breaking news and exclusive content from Wide World of Sports, subscribe to our newsletter by clicking here!