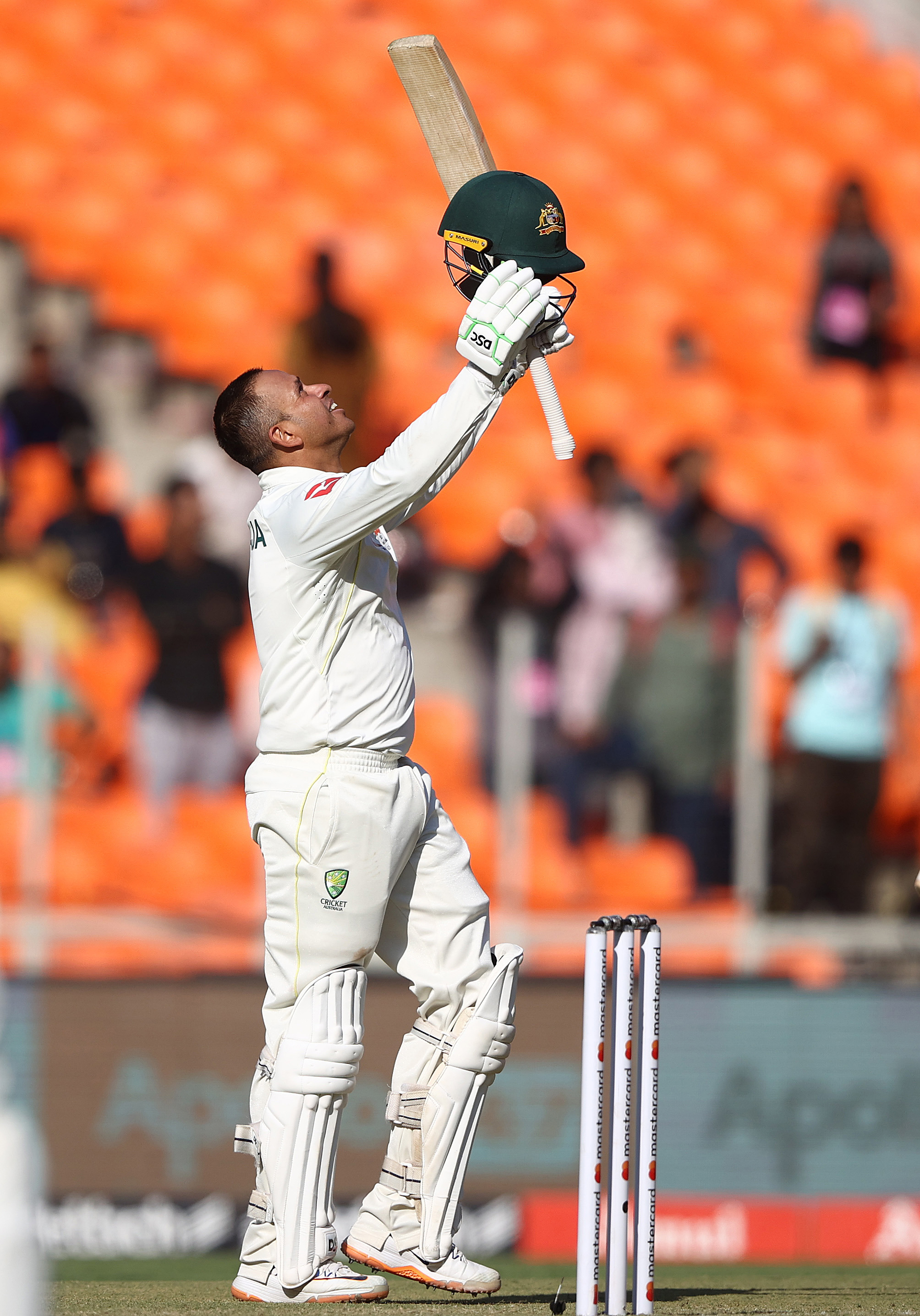 Usman Khawaja has taken a subtle swipe at the Australian selectors who left him in the Test wilderness for more than two years after ticking off a "special" career milestone in India.
Khawaja continued his strong form, recording an unbeaten century to ensure Australia ended day one of the fourth Test on top after winning the toss and electing to bat first.
The left-hander finished the day on 104 not out and combined with Cameron Green (49 not out) for an unbeaten 85-run partnership that allowed Australia to reach 4-255 at stumps.
AS IT HAPPENED: Australia vs India fourth Test, day one
READ MORE: PM's 'bizarre' act blamed for 'shoddy' Test start
READ MORE: Plea for life bans after sickening Latrell abuse
Khawaja's century is the 14th of his Test career, but his first both in India and against India.
While the left-hander has toured India before, in both 2013 and 2017, he was left on the sidelines in both series, and he showed he'd not forgotten about it.
"There was a lot of emotion in that. I've been to India on two tours before this and carried the drinks in all eight Test matches," he said at stumps.
"It was a long journey trying to get a 100 in India. As an Australian, that's what you want to do, what you want to tick off, so it's very special."
Khawaja took another swipe in his press conference at the end of day one, saying he "didn't feel like the team really supported me" when he was repeatedly dropped earlier in his career, particularly in Asia.
"Any time I got out to spin, people were like, 'you can't play spin'. I probably started believing it myself," he said.
"I didn't really get the support from the people around me at the time. Didn't feel like the team really supported me, didn't feel like the coaching staff and selectors really supported me through that journey.
Albanese joins Aussies for national anthem
"It just made it so hard. Whether I was or wasn't – yes I'm a better player of spin now, no doubt about that, I have more shots, better defence – but I didn't really get the opportunity to learn at that early stage."
It seems inconceivable now that Australia would trot out a Test XI anywhere in the world without Khawaja at the top of the order, but that's exactly what happened for more than two years during what should've been the left-hander's prime years.
Khawaja was dropped during the 2019 Ashes series in England and did not make it back into the Test side until the New Year's Test against England in January 2022.
He marked his return to the Test side with a pair of centuries and has recorded four more in the 15 Tests that have followed, with his average currently sitting at 69.53 since he was re-installed into Australia's Test side.
Khawaja has been known for his flamboyant strokeplay throughout his career, but showed a grittier side to his game on day one, with his century coming off 246 deliveries.
"It was such a nice wicket (and) I just didn't want to give my wicket away," he said.
"Plenty of times I wanted to hit them over the top, which is what I normally do in the subcontinent, but I just thought today you're going to have to try and get me out.
"It was a mental battle more than anything because you have to try and put your ego away. I wasn't striking very fast, so it was just a battle all day.
"Just continue the process, just continue doing it as long as you can and keep helping the team out because I knew the longer I batted, the better it was for us."
It was a bizarre opening to the Test match as the players became a virtual sideshow with Australia and India's prime ministers given a motorcade around the ground prior to the first delivery.
Khawaja revealed that he'd been one of the few to benefit from the pre-game ceremony.
"I think a few of the other boys might've been a bit rattled," he said.
"I've got no superstitions (and) I don't really have much structure to my warm-up, I'm just a go with the flow kind of guy, so for me it was fine.
"I just went out the back, did a few run-throughs, stretched and then made sure I was ready for the game when it started. I kind of enjoyed that warm-up, it's probably the best warm-up I've had.
"They (Australia's coaches) all came up to me and told me this morning, 'This is going to be the favourite warm-up of your life', and I was like, 'I think you might be right'."
After seeing Travis Head, Marnus Labuschagne, Steve Smith and Peter Handscomb all come and go, Khawaja found an ally in Green who put the Indian bowlers to the sword in the final hour of play.
The 23-year-old arrived at the crease with Australia precariously placed at 4-170 after Handscomb was bowled by Mohammed Shami, but brilliantly flipped the momentum back in Australia's favour after the home side opted to take the second new ball.
Indian captain Rohit Sharma would've hoped the new ball would lead to a breakthrough, but instead saw it disappear to all parts as Australia piled on 54 runs in the final nine overs of the day.
"We didn't say anything to Greeny, he was just seeing them like beach balls and everything they were putting out there he was just smacking," Khawaja said of the final session counter attack.
"It wasn't our intention. I was just watching at the other end and getting a single to let him on strike, but it was pretty good to watch."
Play for day two will resume at 3pm on Friday afternoon, with Australia looking to pile on a massive first innings total.
For a daily dose of the best of the breaking news and exclusive content from Wide World of Sports, subscribe to our newsletter by clicking here!
'The final frontier': How young gun's debut, captain's injury sparked Australia's iconic 2004 series win in India