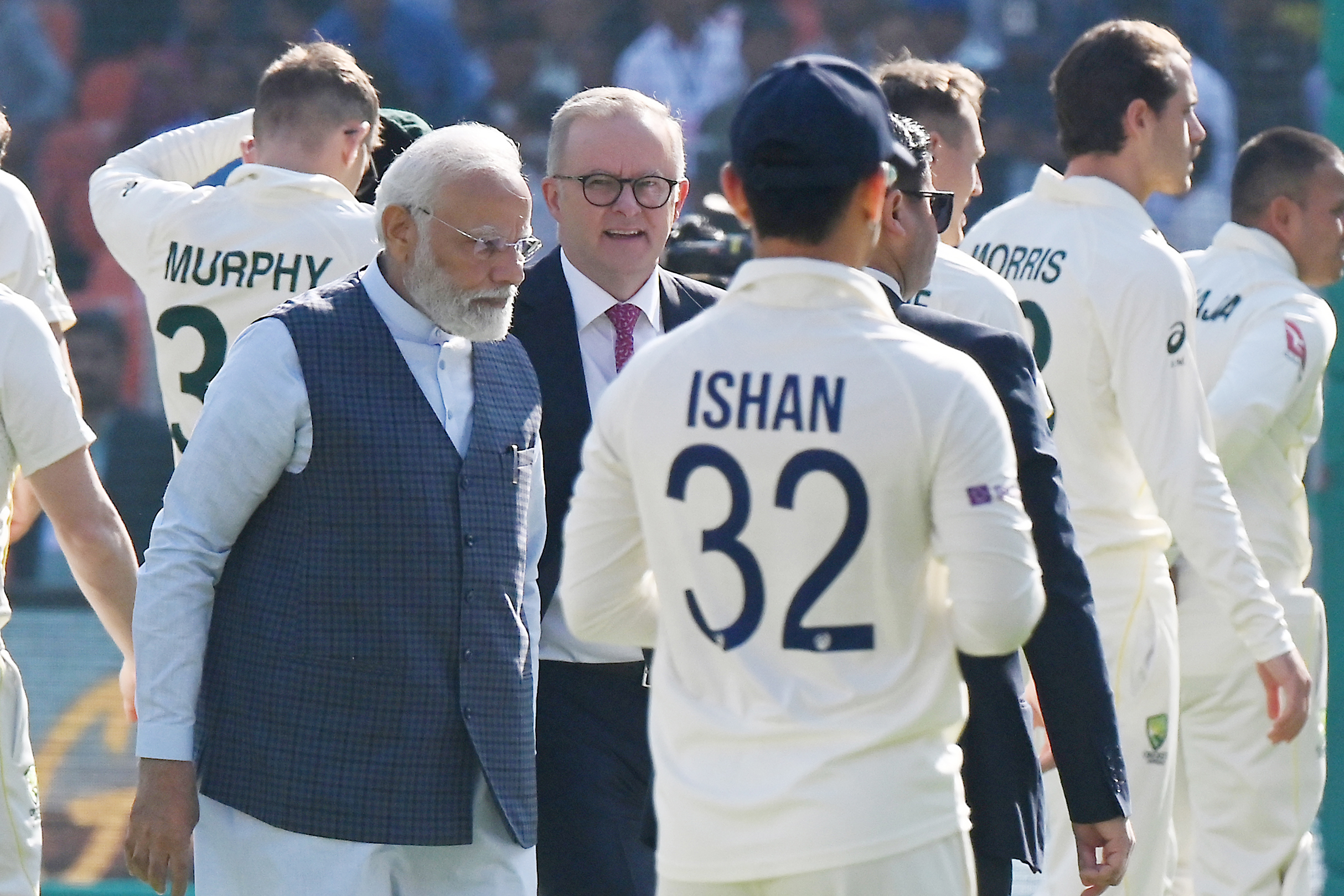 The respective prime ministers of Australia and India were blamed in part for a chaotic start to the fourth Test match.
Australian skipper Steve Smith won the toss and opted to bat first in Ahmedabad, but it was then that bizarre scenes unfolded.
Rather than players from both teams warming up on the playing surface – which is normal before a Test match – they were forced outside the stadium.
LIVE UPDATES: Australia vs India fourth Test day one
READ MORE: Olympian's horror story led to 25 days in coma
READ MORE: NRL blasted as Fergo exposes insurance 'joke'
The reason was an over-the-top ceremony featuring Australian Prime Minister Anthony Albanese and Indian Prime Minister Narendra Modi
The pair rode around the boundary in an automobile waving to fans.
After the prime ministers joined the two teams for national anthems, chaos ensued.
The first over of the Test match was a shambles, with a wide first ball and then 10 runs scored off Mohammed Shami, four of them an Usman Khawaja edge through slips.
Aussie great Mark Waugh called it "shoddy" bowling by India.
Former Australian wicketkeeper Brad Haddin was in no doubt as to the reason for the poor start.
"It was a bizarre start to the Test match," Haddin said on Fox Cricket.
"We saw both prime ministers doing a lap of honour, the teams had to warm up out the back.
"They didn't really get a feel for the game, and that's the way they started with the game."
Former Aussie quick Brendon Julian agreed.
"I think that can upset the rhythm of the game," he said.
The stadium the match is being played at is named in honour of Narendra Modi is the largest cricket stadium in the world by capacity, seating 130,000 spectators.
For a daily dose of the best of the breaking news and exclusive content from Wide World of Sports, subscribe to our newsletter by clicking here!
'The final frontier': How young gun's debut, captain's injury sparked Australia's iconic 2004 series win in India