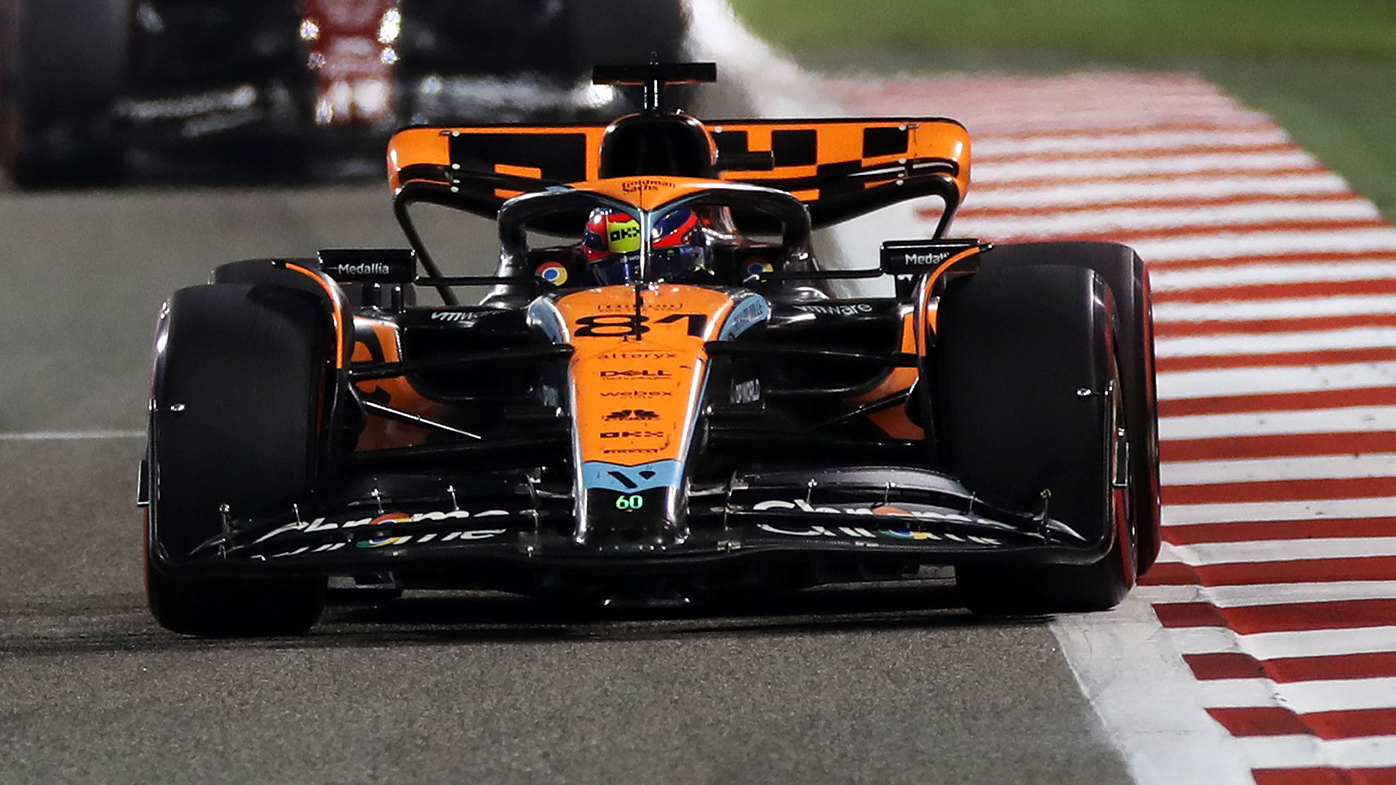 McLaren's technical boss has revealed a rule change of just 15mm is behind the team's current struggles.
Mechanical problems brought an early end to Oscar Piastri's Formula 1 debut in Bahrain, while Lando Norris limped home in 17th spot after car problems of his own.
Even leaving aside those issues, the car simply lacked pace, with Norris qualifying 11th and Piastri 18th.
READ MORE: Fenech protege leaves rival's jaw shattered
THE MOLE: Bitter NRL feud set to explode
READ MORE: 'It's true, I haven't: Bennett's wild admission
McLaren conceded at the car's launch in February that it hadn't met its development targets and said it hoped an upgrade package, due to arrive in time for the Azerbaijan Grand Prix, would propel its drivers towards the front of the midfield.
McLaren's technical director, James Key, says the problem can be traced back to a rule change introduced late last year to raise the floor by just over a centimetre.
"Where this happened actually is when we took the 15mm floor step," said Key.
"That sounds very small, but these floors are huge and incredibly sensitive. Look at how much downforce it generates, massive. So when we did it on our car, it actually gave us a much bigger loss than anticipated. It seems to have affected different teams in different ways.
"And to a certain extent, it seems to be related to the floor edge geometry that you're running at the time."
Key noted that McLaren had seemingly been hit harder than other teams by the change, due to the way its car was designed.
"Last year, there were two camps beginning to develop, one which we were in, and one which probably the majority of teams were in," he said.
"And when we took that [15mm] step, it was a really big knock for us.
"And then trying to recover with what we knew at the time, and this was probably September time, we were thinking this is not working, we've actually got to change direction entirely with these geometries.
"Which is a big change, because they're very big projects, and very complex projects.
"So I think the timing of the reg, and the fact that we took a particularly large hit, and then that it clearly wasn't going to come back easily, meant that we had to change direction quite late."
While Piastri and Norris struggled in Bahrain, Key said the team had decided not to rush through the changes that could have made them more competitive.
"It wasn't like we were dawdling around and thinking what to do, and actually why don't we do this," he explained.
"It takes a while to develop these things. We tried to get it for race one, it wasn't mature enough.
"It would have performed a bit better, (but) it was a little bit risky for race one."
"The development rate on that is so much higher than what we had. Had the reg been earlier or had we clocked the fact that actually you need to do a different thing with this four weeks earlier, we wouldn't be talking about it right now, to be honest.
"So it's a bit it's a bit of a shame, but we are where we are, and we're just going to recover from it."
For a daily dose of the best of the breaking news and exclusive content from Wide World of Sports, subscribe to our newsletter by clicking here!