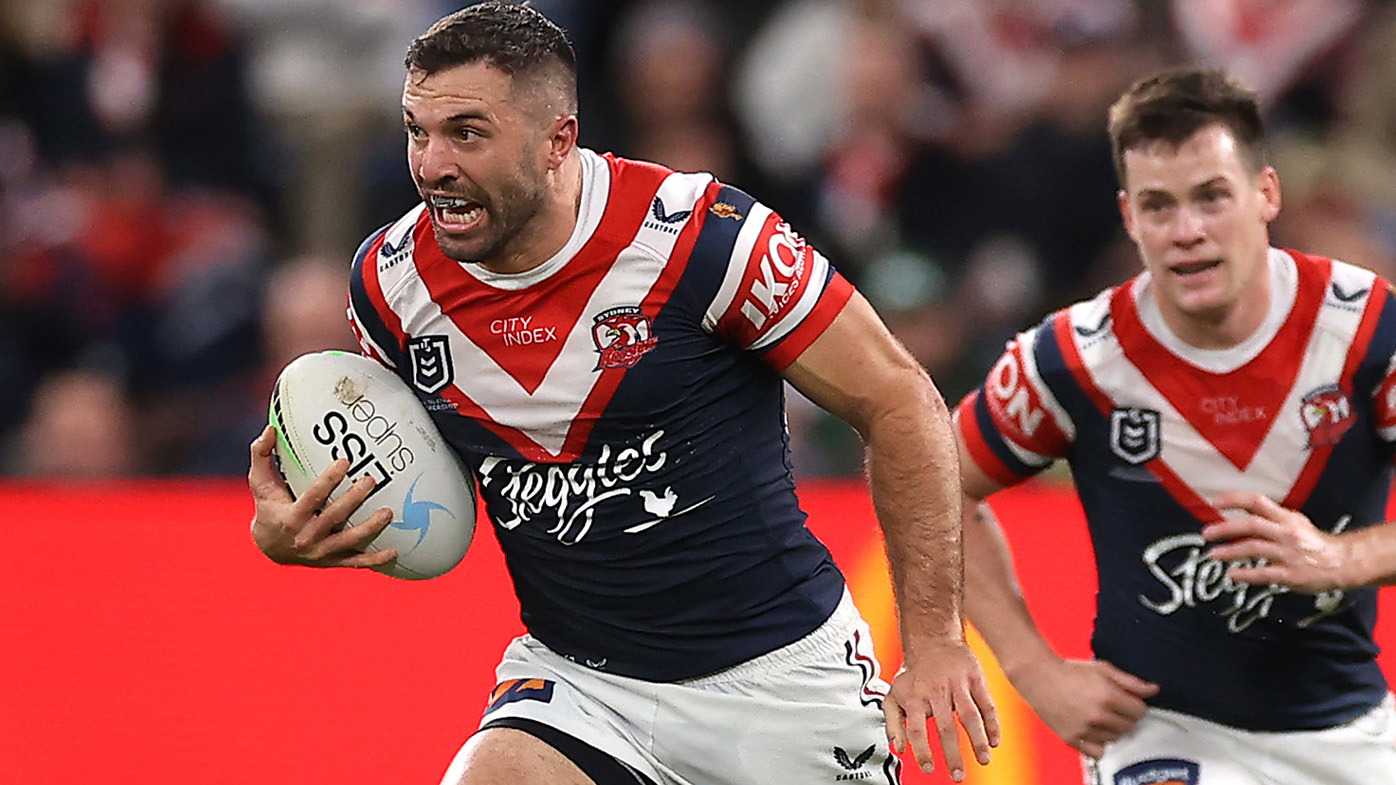 Eighth Immortal Andrew Johns has tipped the Roosters to choose rising star Joseph Suaalii over James Tedesco, as a time bomb ticks towards a huge decision when both become free agents in November.
The Roosters duo's futures are intertwined, with 19-year-old Suaalii re-signing with the club this week on a deal that expires at the same time as incumbent skipper and fullback Tedesco.
Suaalii has made no secret of his desire to move to fullback, and while he is currently happy to bide his time behind the Australian Test captain, Johns expects his patience to run out by the time he's negotiating a deal for 2025 and beyond.
READ MORE: Plea for life bans after sickening Latrell abuse
READ MORE: Khawaja's swipe at selectors after 'special' hundred
READ MORE: Cleary injury scare sours Panthers victory
Johns said the Roosters are the "right club" to manage a potentially awkward situation but acknowledged they were unlikely to find a way to keep both players.
"No one manages their roster better than the Roosters," he told Wide World of Sports' Immortal Behaviour.
"They've got a big decision to make because I'd imagine the management of Joseph would've pretty much said, 'If he's staying here we'd like to see him play fullback'.
"I have no idea (how they'll manage it) but the top clubs make the tough decisions.
"Me personally, I would keep Teddy on for a while, but we'll see. The really top teams manage it well and they move the player a year before their use-by date, so there's some big decisions to make on Teddy.
"I think Teddy can be at the top of his game until he's 34-35. It might sound silly, but what will extend his career is all the injuries he had earlier in his career, he had those knee problems so he missed about two years of footy."
Johns said there would be no shortage of suitors for Tedesco's services, should the Roosters opt to move on their current club captain.
"It'd be nice for him to go back to where it all started," Johns said of the prospect of Tedesco returning to the Wests Tigers.
"I'd imagine he wouldn't want to leave Sydney, he's entrenched in Sydney. He's a $1 million player for sure.
Stream the NRL premiership 2023 live and free on 9Now
"Maybe the Bulldogs would look at him. Moving forward, I don't know what they have in their system coming through, but a player like Tedesco, he's a once-in-a-generation player."
Johns also raised the Cronulla Sharks as a team with potential interest in bringing Tedesco on board.
While he admitted Tedesco was a generational talent, Johns has no doubts about Suaalii's ability to be a long-term fullback.
Joey recounts hilarious 'Mad Monday' story: Immortal Behaviour – Episode 02
"He'd be fine (at fullback) next week," he said.
"I was talking to someone at the World Cup … (they were told) Joseph is one of the most professional players they've seen.
"After a game he likes to meditate on the field, so he goes down somewhere and thinks about his game. After a (World Cup) game in England – as usual it was pissing down rain – he went down after the game, sat on the field under the goalposts and mediated and went through his game.
"You can see he's a real pro and he's going to be at the top of his game for another 15 years.
"If you see the way he treats his body and the way he prepares, it reminds you of Sonny Bill (Williams), and he played at the top level for so long with the All Blacks and then the Roosters."
For a daily dose of the best of the breaking news and exclusive content from Wide World of Sports, subscribe to our newsletter by clicking here!