Gary Lineker is stepping back from his duties as Match of the Day presenter, the BBC has said in a statement.
However, Sky News understands that Lineker has not agreed to this, and the statement is incorrect.
A source close to the presenter has told Sky News that the corporation has taken him off air, as he is unwilling to apologise for his comments this week on social media and admit he should not have done it.
The BBC has been approached for comment.
BBC statement: Lineker to step back from MOTD role
The presenter has been embroiled in a row over impartiality after comparing the language used to launch a new Government asylum policy with 1930s Germany.
He will not present the show until an agreement is reached on social media use.
A BBC spokesperson said: "The BBC has been in extensive discussions with Gary and his team in recent days. We have said that we consider his recent social media activity to be a breach of our guidelines.
"The BBC has decided that he will step back from presenting Match Of The Day until we've got an agreed and clear position on his use of social media.
"When it comes to leading our football and sports coverage, Gary is second to none.
"We have never said that Gary should be an opinion-free zone, or that he can't have a view on issues that matter to him, but we have said that he should keep well away from taking sides on party political issues or political controversies."
The row was sparked by his response on Twitter to a Home Office video in which Home Secretary Suella Braverman unveiled the Government's plans to stop migrants crossing the Channel on small boats.
The ex-England striker wrote: "There is no huge influx. We take far fewer refugees than other major European countries.
"This is just an immeasurably cruel policy directed at the most vulnerable people in language that is not dissimilar to that used by Germany in the '30s."
He has since faced criticism from Downing Street, Culture Secretary Lucy Frazer and Ms Braverman, who accused him of "diminishing the unspeakable tragedy" of the Holocaust.
Lineker on Thursday: 'I'm looking forward to presenting MOTD on Saturday'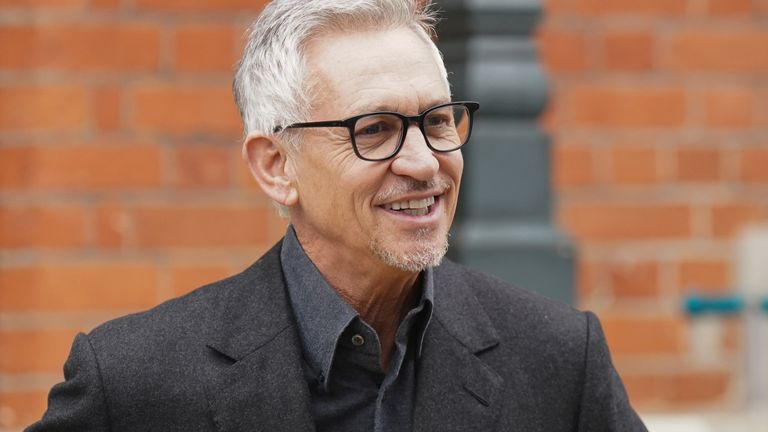 Lineker tweeted on Thursday that he was "very much looking forward" to presenting Match Of The Day on Saturday.
The 62-year-old posted: "Well, it's been an interesting couple of days.
"Happy that this ridiculously out of proportion story seems to be abating and very much looking forward to presenting @BBCMOTD on Saturday.
"Thanks again for all your incredible support. It's been overwhelming."
He previously told reporters outside his London home that he stood by his criticism of the immigration policy and did not fear suspension by the BBC.
When approached by reporters Lineker said: "Yes I would like to say something, very good morning to you"
As he passed round the back of the vehicle, he said "no" when asked if he fears suspension over his tweets.
Then as he climbed into the rear passenger seat, he responded to a reporter asking if he has spoken to the BBC, saying: "I'm always talking to the BBC."
Asked if he had spoken to the director general, he said, after a pause, "yeah" before adding "he said… well we chat often".
Before closing the door, he was asked if he regretted his tweet. He responded "no" and when asked if he stood by it he said "course".
BBC director-general Tim Davie warned staff about their use of social media when he took on the role at the end of 2020, and guidelines around social media use have since been updated.
Staff were told they need to follow editorial guidelines and editorial oversight in the same way as when doing BBC content.
Lineker is a freelance broadcaster for the BBC, not a permanent member of staff, and is not responsible for news or political content so does not need to adhere to the same rules on impartiality.