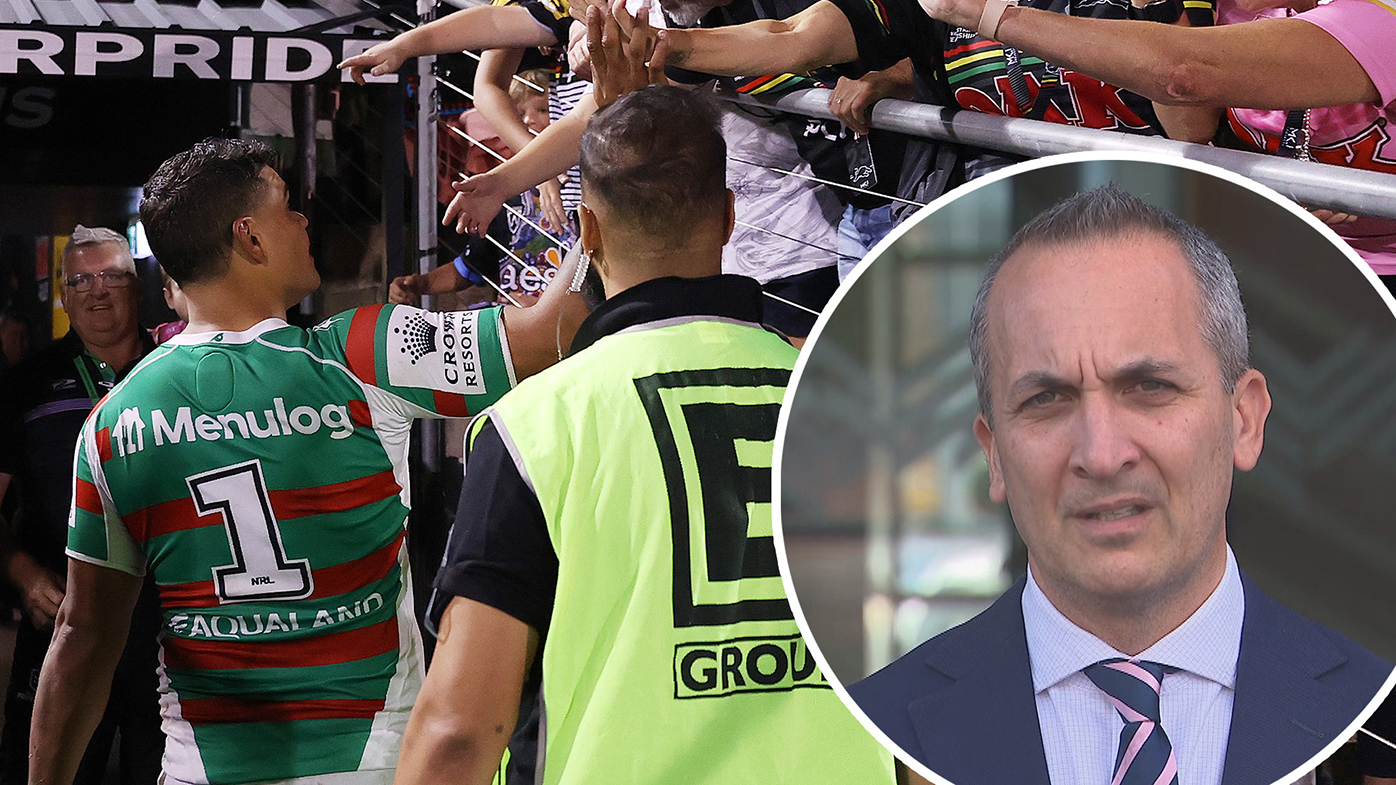 NRL boss Andrew Abdo says he's "proud" of the game's response to the racist abuse directed at Latrell Mitchell.
The NRL is investigating the incident, which occurred as the players left the field at half time at Penrith's BlueBet Stadium on Thursday night.
Abdo refused to put a timeframe on the investigation, other than to note it was a "high priority".
READ MORE: Plea for life bans after sickening Latrell abuse
READ MORE: Cleary injury scare sours Panthers victory
READ MORE: Khawaja's swipe at selectors after 'special' ton
"What I'm pleased about is the way the game always rallies behind anyone that is affected by this," Abdo told reporters on Friday morning.
Abdo: Game 'stands behind' Latrell
"I want to commend Latrell Mitchell for his leadership in calling out this action (and) all of the players last night, from both teams, who worked together to assist in getting all the facts and making sure that these situations don't happen in the future."
Abdo said he'd exchanged text messages with Mitchell, and played down reports that incidents like this could force the star to leave the game early.
"If that is to happen then it would be incredibly disappointing," Abdo said.
"That's a long way away. Latrell's an incredible player, but he's also a leader in his community. He does unbelievable work off the field, he's passionate about helping young people develop."
The South African born Abdo drew on his own experience of growing up in a country that was divided by race.
"It was abhorrent. I grew up, when I was very young, when apartheid still existed and I got to see the pain that inflicted," he said.
"As someone right in the middle of that, I completely understand how much these types of statements hurt. But then I got to see how South Africa transformed under the leadership of Nelson Mandela.
"The reason I'm using that analogy is when I came to Australia, I was overwhelmed by how inclusive Australian society actually is in comparison to and in context to where I came from. And whilst there are always going to be outliers, individuals in society that are at the extreme, and we'll do everything we can to educate them and change the way they behave and things they say."
In a separate statement, Souths boss Blake Solly said those responsible need to be brought to account. 
"It is inconceivable that we are talking about racism again in 2023," he said.
"I echo the words of our head coach Jason Demetriou from last night's press conference. Racism cannot exist in our game, in our society, in any way, shape or form.
"This is a deeply disappointing situation, something that our players should never be subjected to, and we feel as a club that the strongest possible action needs to be taken against the perpetrators.
"Latrell is a strong, proud Biripi man. He stands up for himself, his teammates, his club, his family and his people. This should never be discouraged by the actions of some people with archaic views."
Solly said he had spoken to both Abdo and Panthers boss Matt Cameron on Friday morning, noting the Rabbitohs will assist the investigation in any way possible.
"We will not stand for this behaviour," he said.
"It is abhorrent, antiquated and needs to be stamped out. The only way this is going to stop is if EVERYONE makes the effort to stamp this out.
"If you're a fan in the stands and you hear it, see it or read it, then call it out – just as the players from both teams responded to it in the tunnel at the time. This immediate response from Rabbitohs and Panthers players who heard the remark is the response everybody should take. Make sure everyone knows this type of behaviour is not acceptable. There is no other way to stop this than to call it out immediately.
"We thank the stadium security and the NRL for their efforts last night and we look forward to a day when our players can perform on the field, our staff and volunteers can do their jobs off the field and our members and supporters can support their team from the stands, without having to be subjected to this type of disgusting behaviour."
For a daily dose of the best of the breaking news and exclusive content from Wide World of Sports, subscribe to our newsletter by clicking here!