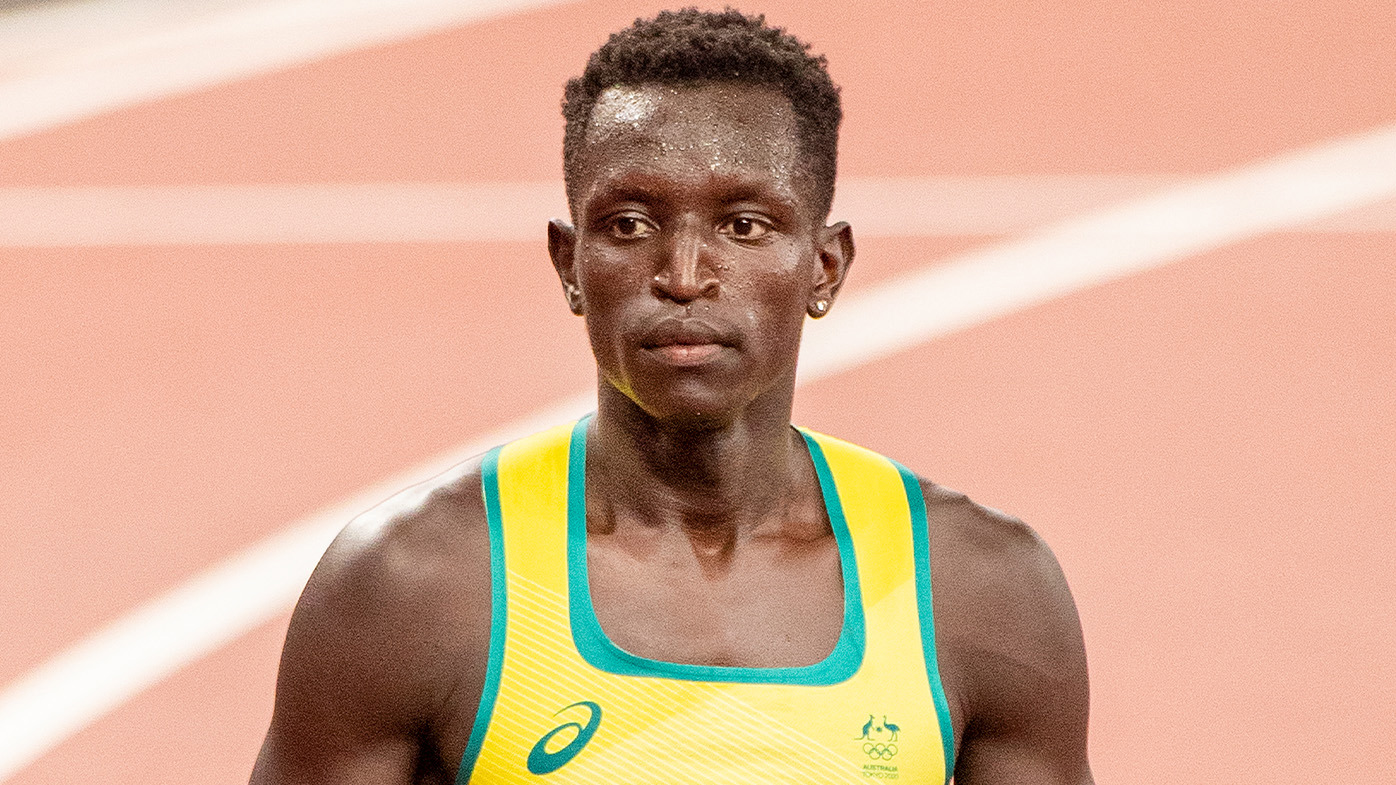 Leading Australian athletics agent James Templeton has raised an alarming question in an intriguing dive into the Bernard Lagat and Peter Bol drug test controversies.
Templeton was Lagat's agent and is also Bol's manager.
Lagat, an Olympic silver medallist and a five-time world champion, was provisionally suspended in September 2003 after returning a positive A sample for the drug erythropoietin (EPO), before being cleared to resume competing when his B sample produced a negative result about a month later.
READ MORE: Plea for life bans after sickening Latrell abuse
READ MORE: Khawaja's swipe at selectors after 'special' milestone
READ MORE: Strange twist in Djokovic's US tennis ban
The career of Bol, the Australian men's 800-metre record-holder and a Commonwealth Games silver medallist, also took a drastic turn when he returned a positive A sample for the same drug 20 years later. Bol was provisionally suspended in January, but had his ban lifted when his B sample registered an atypical finding, which means neither positive nor negative, in February.
One fascinating link between the Lagat and Bol cases is the presence of "two stubborn men", in the words of Templeton.
Twenty years after Dr Hans Heid from the German Cancer Research Center was an independent witness for the analysis of Lagat's B sample, persisting through 22 hours of processing across three days, Templeton played the same role during the testing of Bol's B sample.
Not every athlete can afford to have their B sample tested. Having an eagle-eyed witness peering over a tester's shoulder on their behalf is even more rare.
The question Templeton is pondering is whether testers operate with just as watchful an eye during their analyses of original samples.
"At the opening of Lagat's B sample in Cologne, before Dr Hans Heid went into the lab as observer for three days, I was surprised how confident he was that the sample would turn out negative," Templeton told Wide World of Sports.
"He believed he knew where shortcuts were being taken in the lab.
"Heid insisted that he would be present for all 22 hours over three days that the Bernard Lagat B sample was being worked on and that his presence would ensure that the exact protocols would be followed to the letter.
"I'm certainly no scientist, but on February 1, 2023 I determined to do the same for Peter Bol. It seemed obvious that my presence for those 22 hours would also ensure that they would follow to the exact specifications of the protocols."
Templeton said that while he "didn't understand the many long and complicated processes", he was able to "tick everything off the run sheet of protocols".
"To a non-scientist it's hard to say anything other than how shocked I was at how complicated the whole process is," Templeton said.
"This is no standard drug test; this is a very hands-on, complicated operation. It's available for anyone to see online. It's long and complicated and then is subjectively assessed. What could possibly go wrong?
"There are many coincidences in life," Templeton added.
"Who knows how important it was that two stubborn men 20 years apart sitting through three days of tedious lab work led in any way to those B tests not coming back positive?"
The late Dr Werner Franke, who in the 1990s combined with his wife to expose East Germany's state-sponsored performance-enhancing drugs program, peppered with questions Lagat, his wife and Templeton after Lagat returned his positive A sample.
Dr Franke finished the interrogation convinced that Lagat was innocent, before his main man in the lab — Dr Heid — took up his task as independent witness.
The presence of Templeton in the lab for the analysis of Bol's B sample seemed to ensure five people were monitoring the tester: Templeton, a Sport Integrity Australia official, two lab managers and a security guard.
"All I know is the WADA world was very surprised at the result in 2003, and I'm assuming they were also last month," Templeton said.
"Few other B samples have come back as variance to their A and it can only be wondered what difference it would make if more people sat doggedly through 22 hours of processing.
"It's hard not to think the process isn't incredibly flawed."
WADA provided the following comment when contacted by Wide World of Sports:
"WADA is not a party to the case you highlight and we would not be in a position to comment about it at this stage.
"Speaking generally and not in relation to any specific case, the process for the detection of EPO has been successfully used for many years, published in peer-reviewed journals and reviewed in court in different doping cases. According to the latest research and all credible data, it remains fit for purpose."
Wide World of Sports contacted Sport Integrity Australia but the governing body declined to comment.
For a daily dose of the best of the breaking news and exclusive content from Wide World of Sports, subscribe to our newsletter by clicking here!