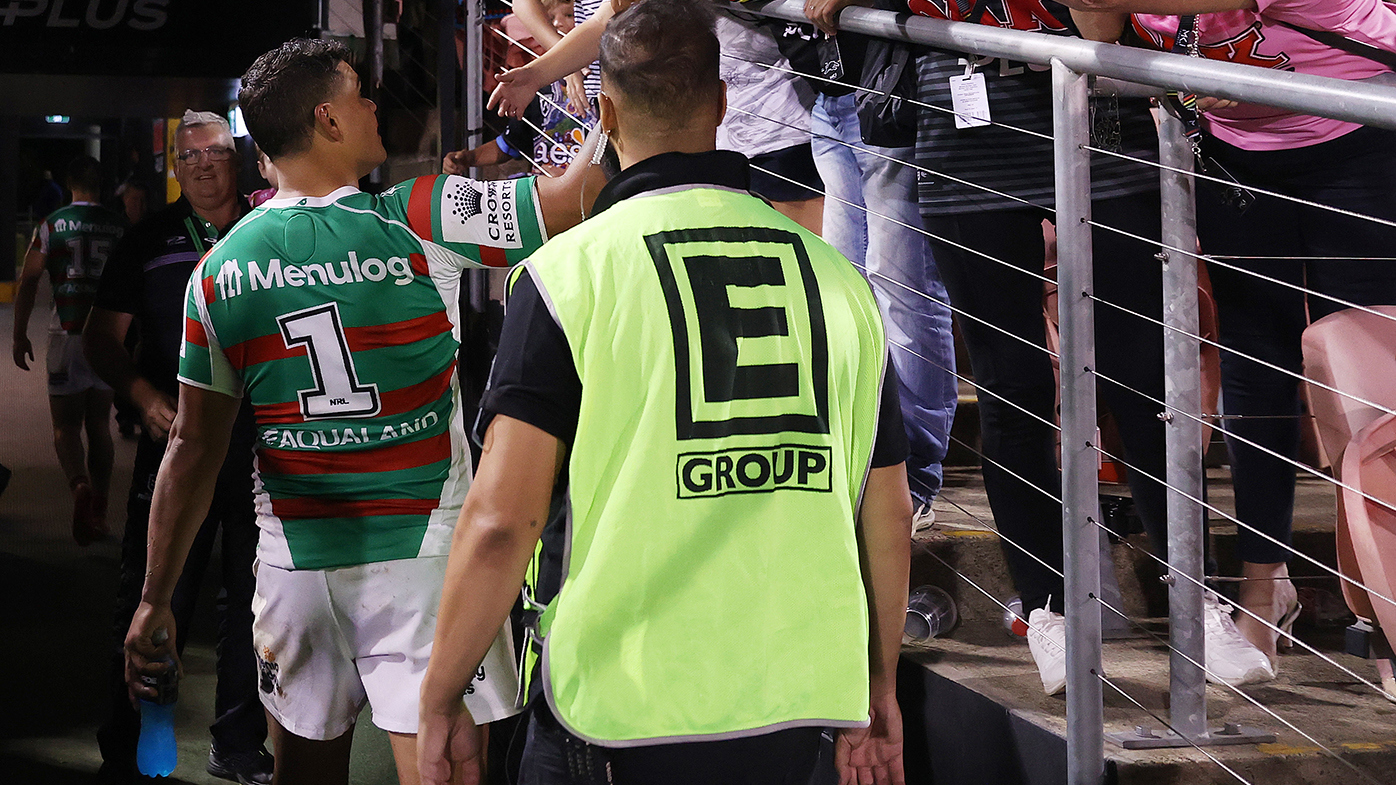 Penrith star Jarome Luai stood up for Latrell Mitchell in the tunnel in response to racial abuse directed at the Souths star, as his Rabbitohs teammates fear he could walk away from the game early.
Mitchell was the alleged target of racist abuse shouted by a fan as the players came from the field at half time at BlueBet Stadium on Thursday night.
Mitchell walked back towards the fan and asked the fan to repeat what he said, as several other teammates gathered around.
READ MORE: Plea for life bans after sickening Latrell abuse
READ MORE: Khawaja's swipe at selectors after 'special' milestone
READ MORE: Strange twist in Djokovic's US tennis ban
Penrith's Jarome Luai even headed down the tunnel to back the Souths star.
"I know Latrell personally, if he's being attacked, I've got his back and he's got my support," said Luai, after the match.
"I saw a few of the boys having a scuffle, I ask 'Codes' [Walker] what was going on, and he said what was said. It's definitely not on in our game."
Mitchell has been open about his desire to retire from the game at 30, when his next deal expires, and teammate Damien Cook suggested it was instances like this that make him feel that way.
Mitchell said he was fine in the sheds after the game, but Cook said the abuse was wearing on the Indigenous star.
"This is why he might talk about being done at 30," Cook told The Sydney Morning Herald.
"We have a great player who puts bums on seats, everyone wants to see him play, but when you get things like this, and when it comes to a time to choose farm or footy, these things come up.
Fans boo controversial Souths try
"He leads so well by example for the Indigenous culture and the young kids coming through, it's an absolute joke it's happened. And why?
"It's 2023 and this is happening. This isn't the first time Latrell has had to go through this.
"I was one of the last off the field, I caught the end of it. I heard what had been said, and they were trying to point [the fan] out.
"I saw 'Romes' [Luai] react to it as well, and his first reaction was to turn and support Latrell.
"Emotions are high in the middle of a game already, and to have that comment made … [fans] have great seats there, great access to the players, so we don't want to get to the point where we close things off completely so they don't have access to us at all, just so we can be protected."
An emotional South Sydney coach Jason Demetriou called for life bans for anyone found guilty of racist abuse in the NRL.
Mitchell spoke to media, including Nine's broadcast, after the game but did so on the proviso he was not asked about the incident.
Demetriou, though, unleashed on the alleged vile abuse.
He revealed to media it's believed a 15-year-old was the perpetrator.
"It's not the first time we've come here (to Penrith) as a club and our players have been racially abused," Demetriou said.
"Where does it end? It's just not on.
Stream the NRL premiership 2023 live and free on 9Now
"I shouldn't have to come here as a coach and lead a team of players here to be racially abused.
"It's not what our game is about and we have to stamp it out completely. NRL, clubs, they have to get rid of it.
"Life bans. Anyone wants to make racial abuse, get them out of the game. We don't want their support.
Brilliant Latrell try-saver denies Panther
"It's got to end."
NRL CEO Andrew Abdo confirmed that the league was launching an investigation into the incident.
"Any form of racism or vilification will not be tolerated in our sport," Abdo said in a statement on Thursday night.
"We will not accept this behaviour from anyone"
"We are working with the stadium and the club to get all the facts. The Integrity Unit will investigate fully.
"We will stand behind our players and commend them for calling out this behaviour."
Another incident Demetriou referred to was in 2018 when then-Rabbitohs star Greg Inglis was racially abused.
On that occasion two spectators were issued indefinite bans.
Mitchell has often spoken out against racial abuse he has been subjected to.
In 2021 he admitted he almost quit the NRL because of the ongoing abuse. That same year, two men were arrested for using social media to direct racist slurs at Mitchell.
"I've been copping this all my life since I was an eight-year-old kid," Mitchell said in 2021.
"My ancestors before me have and nothing's changed."
Demetriou says it has to end.
NRL Highlights: Panthers v Rabbitohs – Round 2
"He's sick of it. Why wouldn't he be?" he said.
"He should be able to come here as a star of our game and not be racially abused. Who cares what colour he is? It's just not on.
"I don't understand how that happens in our day and age.I don't understand how in Australia anyone is raised like that. It makes no sense to me whatsoever.
"Latrell is a real role model in our game. We love him… he stands for the indigenous people, he stands for good people.
"But he shouldn't have to handle it, he shouldn't have to keep dealing with this. It's just rubbish."
Demetriou said South Sydney is prepared to pursue legal action against the spectator.
"We will go all the way, as far as we can with it," he said.
"As a club we will stand right behind Latrell. As far as I'm concerned we go as far as we can take it.
"There has to be hard and fast rules – if anyone even comes close to be racial, they are completely ruled out of our game. And if it's a young kid, rule their parents out as well."
For a daily dose of the best of the breaking news and exclusive content from Wide World of Sports, subscribe to our newsletter by clicking here!