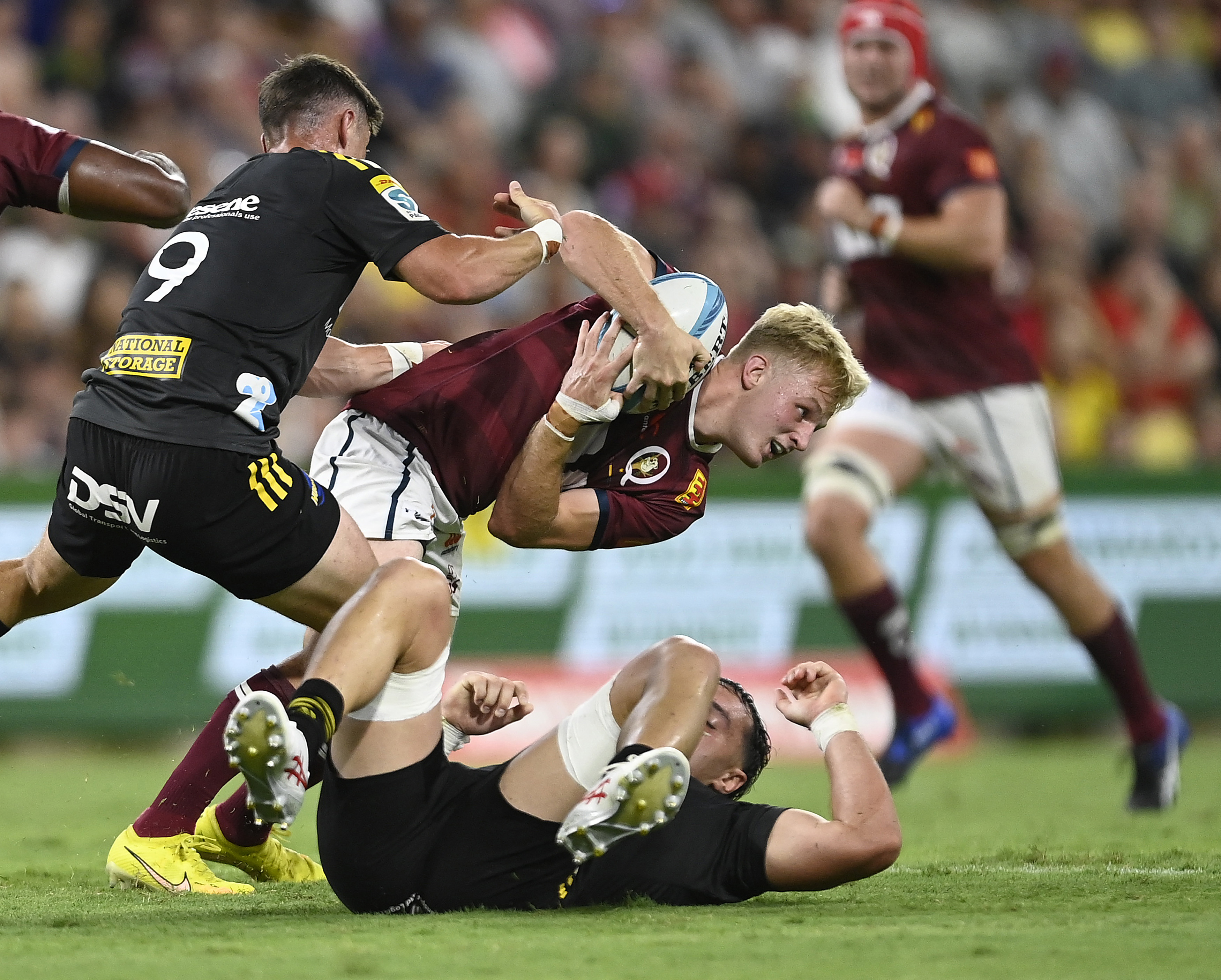 Former Australian international Morgan Turinui says the Wallabies shouldn't rush teen prodigy Tom Lynagh into a Rugby World Cup.
Son of Wallabies great Michael Lynagh, the teenager is in his first season of Super Rugby Pacific competition and an outside contender for a seat on the plane to France.
There's an air of expectation around 'Turbo Tommy' given his father's history and his brother's success in England.
Watch the 2023 Super Rugby Pacific season on the home of rugby, Stan Sport. All matches streaming ad free, live and on demand
However, Turinui believes it's best not to fast-track the son of a gun in a World Cup year.
"The one thing about Tom Lynagh I would say is I put the brakes on," said Turinui on Stan Sport's Rugby Heaven.
"He's 19. He needs to play a lot of rugby. The great signs are there, but I think he's part of the next wave.
LIVE UPDATES: Australia vs India fourth Test LIVE day two
READ MORE: Teammates fear abuse will force Mitchell to quit
READ MORE: Joey expects Roosters to push Tedesco out
"He needs an Australia A program which he will get this year, more and more matches – go back to club footy, get bashed at club footy, play well at club footy.
"He might have a great Super Rugby season, but he's a 19-year-old 10 and we've had this trouble before with innumerable names from the Mack Masons to all this – we throw them in, we burn them and then we spit them out as well. Let's learn our lesson."
All Blacks great Andrew Mehrtens said starting Lynagh ahead of an experienced head like James O'Connor is a big endorsement for the youngster.
"I think he's done well and just the fact that I think Brad Thorn has the faith in him to play him in this game again," said Mehrtens.
"It'd be very easy after (James) O'connor comes back last week, gets a bit of a taste off the bench, to start your more experienced guys, someone who's delivered for you, particularly in 2021 against the Brumbies.
"He showed a lot of composure. You know, people will say, 'Oh, you like his old man and so you're gonna be nice to him', but he really has not put a foot wrong. And yeah, like I say, he's got that timing on his goal-kick when it just comes off the boot effortlessly."
Turinui tipped Ben Donaldson, Quade Cooper, and Noah Lolesio to get the nod from Eddie Jones to form a trio of 10s for France.
Lolesio will play opposite Lynagh when the ACT Brumbies face the Queensland Reds on Saturday at GIO Stadium come 7.35pm (AEDT).
Mehrtens said it's equally important for Lolesio to show he's got the goods a few months out from Rugby World Cup selection.
"It's a good chance for Lolessio to get in and start staking his claim in a year that's got a World Cup at the end of it because he's been probably the great hope for the last three years," said Mehrtens.
NEW PODCAST! Sean Maloney, Morgan Turinui and Andrew Mehrtens unpack all the cracking action and controversy of Super Round in Melbourne
"He performed well against the France team that came out which, you know, in hindsight, look at the strength of that French team. I know at the time people were saying this is not particularly strong. Look at all those players from France who have gone on to be the mainstay of what's a really strong French team now.
"Lolesio, he's got the skill, he's got the ability, he's about three years ahead of that curve in terms of Tom Lynagh.
"You don't get too often that one on one competition between tens, in terms of physically fronting up to one another. But you certainly don't want your teammates to allow the other 10 any leeway. You know, you want your team to shut the other bloke down."
For a daily dose of the best of the breaking news and exclusive content from Wide World of Sports, subscribe to our newsletter by clicking here!
Eddie Jones' remarkable career in pictures: Hooker, teacher and master coach improbably leads Wallabies again