Dan Azeez had a scare on the scales on Friday. On the first attempt to make weight for his European title fight against Thomas Faure in Paris, Azeez found himself with 11 ounces to work off and just two hours to do it.
Unhappy with the official scales and the platform they had been placed on for the weigh-in, nevertheless he wasn't going to let himself lose his shot at a belt he longed to win.
So he got running and duly made the weight, well in time. All he has left to do now is turn his attention to the 12-round championship fight that awaits him in France against a home country fighter on Saturday night.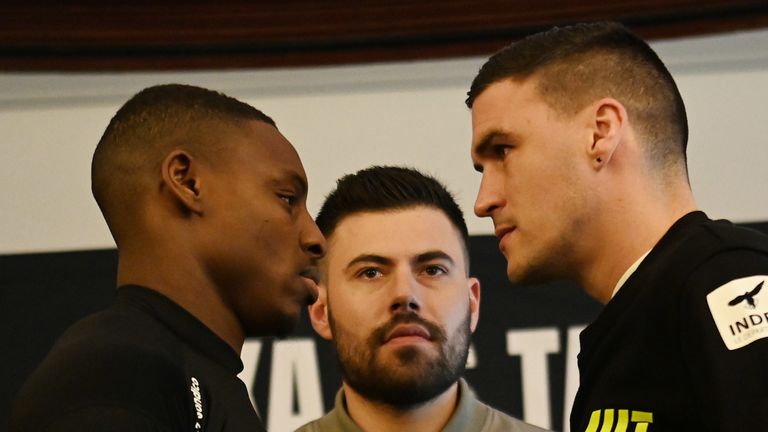 He was adamant the weigh-in drama will not divert him from his target.
"Probably some miscommunication with the scales," he laughed. "I'm all good. I don't struggle to make weight.
"This is what I mean about being away. You've got to be on your toes or be alert. You can't get too comfortable and that's why I came out here."
Azeez is a stubborn fighter. That bull-headed attitude has made him maximise his abilities. He has worked his way up from small hall shows. Going through the levels he has won British and Commonwealth titles, as well as the Southern Area and English championships.
It has brought him now to this European title fight with Faure at Zenith de Paris on Saturday night, live on Sky Sports.
His route through the sport has inspired plenty of support, it has even inspired his own mother.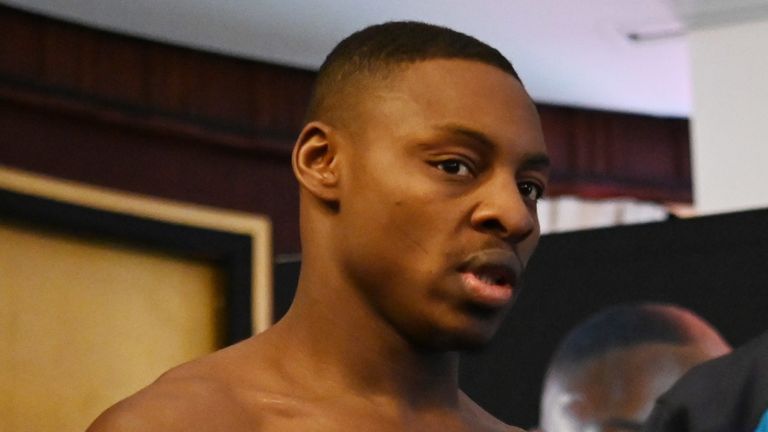 "The other day actually she said I was her hero," he said with a smile. "I think it's probably because she's seen the way I've come up.
"So I think that's why she said it."
Starting out in boxing, he told his family little about his fighting career. Primarily because he thought they would not be interested.
But he kept on winning and his mother eventually saw him coming through championship fights on big televised shows.
"She was like, 'Oh wow, you really like climbed up the ladder, and I'm really proud of you,'" he told Sky Sports.
But she wasn't one to go easy on him still. His mum expected him to take hard fights.
"She was like Dan, if you want to be the best, you know you have to fight the best. It's as simple as that. Whoever they're saying is the best, you have to fight them," he said.
That is exactly how Azeez sees the sport. You have got to push yourself to see how far you can go.
"If you come a cropper, what can you do? You tried," he said.
The next test for him is Faure and the opportunity to become European champion. He does not want to leave that to chance. He will push for a stoppage in their fight.
"Whether or not I believe I've won every single round, if it goes to the judges… You never know," he reflected. "I had my chance, I had 12 rounds or whatever to get him out of there and I didn't.
"That's my mentality."
That type of victory would be another statement.
"This division is so exciting with [Anthony] Yarde and [Joshua] Buatsi, and Lyndon Arthur and Callum Smith. Dan Azeez for me is in that bracket now. He'll want to put up a big statement. I believe he's world level," his promoter Ben Shalom said.
"All he ever wanted was an opportunity and an opportunity to fight regularly and fight the best. He never turns down any single fight ever since I've known him. He just wants to fight. A proper, traditional fighter. He's so exciting.
"Rather than be concerned that there's so much good competition in Britain for that top light-heavyweight spot, he's excited. He feels grateful that he's going to be able to be involved in some huge fights this year.
"I think Lyndon Arthur wants the Dan Azeez fight. He was asking for that in the past few months. Anthony Yarde will be looking at that fight I'm sure. Joshua Buatsi, I know they know each other well but they're big fights. I think Dan Azeez now is a name that people want to fight."
Joshua Buatsi did tell Sky Sports News: "I think we're both at the point where we say look if the money's good, we'll fight. People will be entertained. It's boxing. It's never personal with these guys."
Buatsi has been sparring with Azeez ahead of this fight with Faure.
Live Fight Night
Saturday 11th March 7:30pm
"I've known Dan for many years," he said. "It's crazy, what's it going to look like if the number one and number two [with the WBA] are in the same changing room?
"I think for me, I'm good at putting certain things aside. But when I step in that ring I always know what time it is and opponents know what time it is as well.
"On Saturday night I'll be cheering and supporting and I'll always be cheering and supporting anyone in my division. When you come against me, then we know what time it is. But prior to that and after that I'll be supporting."
He does expect Azeez to win. "Of course he will. I think Dan's ready," Buatsi said. "He keeps getting better each fight. So I think for me I'm expecting him to win for sure."
Yoka and Takam both looking for KOs
The main event on Saturday's fight card, live on Sky Sports, will be the heavyweight showdown between Tony Yoka and Carlos Takam.
Yoka is a 2016 Olympic gold medallist and a huge star in France. But after losing his last fight to Martin Bakole, he desperately needs a victory.
"Of course it changes you," Yoka said of the loss. "As a fighter it has to change you, what it did to me, it makes me stronger, it makes me want to work more.
"Now I just want to get back on track, get back have a good win."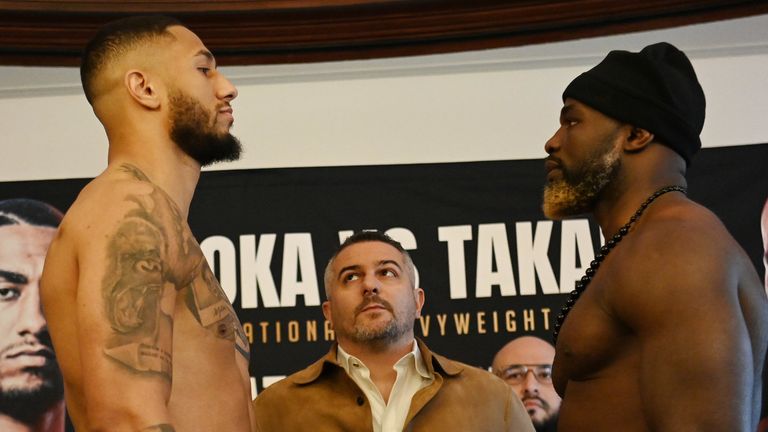 He told Sky Sports News: "When I come here I start feeling the pressure but it's a good pressure because I have a lot of fans, I have a lot of love."
In his mind, he's hunting for a stoppage against Takam.
"He has fought the best guys in the world and he has good fights against them so I really want to show the world I'm ready to step up," Yoka said.
"What I'm looking for is a big win, which means a knockout."
But that is precisely what Takam will be seeking to do too.
"Prediction: win by knockout," the veteran heavyweight told Sky Sports News.
He doesn't see himself as the underdog. "I'm so excited," Takam said. "I'm a boxer and I'm going to win. Favourite or not favourite, I'm going to win.
"Maybe they're going to put him as the favourite because he's a superstar, like you say, or he won a gold medal.
"But that doesn't mean nothing."
Watch Dan Azeez on the Tony Yoka vs Carlos Takam bill live on Sky Sports Action from 7.30pm