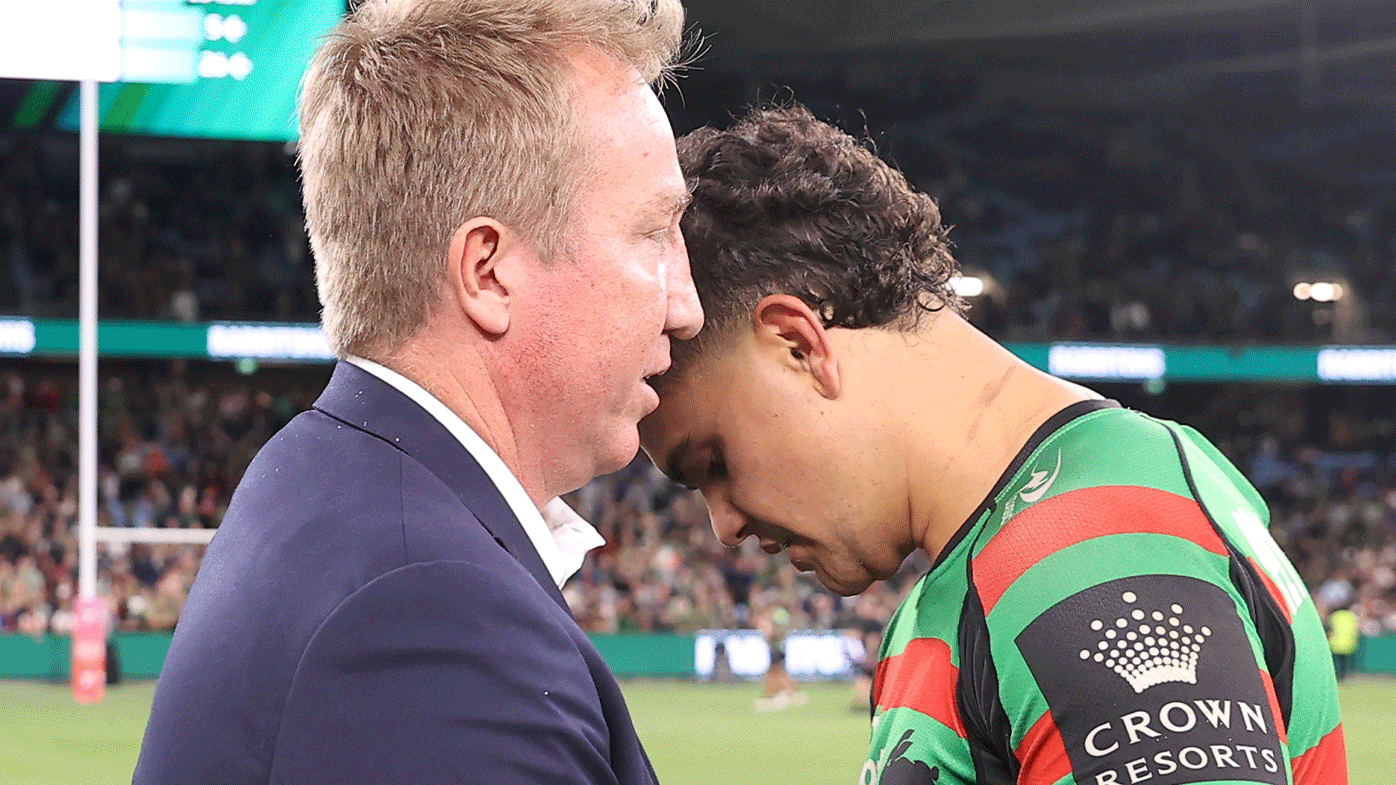 Trent Robinson apologised on behalf of the Roosters club, after it emerged the spectator who allegedly racially abused Latrell Mitchell was wearing the club's jersey.
The incident occurred on Thursday night at BlueBet Stadium in Penrith when Mitchell copped racial abuse as he was heading up the tunnel at halftime.
READ MORE: 'Did nothing': Dragons frustrated after bye round
READ MORE: The 'friendly rivalry' behind 'crazy' Paris pursuit
READ MORE: Olympic hero's stunning admission after record
The Roosters coach backed Mitchell to stay in the game and become an even stronger Indigenous leader following the episode, while underlining the harsh realities in modern Australia.
"It's really disappointing because we don't represent the Roosters in that way. That's not how we want to act as Roosters," Robinson said on Friday.
"Whether we like it or not, they were wearing our colours. We have to accept that, but that doesn't make them a Rooster.
"If you want to act like that, abuse people and do it racially like that, then that's not who we are and that's not who we want to be. We need to get better than that.
"From us, apologising from the Roosters to Latrell is important, even though it's not directly one of our fans who support us who did that. That's not right."
It's the second reported incident of racism directed at a player in Penrith, after Rabbitohs legend Greg Inglis was racially abused in 2018 at the same venue.
Robinson said he was not surprised by the vitriol directed at Mitchell, saying it was a sad reflection of the ills of racism and its prevalence in Australia.
"Yes (I can believe it) because that's where we're still at as a country. It's pretty standard for some people who are casual racists, and some people are overt like it was last night. That's still where we're at," he said.
Abdo: Game 'stands behind' Latrell
"People don't like strong Indigenous voices like Latrell. They'd rather he stay quiet and in his box and don't express it in that way, and that's how it comes out. That's unacceptable. It's really disappointing.
"Taking off the colours that you wear and all of that, it's just not on.
"We had big rivalries with him last year, and he's won grand finals in this jersey as well, but take out all of that and take out the jerseys that people wear – people don't like someone like him having a really strong voice and him voicing it in different ways.
"He's got his way of expressing himself, and that's cool, but we're still not at a point where we're happy to accept really strong Indigenous voices in this country."
Robinson rejected the notion that Mitchell will quit the game because of the abuse, despite reports his teammates hold such fears.
Spectator ejected over Latrell abuse
"He's too strong for that. He'll get stronger and stronger from this," he said.
"This isn't the first time that we've seen it with Latrell. He understands that's a part of his life, so as far as I understand – I haven't talked with him about it for a few years – but he understands that. He'll use it in his way and the right way."
The NRL integrity unit is already investigating the incident and will work with players and stadium officials to identify the culprit.
"I want to commend Latrell Mitchell for his leadership for calling out this action," NRL CEO Andrew Abdo said.
"But not just Latrell. All of the players from both teams who worked together to assist the stadium, the NRL officials, police and everyone for getting all the facts and making sure these types of situations don't happen in the future.
"It takes a lot of courage, and again, I want to commend Latrell and all the players who speak up and take action. I want to encourage everyone in our game to do the same thing. It's the only way that we can eradicate these types of unfortunate incidents from our game.
"When issues like this happen, just know that we will deal with them and we'll deal with them thoroughly."
For a daily dose of the best of the breaking news and exclusive content from Wide World of Sports, subscribe to our newsletter by clicking here!