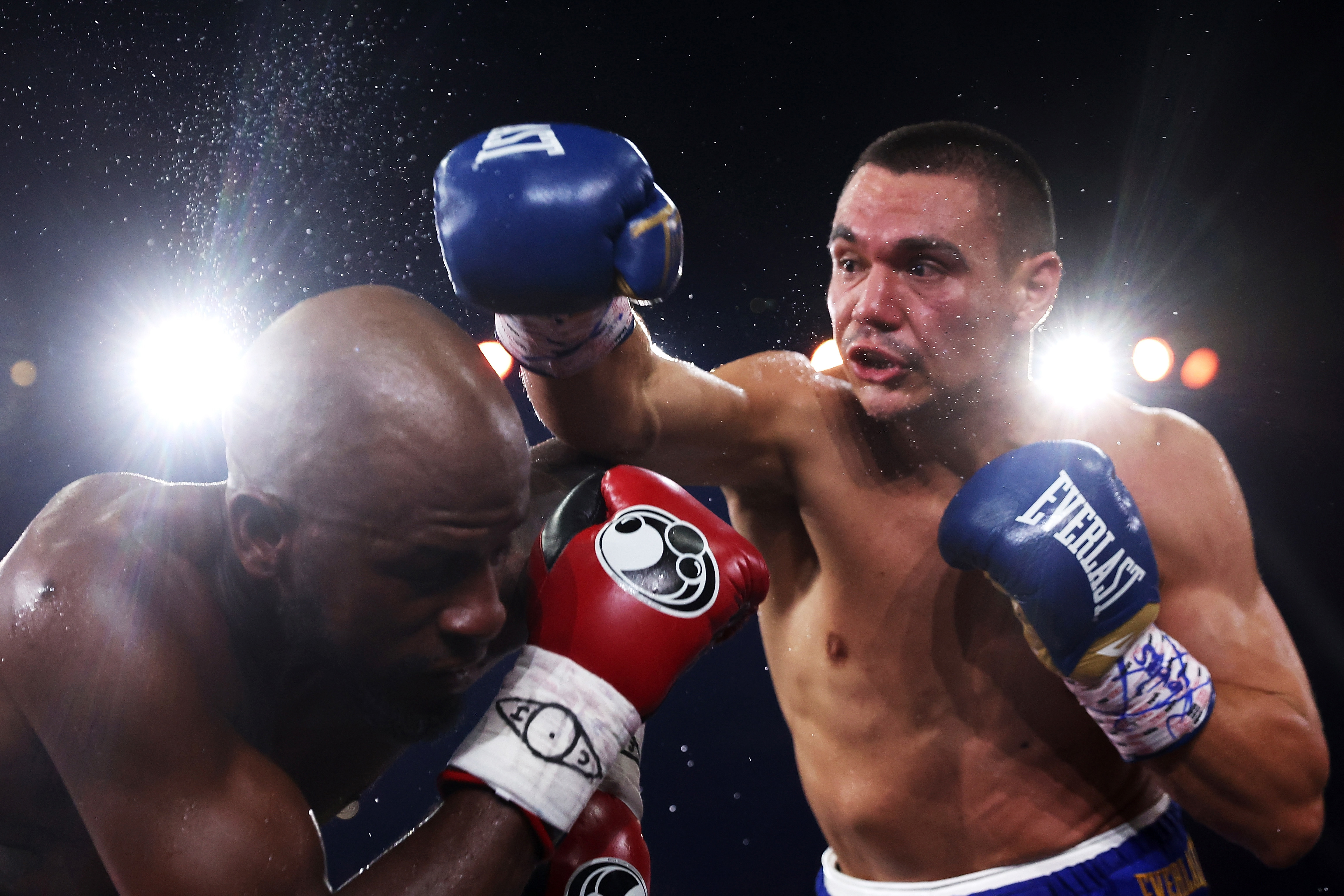 Tim Tszyu has sent an ominous message to unified world champ Jermell Charlo after defeating Tony Harrison via a ninth round stoppage.
The 28-year-old knocked Harrison to the canvas with several uppercuts with the referee stepping in shortly after to give Tszyu a TKO victory in the ninth round.
The fight started slow for Tszyu who tried to work out his opponent early and it didn't take long.
Harrison described Tszyu as a straight up fighter in the lead up and he couldn't handle his style as Tszyu stalked the American from the opening bell.
Harrison landed his fair share of punches but most of them were jabs as opposed to Tszyu who landed several power shots.
Tszyu rocked Harrison with a right hook in the third round and continued his dominance through to the ninth, where he rattled Harrison with a bevy of shots that ended with countless uppercuts to send him crashing to the canvas.
The referee called called it at two minutes and 33 seconds into the ninth round.
Harrison showed sportsmanship after the fight.
"The better man won tonight," Harrison said.
"Tim, congratulations my boy."
Tszyu rocks Harrison in round 3
Harrison is the only man to ever beat Charlo, and Tszyu had a message for the world champ.
"What's my motherf—ing name?," Tszyu exclaimed in the ring.
"I just beat the man who beat the man. What does that make me?"
Asked to send a message to Charlo and his doubters, Tszyu replied: "The message was sent clearly. You know what's up. You know what's next. I'm coming to America. Australia already knew, now the world. What's my motherf— name? Say my motherf—' name."
Charlo, who watched the fight as a guest of Showtime, gave the Aussie some credit.
"He was impressive, he did what he had to do at home," Charlo said from the Showtime Studios.
"But my movement, my style, my power will make him have to do different things."
For a daily dose of the best of the breaking news and exclusive content from Wide World of Sports, subscribe to our newsletter by clicking here!