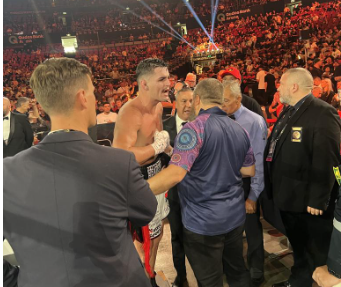 A fuming Issac Hardman lashed out at the judges claiming "something's fishy" after dropping a split decision to Rohan Murdock.
After a tough ten-round contest, Hardman was left bewildered when one judge ruled against him and even more staggered when victory was awarded to Murdock, looking around the venue in shock.
LIVE UPDATES: Tim Tszyu vs Tony Harrison
READ MORE: Bellamy goes 'nuclear' as Dogs shock Storm
READ MORE: 'Absolute accident': Drama as Dolphins stun Raiders
He then unleashed a withering tirade at the judges ringside and called for an overhaul after two judges scored the bout 97-92 in Murdock's favour, while the third pencilled in 96-93 for Hardman.
"I'm 26-years-old, and the dinosaurs in the f—ing corner, they've had their go," Hardman said. "Revamp the Australian National Boxing Federation.
"Get rid of them. It needs a cleanout, whoever it is. It needs a cleanout. One ref gave it 92-98 – that's eight rounds to me – plus he got a point taken off him. What the f–k is that.
"Then the other ref gives in 92-97? What is that? It's ridiculous.
"It's really frustrating. I've seen it happen to my team, and it's the same judges. One judge in particular, I won't say his name, but one judge there, have always given us a bad go. Always. It's disgusting, it really is. It's f—ed.
"Something's fishy."
Murdock 27-2 (19KO) inflicted the second defeat of Hardman's career and was in tears afterward.
Murdock is the new IBF Australasian super-middleweight champion.
For a daily dose of the best of the breaking news and exclusive content from Wide World of Sports, subscribe to our newsletter by clicking here!