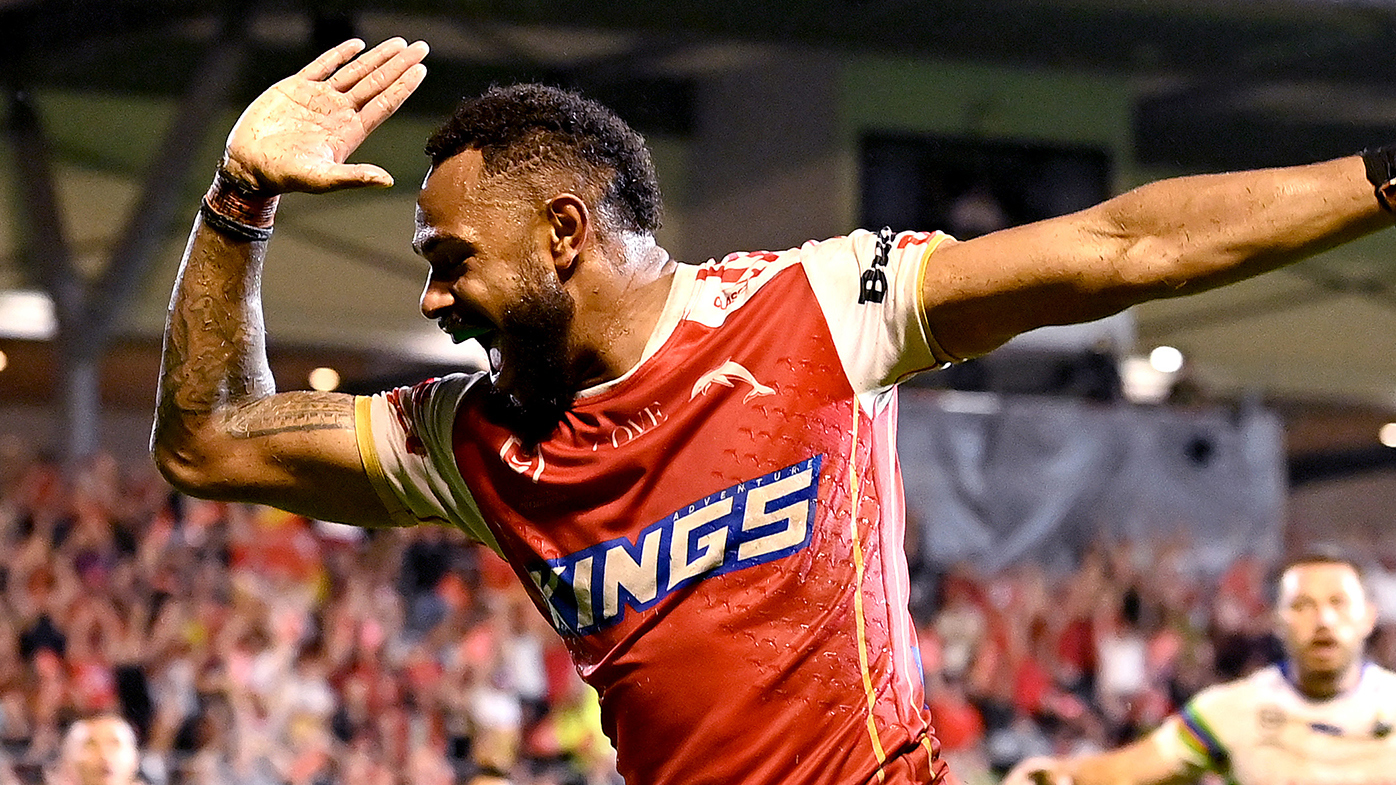 NRL great PAUL GALLEN will appear on Nine's 100% FOOTY every Monday night of the NRL season, debating rugby league's hottest topics alongside Phil Gould and James Bracey. Tune in tonight at 10:30pm (AEDT) following a bumper round one!
So, Peter V'landys says we could have an 18th team by 2025, and 20 teams by 2032.
Wow.
Expansion is going to happen. We can't change that. I can whinge and bitch and moan all I want, but it's inevitable.
READ MORE: Knights shredded over Kalyn Ponga position switch 'madness'
READ MORE: Referee ripped over wild finale to Tszyu- Harrison bout
READ MORE: Champion's response to Tszyu's obliteration
I can see an 18th team, everyone knows that's coming, but 2025 is pretty soon. And 20 teams? That's a stretch.
On a possible 18th team for 2025, if that's going to happen we need to know who it's going to be within the next couple of months, because they're going to need time to put everything in place.
Remember, players can start negotiating for 2025 from November 1 this year. The Dolphins had a similar timeframe and never came up with a marquee signing, and that was with the attraction of Wayne Bennett.
I've got no doubt that one of the reasons that talk of expansion has suddenly hit the headlines is the fact that the Dolphins are 2-0. 
If the Dolphins were 0-2 there might be a bit more caution, we'd probably be hearing that expansion isn't that good. But remember, there's only one Wayne Bennett, and he's 73-years-old!
If we get to 20 teams, that's another three coaches and 90 players we need to find.
I can accept 18, but to get to 20 by 2032 you're looking at a new team every 3-4 years, and I think that's a bridge too far.
I don't think there's enough talent to expand that quickly, although the Dolphins are making me look a bit silly with two wins from two matches. But it's a long season, let's not get carried away with their form after two games.
They've got to stay at this level for 27 weeks. I've got no doubt that the experienced guys can do it, but there's plenty of youth in that squad as well and that's the question mark for me.
They'll have injuries and suspensions, like every other team. They've made a great start, absolutely, but that doesn't mean we draw conclusions on the evidence of two weeks.
If we're going to have an 18th team in 2025, we need to make that call before the Dolphins have even finished their first season, and I think that's a rush to judgement.
We're already seeing the impact of the Dolphins entering the comp, because every single squad has been depleted a bit.
We've now got 30 more players than we did last year, and you only have to look at Melbourne – they had a few players out and they got pumped by the Bulldogs.
The flipside to all of this is the amount of money in the game.
Stream the NRL premiership 2023 live and free on 9Now
If the players want to keep getting paid the money they're currently earning, which is significant, there's going to have to be a reason to justify the large broadcasting deals that are being signed, and if that requires another team, we're just going to have to do it and stop worrying about it.
But I'd like to take a close look at junior league before we make a call. Are the numbers growing in a such a way that we can justify having the extra teams? We need that really solid foundation to ensure the top of the pyramid is strong.
Are we putting enough into junior footy, especially in the country? We can't just focus on the big boys at the top of the game, it's about getting the structure below the NRL right.
We still don't really know what impact COVID-19 has had on the junior pathways, hopefully the answer to that is none, but that's still an unanswered question for me.
Everyone lost plenty of football development in that time, and it might take a couple of years before we really know the full extent of that.
When we do admit an 18th team, I think it has got to be on the eastern seaboard of Australia. I know there's advantages in a team from Perth, simply because of the time difference, it would mean a 7.30pm kickoff in Perth is on TV at 9.30pm on the east coast, so you've got live action nearly through until midnight in Sydney and Brisbane.
But logistically, Perth is a challenge. It's a five-hour flight, which is not insignificant, and you've got a two-hour time change in winter, and that's something professional athletes absolutely do notice. The Warriors have it every time they come to Australia, it's not easy on the body of an elite athlete.
There's talk of a Pasifika team based in Cairns, and I think based on the make-up of the playing group in the NRL that's probably a no-brainer.
Trouble at the Tigers
It's already looking like a long year for Wests Tigers fans. Before the season began I was expecting them to struggle, but I also thought the arrival of Api Koroisau would be enough to see them avoid the wooden spoon. Clearly it's not working so far.
They've lost to Newcastle and the Titans, and nobody really knows where those two teams are at, they might surprise us but certainly there's no real expectation that either the Knights or Gold Coast will be there at the business end of the season.
Now the chairman is taking pot-shots at sections of the media, telling them to "put up or shut up" over rumours that John Bateman actually has an ankle injury.
I'm OK with that. Being chairman of the club is a position that carries a lot of responsibility and you can't just sit there and cop it. Nick Politis is the most powerful chairman in the game, and you see him defend his club when it's required.
I don't really care why Bateman isn't playing. If he's got an ankle injury, well that's life. If they're putting him through a bit of a pre-season to get his fitness to where it needs to be, that's fine as well.
The official line is he needs to "acclimatise". I know it's been hot in Sydney but come on!
The hard thing for Tigers fans is not being totally sure which one to believe.
If he didn't have a good pre-season, I can understand the decision to wait. He's played in the NRL before, so he knows how fit and strong he needs to be. I've got no problem with that.
It's a long hard season, and if you haven't had a good preparation you're going to get injured and you'll be out for potentially a lot longer than you would have been had you waited.
They're looking at the long game, but I guess that's come to a head a bit because they're 0-2. If they'd beaten the Titans and Knights nobody would be saying anything.
It's fair to say they're always surrounded by drama, but a lot of that is the fact it's easy to kick a team when they're down.
When things aren't going well people are looking for the reasons why.
They haven't made the finals in ages, so there's plenty of ammunition. Their roster, in my opinion, still needs plenty of work. I said last year there was not a single player at the club that could attract other good players.
They've got Api Koroisau for 2023 and they can use him as a selling point, now I don't know what they've payed for Api, but I'm sure it was overs, which they needed to do to get a player like him to the club.
At some stage that will come back to bite them, because that's how the salary cap works.
Isaiah Papali'i is another new signing, he had a great year for Parramatta last year, but it's not like he burst onto the scene from nowhere, he'd been around for a while.
Part of his performance last year can probably be put down to the fact that the Eels had a really good year and he had plenty of players around him that were playing well, that helped him shine.
Expectations are too high if Tigers fans expect Papali'i to suddenly do things on his own, it just doesn't work like that. That's not fair on him.
One of the big things for me is that they've lost two matches at Leichhardt Oval. They've had great crowds, it's an awesome atmosphere, but how much longer will the faithful turn out if they get beaten by sides like the Knights and Titans?
There's no quick fix, and I'm sure Tim Sheens is experienced enough to know that.
For a daily dose of the best of the breaking news and exclusive content from Wide World of Sports, subscribe to our newsletter by clicking here!
The Mole's Team of the Week: 'Under rated' star comes back to bite old club; Gun recruit's sensational Broncos debut